The Legend of Zelda: Tears of the Kingdom is already being touted as one of the best Nintendo Switch games ever made, and you can now score this masterpiece at a discount.
Right now, Zelda: Tears of the Kingdom is on sale for $62 at Amazon. This is the lowest price ever for the Nintendo Switch exclusive and this deal comes just over a month after its launch. Yes, it's only a small savings, but Tears of the Kingdom already offered incredible value at full price so even a minor discount is noteworthy.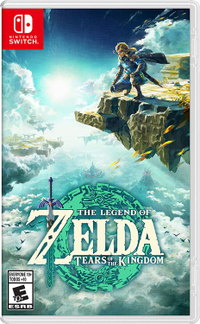 The Legend of Zelda Tears of the Kingdom: was $69 now $62 @ Amazon
Zelda: Tears of the Kingdom is the highly-anticipated sequel to Breath of the Wild, and it doesn't disappoint. Step back into the world of Hyrule, and embark on Link's most perilous quest to date. You'll need to master new abilities such as Ultrahand and Fuse in order to unravel the mystery of what happened to Princess Zelda and defeat the sinister Ganondorf.
The direct sequel to the best-selling Switch launch title Breath of the Wild, Zelda: Tears of the Kingdom is pretty much all the Tom's Guide staff have been playing for the last month. We've written multiple articles explaining exactly why we love it so much, discussing everything from its unique approach to puzzles to its game-changing physics, and even why you must play it on the Nintendo Switch OLED.
The game builds upon the foundation of its predecessor offering a vast open world full of secrets to discover, quests to complete and fearsome enemies to defeat. The big new addition in Tears of the Kingdom is the Ultrahand ability, which allows the series' protagonist Link to stick together all manner of objects. This multipurpose tool can be used to create vehicles and strange contraptions, which can then be used to solve puzzles or just cause general mayhem.
Zelda: Tears of the Kingdom is looking like a clear frontrunner in the Game of the Year awards season, and it's sure to be a game that we're talking about for years to come. It's practically an essential Nintendo Switch game, and the chance to pick it up so soon after launch with even a small discount is definitely not one to pass up.
We don't expect this saving to stick around very long, so scrape together your rupees and secure an on-sale copy of Zelda: Tears of the Kingdom as soon as possible. But do note, this discount is being offered by a third-party seller rather than directly by Amazon. However, your order will be fulfilled by the online retailer giving you all the same protections and return eligibilities, should you need them.