There are plenty of awesome Amazon Prime member perks, but GrubHub Plus is one of my personal favorites. Who doesn't want to save on tasty takeout orders?
Amazon Prime members get a year of GrubHub Plus free with their subscription. And they also get 25% off GrubHub orders over $20 using the code "MAMA25" at checkout. The offer is valid until May 14th, and you can get up to $20 off your order.
Note that the code only works once, and you must have an active GrubHub Plus membership through Amazon Prime for the code to work. (You can get free GrubHub Plus with your Amazon Prime membership by clicking the link below.)
For more Amazon deals, check out our Amazon promo codes.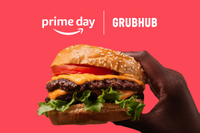 Grubhub Plus: 1 year free + 25% off @ Amazon
Prime members can get a year of GrubHub Plus for free. Normally priced at $9.99/month, that's a total savings of $119. GrubHub Plus gives you access to unlimited $0 deliveries on orders of $12 or more. Until May 14, you can use coupon "MAMA25" to take 25% off GrubHub orders of $20 or more. The coupon can only be used once and you must be a GrubHub Plus member through Amazon Prime to take advantage of this deal.
We rank GrubHub as the best food delivery service. It covers a wide area, offers local and chain restaurants, and supports multiple payment methods. In addition, the GrubHub app is simple to use, and lets you track your order while it's being delivered.
GrubHub Plus usually costs $9.99/month, but Amazon Prime members get a year-long subscription to the service for free. GrubHub Plus gets you $0 delivery fees on eligible orders, as well as exclusive offers such as free food or discounts. If you use GrubHub a lot, signing up for GrubHub Plus is well worth it.
We've seen similar GrubHub Plus deals like this before from Amazon, but this is the biggest discount I've seen them offer — I've seen them offer 15% or 20% off orders in the past. So if you've been holding out, there's never been a better time to take advantage of Amazon Prime's GrubHub Plus deal than now.
If you're looking for more ways to save, check out our list of the 15 best Prime member benefits, and stay tuned to our Memorial Day sales coverage.