If you're the forgetful type, you'll want to arm yourself with some Apple AirTags to ensure you don't lose your valuables this summer. And while these iOS trackers are rarely on sale, we've just spotted an excellent discount courtesy of Amazon.
For a limited time, a 4-pack of AirTags is on sale for $84 at Amazon. That's a $15 discount and works out at about $21 per tag. While this isn't the lowest price we've ever seen for a four-pack of trackers, it still qualifies as the best Apple deals you can find right now.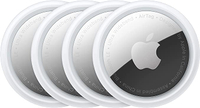 Apple AirTag (4-pack): was $99 now $84 @ Amazon
The Apple AirTag takes the frustration of finding lost items and makes it simple, and even enjoyable. You can use your iPhone to track the AirTag (or whatever you've connected it to), with audio and visual cues to point you in the right direction until you've found what you've lost.
We rank the Apple AirTag as the best key finder for iPhone users. The device works seamlessly with all recent models of the popular smartphone (iPhone 11 or later), and thanks to Precision Finding locating your AirTag is a breeze. So next time you can't find your car keys, you won't have to tear your home apart to locate them.
In our Apple AirTag review, we praised the mini-tracker for a multitude of reasons. Our reviewer concluded: "The Apple AirTag is a clever device that is super simple to set up, and its Precision Finding feature makes it easy to find everything from your keys and wallet to your backpack or luggage."
The humble AirTag is particularly easy to use, just open the Find My app on your iOS device and once you get close to your tag, within around 20 feet, you will be able to use Precision Finding to get an exact location. You can also set an AirTag to emit noise to make finding it even easier. Although, in our testing, we did find the beeping sound a little quiet, especially when the tracker is underneath another object.
AirTags are small and discrete as well, at just 1.26 inches across. This is about the size of a coat button. Plus, the tracker is designed with all the usual flair you'd expect from an Apple product. And you can further kit out your AirTag with a range of accessories such as keyrings and leather loops that will keep the device firmly attached to your keys or luggage.