The best TVs with ATSC 3.0 not only offer excellent picture performance, but they're fully ready to support NextGen TV when it comes to a city near you.
What is ATSC 3.0? ATSC 3.0, also known as NextGen TV, is a suite of standards that will support the world's first IP-based TV system, which marries broadband and broadcast to deliver cord-free television. Once it goes live fully, it will offer 4K over-the-air broadcasts, better sound quality, multi-language closed captioning and a number of other outstanding features.
The technology is still in its infancy with broadcasters slowly ramping up to the full suite of features, but buying an ATSC 3.0-compatible TV means that you'll be ready to jump on-board the ATSC 3.0 train when it comes to your area.
The best TVs with ATSC 3.0 tuners
By any standard, the Sony Bravia XR A95K OLED is a remarkable TV — and often, it's far better than that. This set, which sits at the top of Sony's expansive TV lineup, unites the industry's defining technologies like ATSC 3.0 and Sony's own groundbreaking processing and picture enhancements to deliver superlative performance in every area. And our own test results back this up.
As far as performance is concerned, the color and brightness on the Bravia XR A95K are dazzling. It's future-proof with genuinely useful smart features and, perhaps most important, this Sony OLED TV looks and sounds like a dream, no matter what you watch on it, making everything a transcendent viewing and listening experience.
The question with the A95K, then, isn't whether it's one of the best TVs you can buy. It's whether it is the best TV you can buy. In our opinion? Yes, yes it is.
Read our full Sony Bravia XR A95K review.
With the Samsung QN95B Neo QLED TV, Samsung once again proves why it's the QLED TV king. Thanks to best-in-class brightness, cable management convenience and impressive performance across most content genres, the QN95B is a tough TV to beat.
At a time when OLED TVs steal most of the hype, Samsung's premium Neo QLED technology stands out in one big way: brightness. By introducing a Mini LED backlighting, the panel can achieve higher levels of brightness without sacrificing depth and gradations of luminance. Samsung pairs that image quality with a bounty of smart TV functions and genuinely intelligent features, like a solar-powered remote control that eliminates the need to swap out batteries — delivering eco-friendly design and unbeaten convenience at the same time.
The whole thing is packed into a gorgeous 1-inch-thick design that contains a huge array of smart features, an ATSC 3.0 tuner, potent Dolby Atmos sound and some of the best performance we've ever seen. HDMI 2.1 connectivity comes as standard, and it's also a great option for gamers thanks to plenty of dedicated features and an impressive 9.8-millisecond lag time in our testing.
Read our full Samsung QN95B Neo QLED TV review or browse our Samsung promo codes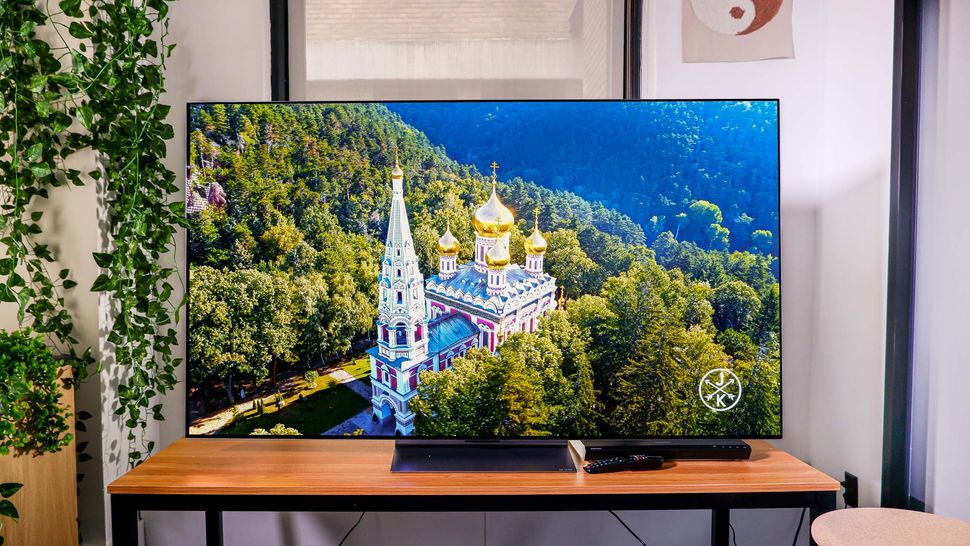 The 2022 version of LG's premium G-series OLED TVs is a brilliant ATSC 3.0 TV. The LG G2 OLED improves upon last year's G1 in almost every regard to up the game when it comes to the screen tech. Brightness has been a long-time OLED shortcoming, but in our testing we found that the LG G2 reached 590.54 nits — way above the G1's 412.05, albeit not quite on a par with the Sony A80J's 713.65 result.
And brightness is just one aspect of its performance that impressed us, with color accuracy, color gamut and lag times all faring well in our testing. And of course you get the deep blacks we've come to expect from OLED.
Read our full LG G2 OLED TV review
The Sony Bravia XR A80K OLED has the singular mission of delivering a scintillating entertainment experience in almost every way. Luckily, that's a goal it has little trouble achieving — and considering just how good it looks and sounds, it's something of a minor miracle this TV doesn't cost more than it does.
Why is it expensive? This 4K OLED is absolutely packed with futuristic technologies: HDR, a 120 Hz refresh rate, ATSC 3.0 tuner, Google TV streaming and Sony's own Bravia Core service, Acoustic Surface Audio+ technology… the list goes on. Sure, not everyone will need everything here, but they're nice to have if you want to future-proof your home entertainment setup.
Read our full Sony Bravia XR A80K review.
The Hisense U8H Mini-LED TV is all about bringing high-end features to a mid-level price bracket. To wit, it's packing a light sensor for Dolby Vision IQ that can raise or lower the brightness to match the ambient light in the room and a Mini-LED panel that has up to 528 local dimming zones. Its peak brightness exceeds any TV around that price, and its color reproduction is as good as some of this year's best TVs.
Not only does it have some smart-looking specs under its belt, it has some killer additional features — there's two HDMI 2.1 ports that support 4K@120Hz and on-board Google TV 11 with Chromecast Built-in. Around back you'll find a hefty sound system that delivers bass in spades, though it could be a bit stronger in the mid-range. Of course, there's also an ATSC 3.0 tuner inside, too.
The bad news? As powerful as a TV as this is, Hisense's upscaling and motion processing skills aren't on par with that of LG, Samsung or Sony's, which means some scenes you're going to notice poor motion smoothing and color banding. If those terms don't mean much to you, these issues won't ruin your experience — but videophiles might notice them and they can turn an otherwise positive experience into a sub-par one.
Read our full Hisense U8H review.
What is NextGen TV?
NextGen TV is the marketing name for the new ATSC 3.0 broadcast standard, which combines traditional over-the-air broadcasting and improved digital signal encoding with internet connectivity, opening up all sorts of possibilities that were previously unimagined for free broadcast television. (Read our full article ATSC 3.0 explained: How NextGen TV delivers 4K HDR broadcasts for free to learn more.)
Highlights of the features promised by ATSC 3.0 include:
Better signal quality with less interference
Thanks to a move toward UHF signal, it's less prone to interference from obstructions, like buildings or trees, and adds orthogonal frequency-division multiplexing (OFDM), the same technology behind the latest Wi-Fi and mobile wireless technologies. It's a much more robust method for transmitting digital information, and the move will further bolster the signal quality with ATSC 3.0.
Higher resolution for over-the-air broadcast
With a bitrate of up to 57 Mbps – nearly three times as much as the older ATSC 1.0 standard – and support for H.265 and MPEG-H Part 2 codecs, the new standard can deliver much higher video quality, including HDR metadata. Broadcasts in 4K resolution are already possible, with potential for 8K broadcasts in the future.
Combines broadcast TV with broadband internet
This leverages the connected nature of smart TVs to have a dedicated return channel – an active stream of data back to the broadcaster – which makes the new broadcast system a two-way IP-based standard. That could allow broadcasters to pair their traditional content with streaming capabilities, allow for cloud DVR functions, video-on-demand and more targeted advertising.
Available on many more devices
Thanks to the more robust signal quality and the data-connected aspects of the new standard, it will offer better reception for portable and vehicle-bound TVs – two categories that have fallen off sharply since the more fragile digital TV of the ATSC 1.0 standard took effect. You could even get ATSC 3.0 on your phone, provided phone makers opt to add the necessary hardware.
The bottom line is that ATSC 3.0 is aptly named NextGen TV, because it brings several new capabilities and features to broadcast TV.
Do I need a NextGen TV tuner?
At the moment, probably not. NextGen TV is still early in its rollout, and any stations you might be able to get with the new tuner you can get on the older ATSC 1.0 standard anyway.
But, if you want the potential to receive 4K signals over the air, or to take advantage of any of the proposed features that are likely to be implemented as NextGen TV rolls out, you will need a new tuner.
While the TVs listed above have ATC 3.0 tuners built in, there are also separate tuner boxes selling now or coming to market in the near future.
How we test TVs
In our TV test space, we submit every TV to a number of lab tests, using industry-standard equipment, such as a calibrated spectrophotometer, calibration software and a dedicated test pattern generator. We measure for several indicators of picture quality, but these are the main metrics used in all of our reviews:
Color gamut, which measures how much color a given TV can produce. Expressed as a percentage rating, most OLED TVs meet or exceed 100% of the Rec709 color space.
Color accuracy, which measures the average deviation from perfect accuracy, expressed as a number (Delta-E), with higher numbers indicating less accurate color.
Contrast, measuring the difference between the darkest darks and brightest brights that a TV can produce, which is expressed as a ratio.
Brightness, measuring the peak luminance of a panel or display. This measure is reported in nits, an industry term for candela per square meter (cd/m2).
Lag time is the interval between a signal, such as button press on a game console, and the subsequent change registering on-screen. Measured with a Leo Bodnar Video Signal Input Lag Tester, this is measured in milliseconds, and provides a good indicator of how well-suited a TV is to modern gaming.
We pair this lab testing with hands-on time, viewing video samples and movies to see how these numbers translate into real-world performance. With that information, we can tell you which TVs look best, sound best and offer the best viewing experience.
Finally, we also evaluate the smart TV software and menus, getting a feel for the navigation and functions of each TV. We look at everything from the remote control design to the voice interaction to let us meaningfully talk about the smart features and overall ease-of-use for a smart TV.
---
If you've narrowed down your TV shopping by brand, price range or screen size, check out our picks for the best TVs in each.
Best TVs | Best 4K TVs | Best smart TVs for streaming | Best TVs for gaming
The best TVs under $1000 | The best TVs under $500
Best TV brands | Best Samsung TVs | Best TCL TVs | Best LG TVs | Best Roku TVs | Best OLED TVs | Best QLED TVs | Best 8K TVs | Best HDMI 2.1 TV | Best TVs with ATSC 3.0 | Best TVs with Chromecast
The smallest smart TVs | Best 43-inch TVs | Best 50-inch TVs | Best 55-inch TVs | Best 65-inch TVs | Best 70-inch TVs | Best 75-inch TVs | Best 85-inch TVs
And don't forget to watch out for the latest TV reviews.