The best laptops for video editing are powerful enough to tackle big edit jobs but also light enough to carry all day, with a screen vibrant and accurate enough to allow you to do your best work. Long-lasting battery life is also important if you don't want to lug a charger around alongside the laptop.
The good news is that you now have more options than ever before, thanks to recent advances in CPU development. AMD, Intel and even Apple have met consumer demand for smaller, more powerful laptops with some beefy laptop CPUs.
If you're chiefly interested in doing recreational video editing and plan to stick to 1080p resolution, there are lots of thin and light laptops powerful enough to get the job done. Just make sure you're using the best video editing software for your needs.
However, if you plan to work in 4K and/or editing video files with high bitrates, you'll want a beefy laptop with a performant CPU, speedy hard drive, lots of RAM, and a discrete graphics card. The best gaming laptops often satisfy these requirements, though they tend to eat up battery when working at full capacity.
Read on for our curated list of the best laptops for video editing, which should help make your buying decision a little easier.
The best laptops for video editing you can buy today
Want a great laptop for editing video on the go? Then you may be looking for the beastly 16-inch MacBook Pro, which sports either M2 Pro or M2 Max chips that deliver shocking amounts of performance. This model features the same gorgeous mini-LED Liquid Retina XDR display as its predecessor and once you get over the notch, you'll be wowed by its contrast and smoothness, especially with its 120Hz refresh rate.
On top of that, you get the return of the ports that pros demand. That's not just the safety-focused MagSafe 3 charging port, but HDMI-out for connecting to displays and an SD memory reader for connecting memory cards for real-deal cameras. Oh, and don't think MagSafe will take USB-C charging out of the picture: the MacBook Pro's trio of Thunderbolt 4/USB4 ports also draw power. Plus you get a 1080p webcam, a trio of improved microphones and a stellar six-point speaker system.
Read our full MacBook Pro (16-inch) 2023 review.
The MacBook Pro 14-inch 2023 is one of the most powerful portable laptops money can buy, and that's because of the new M2 Pro chip from Apple, which delivers even faster performance than the previous M1 Pro chip. If you need to cut video on the go and don't want to pay extra for the larger 16-inch model, this 2023 Pro is a great choice.
This laptop turned in class-leading results on multiple tests, including Geekbench, Photoshop, Premiere Pro and video transcoding. If you want even more performance, the optional M2 Max chip offers a big graphics boost with up to a 38-core GPU. Based on our testing, you can blaze through creative work and even play demanding games like Resident Evil Village with pristine graphics and smooth frame rates.
It all looks good too thanks to the 14-inch mini-LED display, and you'll appreciate awesome 6-speaker sound system and comfy keyboard and touchpad. Plus, the 1080p camera is a bit better thanks to a new ISP. The HDMI port now supports up to 8K displays, and you still get an SD card slot. Add in faster Wi-Fi 6E and you have a near-perfect laptop for creative pros, though we'd like to see a touchscreen option and the addition of Face ID.
Read our full MacBook Pro (14-inch) review.
The Asus ROG Zephyrus G14 (2022) is a great gaming laptop that's also pretty portable, delivering a potent blend of performance, portability and power efficiency.
We've long been fans of the Zephyrus G14 because it has the chops to run most games at solid framerates, the efficiency to be used as a work laptop, and a slim, compact chassis that's more portable than most gaming laptops. While it's not tailor-made for video editing the way the MacBook Pros are, the fact that it can be configured with a speedy CPU, a good (for a laptop) discrete GPU and plenty of RAM makes it a decent video editing platform in a pinch.
The 2022 model we reviewed has a better, brighter screen than its predecessor, with good speakers and an AMD CPU/GPU combo that delivers solid gaming performance. It also sports a built-in webcam, something earlier models lacked.
Read our full Asus ROG Zephryus G14 (2022) review.
Considering an older model? They're still great; read our full Asus ROG Zephryus G14 review from 2020 to see why.
The 13-inch MacBook Pro 2022 (from $1,299) was the first M2-powered Apple laptop to hit the market. While the design is a bit dated, it's a solid choice for video editing on the go thanks to the power of M2.
And based on our tests, the M2 chip delivers, offering performance that destroys competing Windows laptops. The M2 also beats the M1 chip by a significant margin in various benchmarks. Plus, the new MacBook Pro 2022 delivers among the longest battery life we've seen from a modern laptop, surpassing 18 hours of runtime.
However, while this notebook sports a new slice of Apple silicon, the design shows its age. You get the same form factor, same ports, same display and same webcam. Meanwhile, the new MacBook Air 2022 offers a larger display with thinner bezels, a 1080p webcam and a thinner, lighter design.
Read our full MacBook Pro 13-inch (M2, 2022) review.
The MacBook Air M2 feels truly worthy of the Air name, delivering enough power to do some light video editing in a chassis just 0.44 inches thin and 2.7 pounds light. We're not saying that the previous MacBook Air M1 wasn't good — it helped introduce the world to the power of Apple silicon. It's just that cramming revolutionary performance in the same old chassis didn't feel (or look) like a leap forward.
The new MacBook Air is a breath of fresh you-know-what, and that's because Apple paired an even faster M2 chip with a design that's markedly thinner and lighter. Carrying this 2.7-pound notebook around and using it, this is a laptop that reminds us of the iconic original Air that Steve Jobs pulled out of a manilla envelope 14 years ago. Something this light can't be that powerful — can it? Yes it can.
The MacBook Air M2 isn't as powerful as its beefier Pro siblings, but it's still a great laptop. You get stellar performance, a vibrant display and superb battery life all wrapped up in a design that is delightfully portable.
Read our full MacBook Air M2 (2022) review.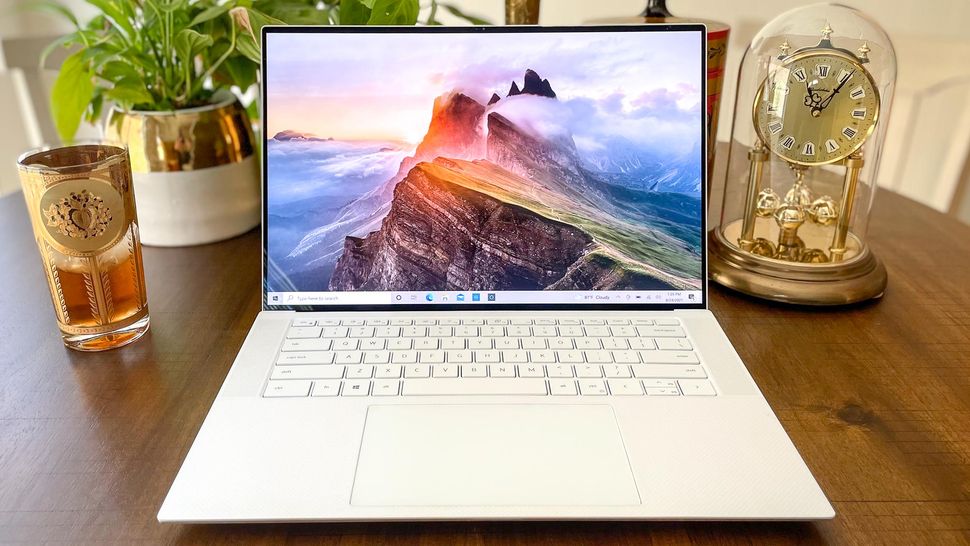 Don't let its slim and stylish design fool you — the Dell XPS 15 is an absolute workhorse, and if you trick it out it can be a decent machine for video editing on the go.
Its cutting-edge Intel CPUs deliver plenty of processing power for daily tasks, and if you pay to upgrade it with a beefy GeForce RTX GPU and some extra RAM/storage it should have more than enough oomph to get you through your next video project. Factor in a pair of impressively loud speakers and solid battery life, as well as an absolutely gorgeous OLED screen option, and you start to see why the XPS 15 is such an appealing laptop.
Read our full Dell XPS 15 OLED review.
Not interested in OLED? Don't miss our Dell XPS 15 (2020) review.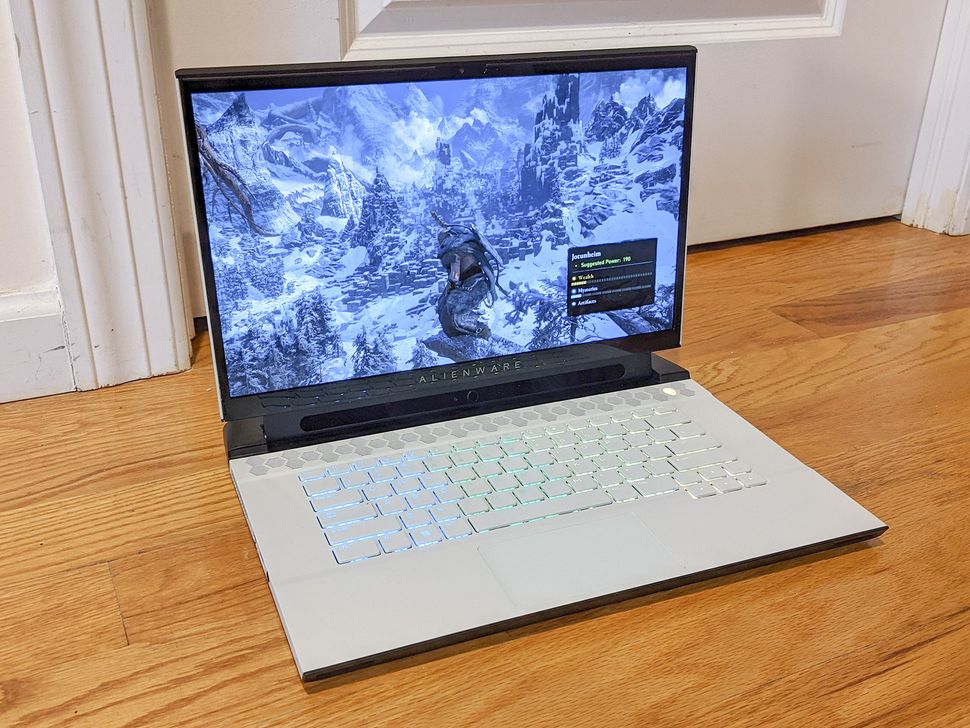 The Alienware m15 R4 is a sleek and functional gaming laptop that's plenty powerful enough for 4K video editing, thanks (in part) to its impressive Nvidia GeForce RTX 3070 GPU. While this machine can easily run you $2,500 (or more), in return, you'll get a streamlined and relatively lightweight device with a slick white chassis that looks good on a desk. With a fast CPU, lots of hard drive space and a beautiful 4K display, the m15 R4 is a surprisingly great laptop for video editing.
Of course, like most Alienware laptops (and gaming laptops in general), the m15 R4 has pretty meager battery life, managing barely 4 hours of web surfing on a full battery. The fans get remarkably loud under heavy workloads too, but if you're editing video with headphones on you'll barely notice.
Read our full Alienware m15 R4 review.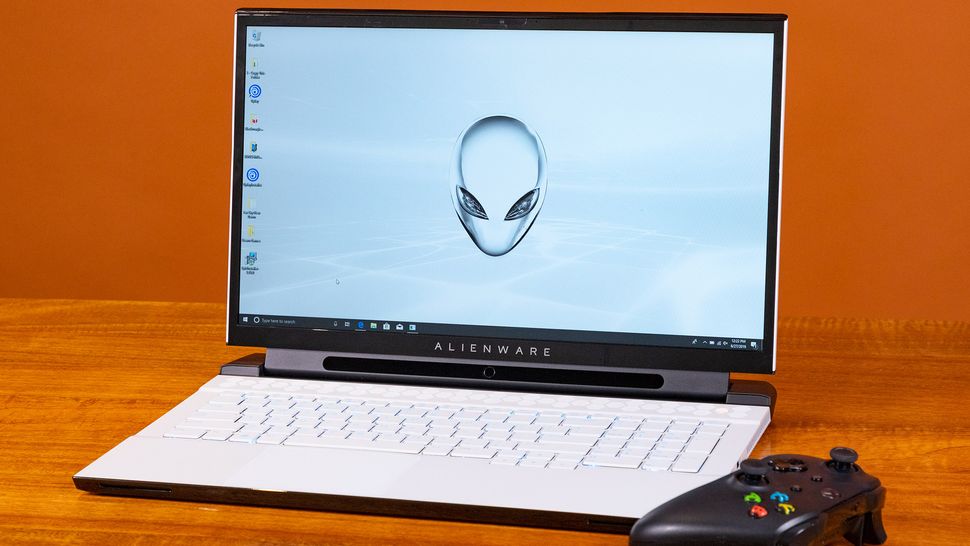 Like all Alienware gaming laptops, the Alienware m17 R2 is expensive, and the battery life is nothing to write home about. However, if you need a beefy laptop with a big screen for video editing, shelling out for a kitted-out m17 R2 makes sense: you'll get top-of-the-line GeForce RTX GPUs, Core i9 CPUs, a big 17.3-inch display, and more storage space than a U-Haul facility. It's one of the oldest laptops on this list, yet it still managed to earn one of the fastest times in our Handbrake video transcoding test.

However, we clocked the battery life of the m17 R2 at about 4 hours on a full charge; that's actually pretty good for a gaming laptop, but it does mean you shouldn't invest in an M17 R2 if you expect to be working away from an outlet for extended periods. But if you just need a powerful big-screen laptop to sit on a desk and edit videos, the m17 R2 is a great choice that won't let you down.
Read our full Alienware m17 R2 review.

How to choose the best video editing laptop for you
Performance: If you want good performance when editing video, you should get a laptop with at least a Core i5 CPU, 8 to 16GB of RAM and a 256GB to 512GB SSD. That will be enough for most 1080p projects, but for working in 4K or on big projects you'll want to try and upgrade to at least a Core i7 CPU, 16 to 32 GB of RAM, and a 1 TB SSD.
Graphics: Most mainstream laptops feature integrated graphics, which can handle lightweight video editing at 1080p but aren't ideal for big videos, especially those in 4K. For that, you'll want a laptop with a discrete graphics card, ideally something on the higher end of the Nvidia GTX 3000-series.
Size: Consider how mobile you want your laptop to be. Ultraportables like the Asus Zenbook 13 OLED and Dell XPS 15 are slim and light, while gaming notebooks such as the Alienware m17 R2 are big and bulky — but offer big power in exchange,
Operating system: If you want to use the most common video editing software, you'll want to stick with a relatively recent version of Windows or macOS — Linux and Chrome OS laptops don't have what it takes to excel at video editing. Right now you'll want a laptop with the latest version of Windows 10 or macOS Big Sur, though Windows 11 and macOS 12 Monterey laptops are right around the corner.
How we test the best laptops for video editing
To find the best laptops for video editing, we run every machine we review through a rigorous suite of benchmarks and real-world tests to gauge how it will perform during everyday use.
We measure the average brightness and color quality of each laptop's display using our in-house light meter and colorimeter. For general performance, we run laptops through a series of tests that include Geekbench 5 (CPU performance), as well as various 3DMark tests to measure graphics capabilities. We also run a file transfer test to measure how fast a machine's hard drive is, and a custom battery test that has the machine browse the internet over Wi-Fi until it runs out of juice.
Most importantly for video editors, we also benchmark the video editing capabilities of every laptop we review by timing how long it takes them to transcode a 4K video down to 1080p in Handbrake. Most laptops accomplish this in 6-20 minutes, and for the purposes of this list we only included laptops that could do it in less than 10.
Finally, when testing dedicated gaming laptops we also run benchmarks for popular games such as Shadow of the Tomb Raider and Red Dead Redemption 2.