Best Food Apps For Android
15 Tasty Food Apps For Android
Whether you're looking for a restaurant, new recipes, or even trying to figure out what kind of food you're in the mood for, there's an Android app for that. Check out these 15 tasty food apps for your Android tablet or smartphone.
Food Network In The Kitchen
More than just a channel guide, Food Network's In The Kitchen app puts recipes from the network's celebrity chefs right at your fingertips. Users can view thousands of recipes, photos and videos so you can cook with the pros, with new recipes added every month. Users can search by chef or ingredient, view seasonal collections, import recipes, create custom shopping lists and access useful extras like unit converters and cooking timers.
Kitchen Stories
Kitchen Stories delivers various media-rich recipes filled with easy to follow instructions, videos and mouth-watering food photography, interspersed with a smattering of food and lifestyle articles. Presentation is king in Kitchen Stories, with recipes displayed in a tile interface showing off food images, as well as illustrated step-by-step recipes. You can save your favorite recipes, add notes to each recipe and create a shopping list of ingredients.
Sidechef
Learning to cook can be an intimidating experience; juggling ingredients and kitchen implements while keeping track of a recipe. Sidechef helps by delivering recipes with step-by-step instructions, complete with photos, videos and even voice instructions. Timers are built in so that you can follow along and keep your eyes and hands focused instead of a touch screen. In addition, Sidechef also delivers a rich serving of extra content in the form of search tools with filters based on ingredients, diet, or cuisine, featured recipes and more.
Chefsteps
Chefsteps serves up a rich serving of recipes and tips and tricks. ChefSteps' articles and videos all have a nice, conversational style and cover a variety of topics, recipes and food hacks. Learn to sous vide, control grease flareups when grilling and cook perfect roast veggies. The app interface is pretty bare bones. A one-time purchase unlocks premium recipes and extra content.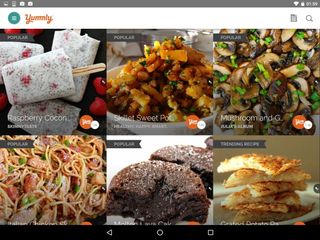 Yummly
Rather than wading through a torrent of recipes to find that one golden nugget, Yummly takes into account your dietary restrictions and tastes in order to help you discover recipes that you might find interesting. The app shows you a selection of recipes to "Yumm" (aka like). Once you've chosen five (and entered any dietary restrictions), Yummly uses this data to constantly refine a list of recipes to feature every time you open the app. You can save your favorite recipes, create instant shopping lists and even order their shopping lists for delivery through Instacart.
BigOven
BigOven is an all-in-one food app that brings a wealth of tools to the budding home chef, from a recipe search engine to a recipe clipbook, grocery assistant and menu planner. Users can browse through BigOven's more than 350,000 recipes, import recipes from other sites, or have them uploaded from photos of family recipes. A recipe book and menu planner help you keep your meal plans organized, while a grocery assistant helps you plan out exactly what you need for all those fancy new recipes you want to try out. Premium subscribers unlock extra tools such as ingredient and lifestyle filters for recipe searches, as well as unlimited recipe uploads.
Chefs Feed
Something of an 'anti-Yelp', Chefs Feed ditches crowd-sourced reviews in order to focus on expert sources. Chefs Feed features reviews from more than 1,000 chefs in 24 cities, such as Mario Batali and Wolfgang Puck to name a few. Users can read up on food and restaurant reviews, check out chef's recommendations, and search for reviews by chef, dish, cuisine or keywords.
AllRecipes Dinner Spinner
Allrecipes Dinner Spinner uses a neat spinner system for helping users find just the kind of recipe they need. A set of spinners allows users to look up the kind of course, main ingredient and preparation time they want to cook up, and Allrecipes then brings up a set of recipes that fit the parameters, with detailed instructions and videos. In addition to the dinner spinner, the app also functions as a recipe box, shopping list and more.
AllTheCooks
Allthecooks is a combination of a recipe tutorial app and a social network, providing its users with a wealth of crowd sourced recipes ranging from everyday viands to fine dining. Users can search for tons of recipes from main courses, desserts, appetizers, soups and variants, with filters for ingredients, ease of preparation and dietary restrictions. Users can create custom shopping lists, participate in user forums or comment on individual recipes and even upload their own favorite meals for others to enjoy.
Paprika
Paprika Recipe Manager is an excellent way to organize your custom digital cookbook. A built-in browser lets users easily search for recipes online and clip them into their recipe book, or manually type them in and edit them in-app. Once you've loaded in recipes, you can organize them into various categories and have the app automatically generate a grocery list by selecting recipes. The app also detects cooking times, providing built-in timers that you can trigger with a tap as you cook. You can even scale ingredients based on your desired serving size. Meal planners, a pantry log, and more are among the many features of this excellent cooking app.
Cheftap
Cheftap is a freemium Android recipe manager that does a great job at importing recipes from your favorite sites all over the net, with a variety of tools for you to organize your collection. Cheftap's built in recipe scraper allows you to import from any website or blog, and it can even scrape all of the recipes from a Pinterest board, as well as from your Epicurious or Allthecooks recipe box. Users can tag and edit recipes. The app allows you to store 50 recipes offline or 100 recipes with a free account. A ChefTap Pro account also includes premium features such as unlimited recipe importing and cloud backup and syncing.
Evernote Food
Whether you're organizing recipes, looking for a good place to eat, or just want to lifelog meals, Evernote Food is an ideal companion app. The app easily allows users to save recipes found across the web into their own cookbook for later perusal. Easily document every step of the cooking process with notes and pictures that are featured prominently on the recipe entries. A location and map based restaurant view allows you to discover eateries, search by cuisine, and clip and save lists of those you've already visited. A My Meals section allows you to log your favorite dining experiences with notes, favorite dishes and your own photographs.
OpenTable
With OpenTable, you'll never have to worry about seating when planning your next night out. The app allows you to book reservations with more than 20,000 restaurants across the U.S., Canada and Mexico. Simply choose a date, time and number of diners and you can pull up a list of available tables in real time, as well as set your reservations. You can view restaurants on a map, narrow your search by cuisine, price and neighborhood, browse through menus and reviews. You can even make out of town reservations when planning long trips.
Seamless
If you'd rather have food delivered rather than eat out, try Seamless, a mobile app that makes it a snap to order from your favorite local restaurants. Users can check out the menu and order from more than 12,000 restaurants in major metropolitan areas, which you can sort through by a variety of parameters such as proximity and cuisine. The app and service is all free, and customer service is available 24/7 in case there's a problem with your order.
Hello Vino
Can't tell the difference between a Merlot, a Muscat or a Pinot Noir? Don't worry, Hello Vino is here to help. The app is designed to assist the everyday wine buyer, suggesting the best wines to go with your food. Users can snap pictures of their purchases and add notes to their favorites. The app's extensive wine guide allows users to read up on wine and grape varieties as well. Users can scan wine labels to bring up tasting notes, ratings and recommended food pairings, or even phone in to a wine expert for suggestions on-demand.
More Food Apps
Need more home cooked goodness? Check out our list of the Best Recipe Apps. Or, if you're the type who'd rather make the food come to you, we have our roundup of the Best Food Delivery Apps. And when you're done eating, shed those gluttonous pounds by using one of our Best Workout Apps.