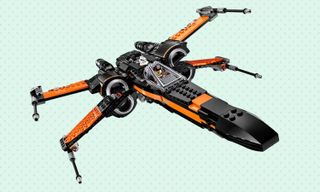 Bricks from a Galaxy Far, Far Away
Creative fun for kids of all ages and even adults, Lego Star Wars sets let you recreate all the coolest scenes, vehicles and characters from the movies. The Lego company makes dozens of current sets, which encompass everything from a life-like Millenium Falcon to a detailed BB-8 model. These are our favorites.
Credit: LEGO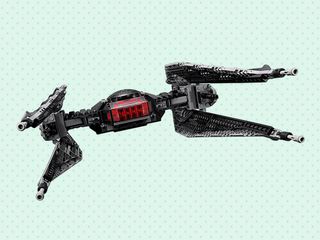 Kylo Ren's TIE Fighter (75179)
Like his grandfather before him, Kylo Ren is both a great pilot and a dark-side menace. This 630-piece set comes with everything you need to build the Tie Fighter that shoots plastic missiles, along with mini figures of a First-Order Stormtrooper, a generic TIE Fighter pilot, a First-Order droid and Kylo Ren himself (sans mask).
Credit: LEGO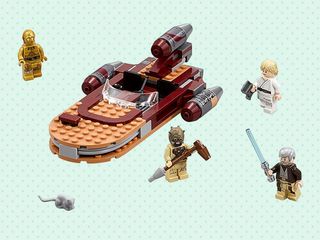 Luke's Landspeeder (75173)
The coolest car on Tatooine is now one of the most affordable Star Wars Lego sets around. Available for under $30 (and sometimes under $20), Luke's Landspeeder has everything you need to re-enact Obi-Wan Kenobi's first scene from A New Hope. The flying vehicle has an operational trunk and comes with minifigs of Luke, Obi-Wan, C-3PO, a Tusken Raider and a Womp Rat.
Credit: LEGO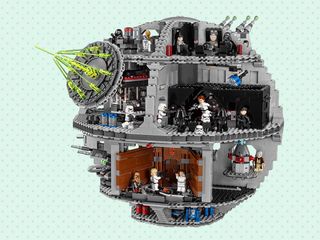 Lego Death Star (75179)
The Death Star plays a huge role in three different Star Wars films and this 4,016-piece set has the bricks to create nearly every iconic moment from Episodes IV and VI. Rather than showing you the sleek outside of the battlestation, the set shows you all the rooms inside, including the emperor's throne room, the energy chamber, shield generator and the gang plank that Leia and Luke jump over. The set comes with over two dozen different minifigs, including R2-D2, C-3PO, Darth Vader, Princess Leia, Han Solo and a slew of Imperial troops.
Credit: LEGO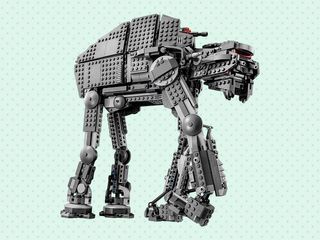 First Order Heavy Assault Walker (75189)
Relive the excitement of one of the Last Jedi's key battle scenes with this First Order Heavy Walker. Reminiscent of the original AT-AT walkers, this attach vehicle has four posable legs, an interior cockpit, a set of detachable bombs and missiles that actually shoot. The set comes with 1,376 parts, enough to build the 13-inch long, 13-inch tall walker, along with mini figs of Rey, Poe, a Resistance Trooper, a Walker Driver and a Stormtrooper.
Credit: LEGO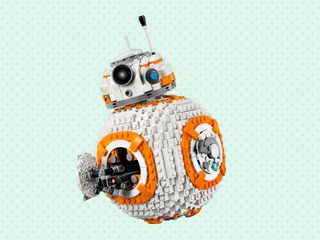 Star Wars VIII BB-8 (7518)
While most Lego Star Wars sets create vehicles or set pieces from the films, this one builds a rather detailed model of BB-8. The 9-inch high, 5-inch wide droid has a rotatable head, and a pop-out welding torch, just like in the movies. The 1,106-piece set also comes with a stand and a plaque for displaying your creation.
Credit: LEGO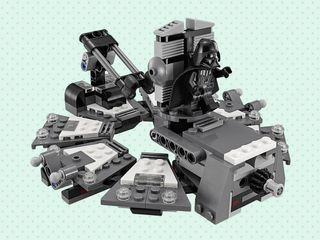 Lego Star Wars Darth Vader Transformation (75183)
In the best moment of Episode III, a badly-burned Anakin Skywalker becomes Darth Vader. Relive this exciting but a little bit disturbing scene with the Transformation Kit. A surgical table flips around to give the medical droids space to operate and the kit comes with minifigs of Anakin, Darth Vader (with removable helmet) and Emperor Palpatine.
Credit: LEGO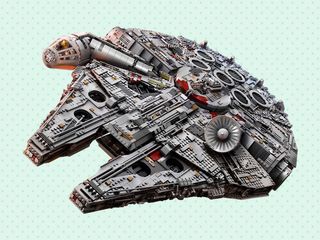 Lego Millenium Falcon (75192)
With an MSRP of $799, this is the most expensive Star Wars Lego set you can get, but if you can spare the cash, this model is worth the money. This 7,541-piece set produces an extremely-detailed model of everyone's favorite spaceship, along with all the interior rooms for the cockpit, the game room and the gunnery station. It also comes with mini figs of Han Solo, Princess Leia C-3PO, Rey, Finn, BB-8 and a Mynock.
Credit: LEGO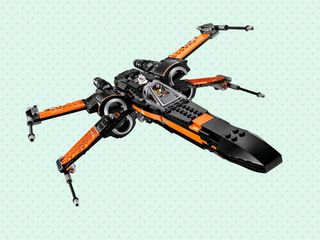 Poe's X-Wing Fighter (75102)
It's hard to decide which new-trilogy character is coolest, but Poe Dameron has a very strong claim to the throne. This 717-piece set allows you to build a 14-inch long replica of his X-Wing fighter and comes with minifigs of Poe, BB-8, a resistance fighter and a service technician.
Credit: LEGO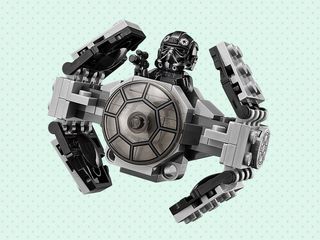 TIE Advanced Prototype (75128)
Available for under $15, this affordable 'microfighter' comes complete with a TIE pilot minifigure and missiles that fire.
Credit: LEGO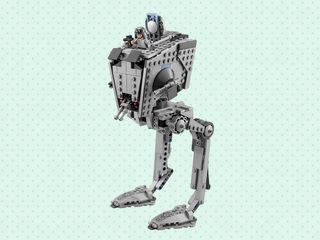 Lego AT-ST (75153)
What walks on two legs in afternoon? This 449-piece AT-ST Walker recreates one of the two-legged battle vehicles from Rogue One and Return of the Jedi. The kit comes with three Rogue One minifigs, including Baze Malbus, a rebel trooper and an AT-ST driver.
Credit: LEGO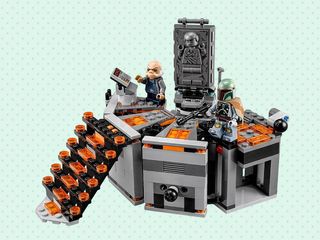 Carbon-Freezing Chamber (75137)
This Lego set features the platform where Han Solo gets frozen at the end of Empire Strikes Back. It comes complete with minifigs of Han, Bobba Fett, an Ugnaught and a frozen Han.
Credit: LEGO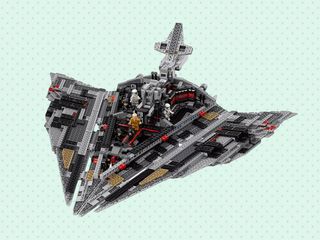 First Order Star Destroyer (75190)
This 1,416-piece set builds a 22-inch long destroyer from the Last Jedi film. Pop the top off to reveal a series of interior rooms, including Snoke's throne room. It comes with five minifigs, including Snoke himself and some Imperial officers.
Credit: LEGO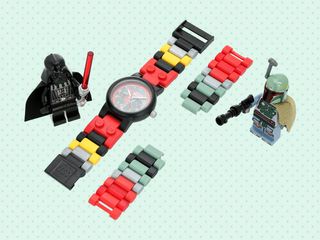 Boba Fett and Darth Vader Buildable Watch
Lego makes a number of cool analog watches with bands that adjust by adding or removing links. This watch comes with minifigs of both Darth Vader and Boba Fett and both characters also appear on the watch's face. You can change the links in the band to green (Fett's color scheme) or red (Vader's color).
Credit: LEGO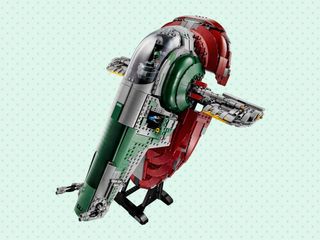 Lego Slave I (75060)
Bobba Fett's iconic spaceship comes to life in this 1,996-piece set. This 17-inch long, 14-inch wide ship has a cockpit, shooters and wings that all rotate, along with a cargo hold and hidden weapons. It comes with minifigs of Bobba Fett, a Bespin guard, a Stromtrooper and Frozen Han Solo.
Credit: LEGO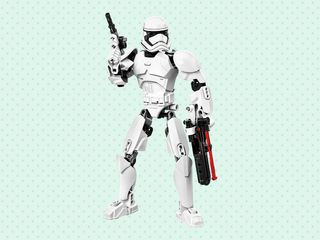 First Order Stormtropper (75114)
Lego makes a number of 9-inch tall, buildable action figures. The First Order Stormtrooper is our favorite, because of how slick it looks, but you can also get Jango Fett, Darth Vader, Kylo Ren, General Grevious and more.
Credit: LEGO