9 Tips for Mastering Super Mario Odyssey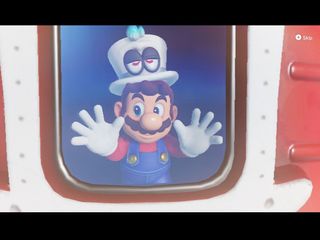 9 Tips to Play Super Mario Odyssey Right
Super Mario Odyssey is one of the year's best games, but to best enjoy the adventure, you'll want to master its ins and outs. Whether you're playing for the story or practicing for a speed run, these tips will give you the knowledge you need to play efficiently and see all that the game's wonderful kingdoms have to offer.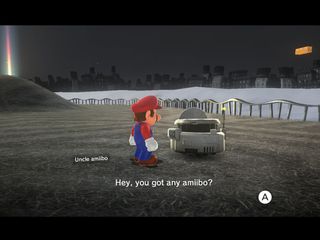 Use your amiibo
You can play the entirety of Super Mario Odyssey without ever using an amiibo, but if you want some quick collectibles or tips, they can help. Tapping some figures, like the official Mario Odyssey amiibo, as well as Diddy Kong and Classic Mario, will get you new costumes, while others give you a few extra coins. Additionally, you'll find a Toad in each kingdom that lets you tap an amiibo for tips on where a hidden Moon is, so tap away if you're stuck.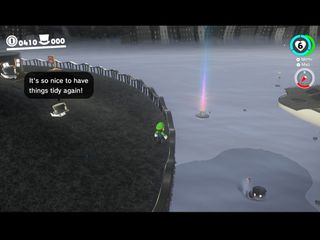 Take the high ground
Whenever you can get up high, do it. It'll afford you a wonderful view of any kingdom you're in, including a clear view of where coins — both regular and purple (specific to that kingdom) — are. You can also see a path to your main objective. Most levels have a pair of binoculars you can take over with Cappy in order to get an awesome view of the whole level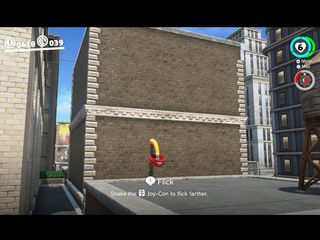 Capture everything
Most of what you see in Super Mario Odyssey can't be captured. But if you even think it can be, you should try. It's not just residents of the game's worlds, but also animals and even pieces of architecture. Sometimes, you'll be able to reach new places; other times, they'll just spit out coins. But everything you capture introduces new abilities that change the game, and it's worth experiencing all of them. Hint: If something has a hat on, you can't capture it, though you may be able to knock it off to replace it with Cappy.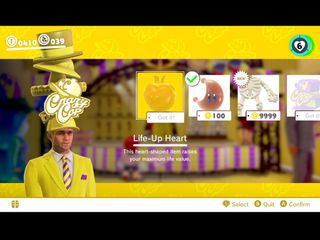 Buy extra heart containers
Some people will say this makes the game too easy, but I disagree. Some of the game's bosses ramp up the difficulty, and buying an extra set of temporary heart containers will be the difference between victory and playing the boss over again for a sixth time. You can buy these containers from Crazy Cap stores, though a salesman will happily seek you out after a couple of continues.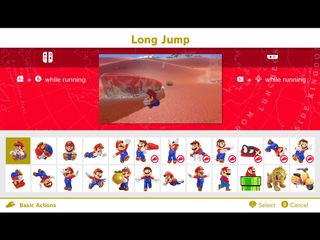 Memorize your moves
In the first several levels, some characters will remind you to read the Action Guide, which tells you how to perform the majority of Mario's acrobatic moves. It can be overwhelming (and all of the reminders can be annoying), but it's worth it. Memorizing the moves early makes it easier to get to hard-to-reach spots that likely contain Moons, purple coins and other rarities. And you'll need to master them if you ever want to take on a speedrun.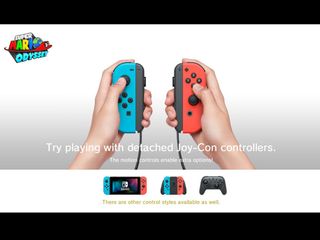 Play on the TV
The worst part of Super Mario Odyssey is that some moves can only be pulled off with motion controls. On the game's loading screen, Nintendo suggests using detached Joy-Cons, and for good reason: When you use the Joy-Cons individually, it's much easier to pull off moves with Cappy, like tossing him in the air, rolling him on the ground and spinning him around in a circle. You don't need these moves to complete the game, but they can be instrumental in getting hard-to-reach items.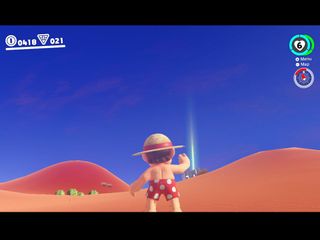 Follow dogs, rabbits and the light
Dogs and rabbits in Super Mario Odyssey do more than wear cute hats. If you catch a rabbit with a ground pound or by throwing Cappy, you'll get a Moon in every level. Additionally, there are some dogs in fedoras (only dogs can pull off fedoras), and if you follow them, they may dig up a Moon.
Be sure to look for things that light up in rainbows. Chests, areas you can ground pound and items that you can break open may glow faintly, and that means there's a Moon hidden inside.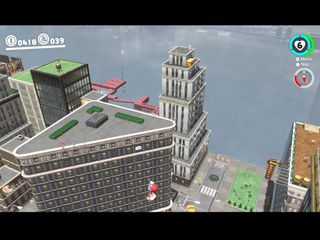 Fall freely
Mario has some really strong shins. There's no fall damage in Super Mario Odyssey, which means that if you see a Moon or some rare purple coins from the top of a building or a hill, you can drop down to that area without any penalty. Sure, Mario will grimace, but you won't lose any actual health. Drop as far as you need, as often as you want.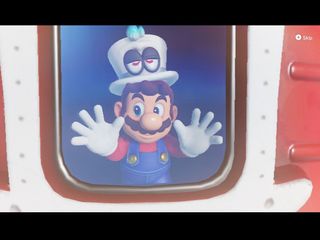 Move on, go back
It's easy to feel as if you should collect every Moon in the game as you see it, but that's not the optimal way to play Odyssey. For starters, not every Moon will be available until you finish the story. Additionally, you won't be rewarded for finding every single moon until you reach the endgame. Once you've collected everything you can find in a level, feel free to move on. The other Moons will be there when you get back, plus a bunch more.