Many of the iPhone 8 rumors swirling about have focused on the iPhone Plus and its larger screen. But don't assume the smaller iPhone 8 will be a bore.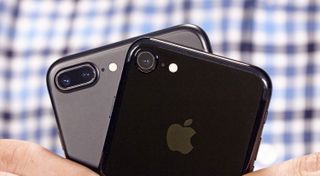 A new note to investors from KGI Securities analyst Ming-Chi Kuo suggests that the 4.7-inch iPhone Apple plans to release next year will come with an all-glass enclosure and feature wireless charging. But that note, obtained by MacRumors, also says that the smaller iPhone will not feature the OLED screen that's rumored to be headed to Apple's larger phone — or at least, one version of Apple's larger phone.
MORE: iPhone 8 Rumors: What to Expect from the 10th Anniversary iPhone
OLED screens have dominated much of the iPhone rumor mill to date, with many expecting Apple to upgrade the iPhone 8's screen to a display offering better color saturation and contrast. A shortage of OLED panels, though, may limit the number of iPhone models that can make the jump to OLED. (Kuo, in fact, in a previous research note forecast that Apple would offer an OLED-equipped iPhone 8 alongside the standard iPhone and iPhone Plus models.) That would seemingly leave the 4.7-inch iPhone model stuck with the same LCD screen as this year's iPhone 7.
But that doesn't mean the smaller iPhone will be devoid of any new features when Apple unveils it next year. In his latest research note, Kuo contends that Apple has a real desire to deliver a better 4.7-inch iPhone 8 next year that will keep demand in place on smaller handsets. And Kuo has previously forecast an all-glass redesign for the iPhone 8.
Offering a glass model is important for wireless charging, says Kuo, who bases his comments on what he learns from Apple's supply chain. While Apple could handle wireless charging on a metal unibody iPhone, glass makes it easier to send power through the handset. That could be part of the reason Apple is so interested in offering a major chassis change to the device.
Still, even with wireless charging support, Kuo doesn't expect Apple to bundle a wireless charger with the 4.7-inch model. Instead, he says wireless charging bundles will be ubiquitous in 2018, when their production costs come down.
Ultimately, though, Kuo says the 4.7-inch iPhone will deliver "notably superior specs" that could send demand for the handset soaring.
Apple hasn't announced any plans on a future iPhone, and if history is our guide, it won't say a word until it's ready to announce the new handset next year.