The best smart speakers don't just play music — these smart home devices have a voice assistant built in, which lets you use the speaker for all sorts of tasks, such as looking up the news and weather, recipes, and controlling smart home devices, such as lights and locks. They can even change the channel on your TV.
Of all the best smart home devices, the first you'll probably get is a smart speaker. Most smart speakers come with either Alexa or Google Assistant. A few let you switch between Alexa and Google, but for the most part, you're stuck with one. Before you buy, decide on the assistant you want to use. Amazon's assistant came out on top in our Alexa vs. Google Assistant face off, but both have positive attributes that the other lacks.
Of course, there's the Siri-enabled HomePod speakers. Not to mention the best smart displays that are also speakers, which are described in our ultimate smart home guide.
If you're already invested in a specific assistant that's not Siri, check out our guides to the best Alexa speakers and best Google Assistant speakers. But if you're undecided see all of the best smart speakers below.
The best smart speakers you can buy today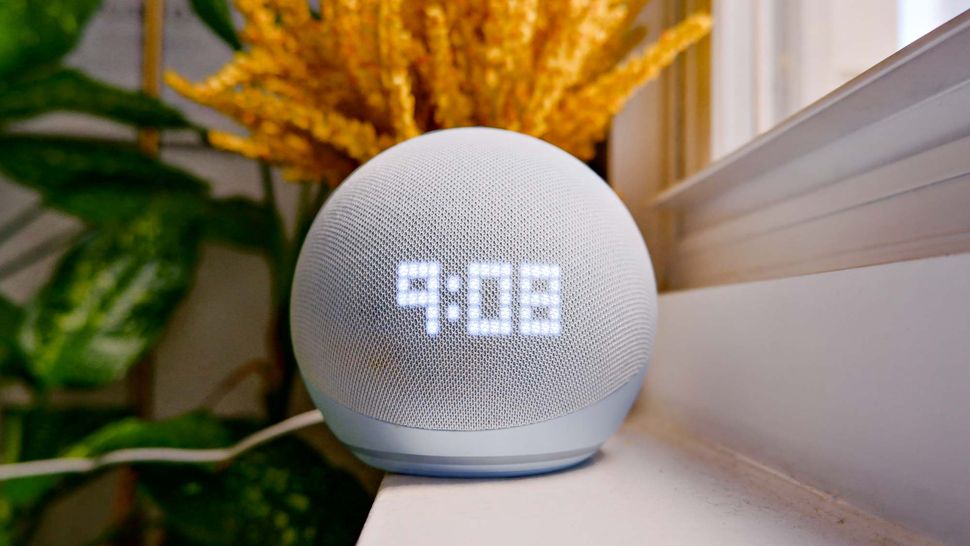 This is an Echo Dot with a clever LED clock built in its face. However, this seemingly simple device has a ton of functionality, making for the best smart speaker you can buy. In fact, we wish more smart home companies took Amazon's cue and make minor — yet effective — enhancements to already excellent devices.
More than just the time, though, the Echo Dot with Clock's display can also show you the current temperature, song titles and answers to math equations. It functions as a timer, too. It has an ambient sensor that automatically adjusts the brightness of the display based on the lightning of its surrounding environment, as well as a built-in temperature sensor that can trigger Alexa routines.
The Echo Dot with Clock costs $10 more than the Echo Dot, but based on our experience, we think it's a worthwhile upgrade for those who want to know the time without having to ask Alexa. Truly the only downgrade is that it doesn't have the 3.5mm audio out port found on the previous Amazon Echo Dot with Clock (4th Gen).
Read our full Amazon Echo Dot with Clock (5th Gen) review.
If you are looking for a single speaker to wrap you in sound, the Sonos Era 300 is worth the investment. This smart speaker features support for Dolby Atmos spatial audio, meaning that compatible music tracks will feel like they're enveloping you from all sides. It sounds amazing, and all from a speaker that's slightly smaller than a shoebox. And, because it's Sonos, you can stream Dolby Atmos tracks from both Apple Music and Amazon Music Unlimited (sorry, no Spotify yet).
We also like that the Era 300 is both retro- and future-proof: A USB-C port in the back lets you hook it up to your turntable, and both Wi-Fi 6 support means it'll work with the next generation of wireless routers, too. Our biggest quibble with the Era 300 is that you need to connect it to a Sonos soundbar if you want to use its spatial audio capabilities when watching movies.
Read our full Sonos Era 300 review.
While it largely locks you into Apple's ecosystem, the HomePod 2 delivers some of the best sound we've heard from a smart speaker. Thanks to a beefier woofer and redesigned tweeters, it pumps out some impressive audio. And, it's also compatible with Dolby Atmos, so you can play spatial audio tracks — from Apple Music only, of course.
Apple has added some more smarts to its smart speaker, too. Its gorgeous circular touchscreen is larger than the original, and inside the HomePod 2 are temperature and humidity sensors, which you can use to automate smart home scenes using HomeKit. The HomePod 2 also supports Matter, so you'll be able to more easily add other smart home devices once they come on the market.
Apart from music, you can also link a HomePod 2 (or two) to an Apple TV 4K for audio output, which really makes watching movies that more exciting. This is one smart speaker that sounds as good as it looks.
Read our full Apple HomePod review.
The Sonos Era 100 improves upon its predecessor, the excellent Sonos One, in just about every way. Thanks to a larger woofer and now two tweeters for stereo sound, audio gets a big boost in the Era 100, which can easily fill a room, despite its compact size.
Other improvements include easier-to-use controls, Wi-Fi 6, Bluetooth, and the ability to work with turntables. Like other Sonos devices, you can pair two of the Ones for true stereo sound, or link them with other Sonos speakers for whole-home audio.
Aside from audio quality, another advantage of the Era 100 — along with every Sonos product — is that you can stream audio from hundreds of streaming services, from well-known sources like Spotify to more obscure channels.
Unlike the Sonos One, which works with Alexa and Google Assistant, the Era 100 only works with the former. While you don't get all of the abilities of the voice assistant, there's enough there for most. It also offers Sonos Voice Assistant.
Read our full Sonos Era 100 review.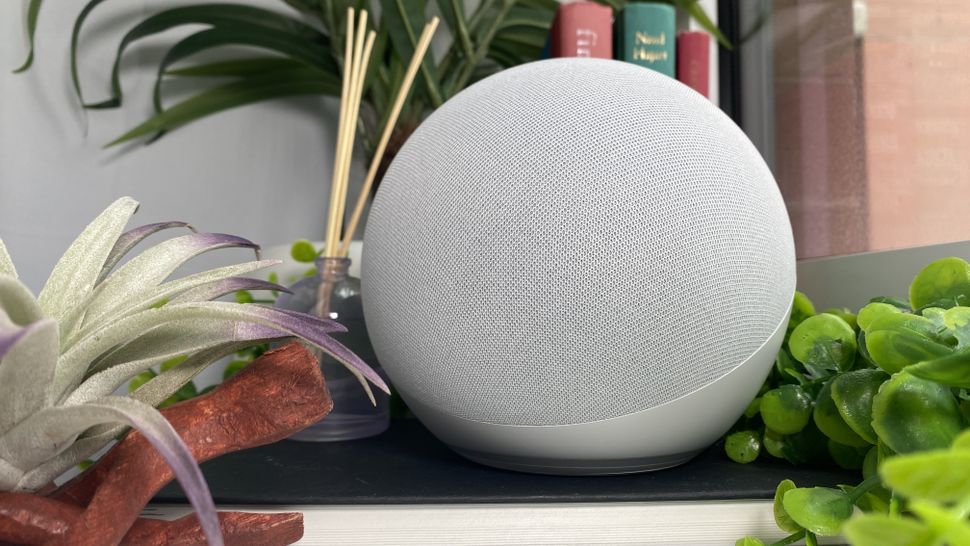 The 4th-generation Amazon Echo makes a big visual statement with its new sphere-shaped design, but it's what's on the inside of the Echo that makes it one of the best smart speakers, and the overall best smart speaker under $100.
Compared to the 3rd-generation Amazon Echo, this one not only has improved audio, but a host of other features that make it one of the most convincing smart home devices around. The inclusion of a Zigbee hub lets this Echo lay a foundation for the rest of your connected products. So if you're looking for a smart speaker that will not just play tunes, but act as a central smart home hub, the 4th-generation Echo is the best choice.
Read our full Amazon Echo (4th gen) review.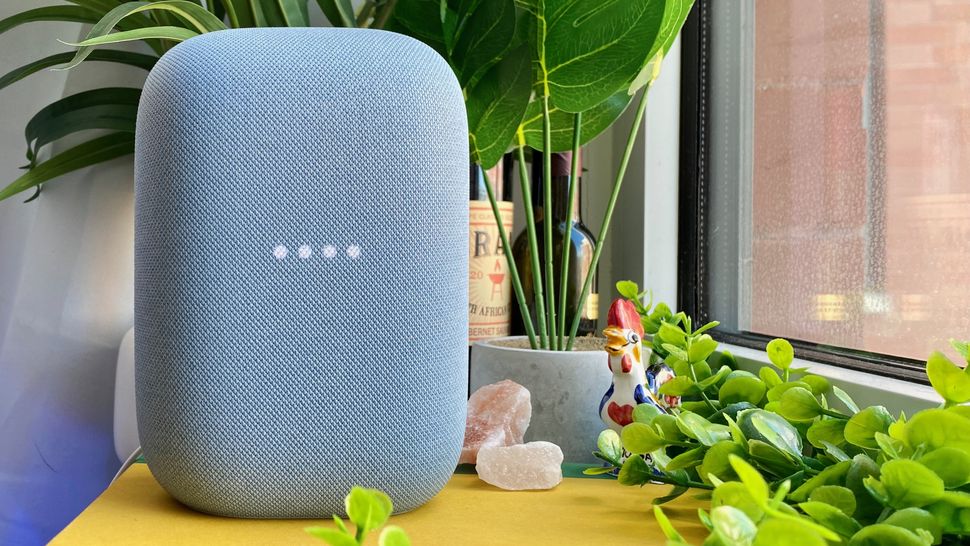 At $99, the Google Nest Audio is $30 less than the original Google Home, yet an improvement over its predecessor in every way. It sports a clean-looking, cloth-covered exterior, so the Nest Audio can be disguised as home decor unlike the tear drop-shaped Google Home. You'll also get louder sound and stronger bass from the Nest Audio. In our testing, this towering smart speaker packed a punch.
Not only is it one of the best smart speakers in terms of sound — thanks to on-device processing, Google Assistant gives speedy responses, which comes in handy when searching for music or getting a morning rundown while you're in a rush.
Read our full Google Nest Audio review.
Apple fans who have been looking longingly at Amazon and Google's budget smart speakers finally have a device to call their own. The Apple HomePod mini sounds great for its size, and will certainly attract many more buyers than the $249 HomePod did. Plus it looks great, complete with a colorful glowing panel and a base that won't stain your furniture.
The HomePod mini also integrates well with your iPhone and other products in the Apple ecosystem. If you're a fan of the Siri assistant, you'll appreciate having it within voice's reach around your home. You'll be able to use it to control the best HomeKit devices at any time.
Read our full Apple HomePod mini review.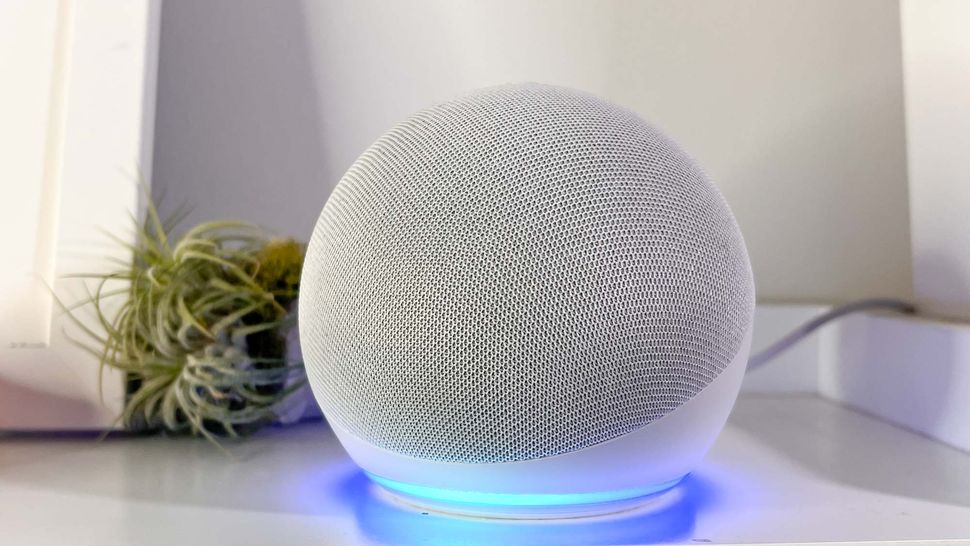 With the 5th generation Echo Dot, Amazon has once again delivered an inexpensive smart speaker that doesn't skimp on features or quality. The spherical shape along with improved speaker hardware lets audio sound fuller despite this Echo Dot's compact size and affordable price tag. Simply put, it's one of the best smart speakers under $50.
The Echo Dot's purpose is to be more of a personal smart speaker. No, this isn't the solution for controlling all your connected home devices or filling your space with sound, plus it no longer has a 3.5mm audio line out. But it does have eero built-in and features room temperature sensor that can initiate certain Alexa smart home routines. That's why it's a great "starter" device for a smart home. It makes a great gift, too.
Read our full Amazon Echo Dot (5th gen) review.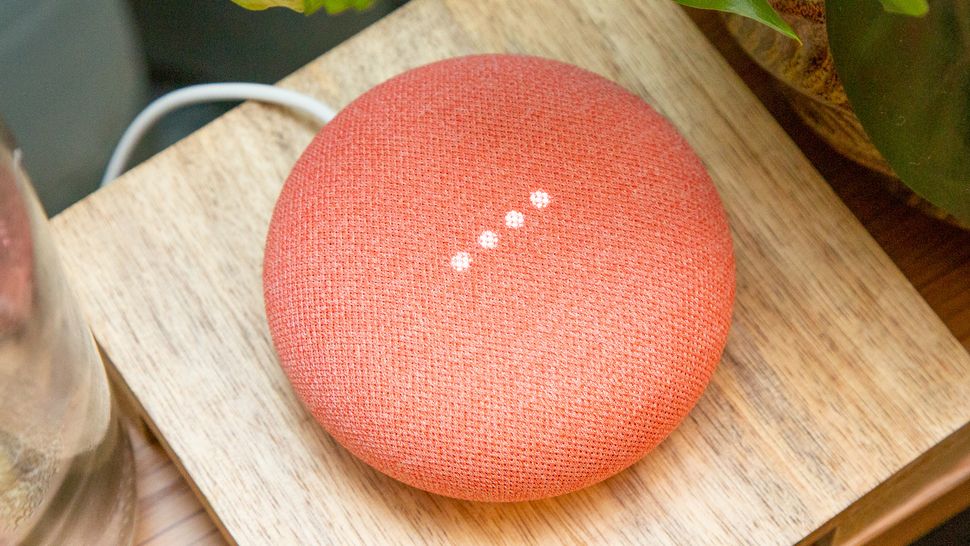 Like the Echo Dot, the Google Nest Mini is one of the best smart speakers you can get for less than $50. Without changing the price or general appearance of the original Google Home Mini, Google made significant interior upgrades that make the Nest Mini better than its predecessor. The added microphone, twice as strong bass and in-house learning chip give it spectacular value for the price.
Touch-sensitive controls on the top of the Mini let you adjust volume, and are otherwise hidden, which gives its cloth-covered exterior a non-techy look. We also liked the fact that there's a physical switch to deactivate its microphone, for those times you don't want Google listening in. Plus, the hook on the back lets you hang it on the wall to save counter space. The Nest Mini also comes in a variety of colors: a modern-looking light-grey, Chalk, Charcoal gray, Coral orange and Sky blue.
Read our full Google Nest Mini review.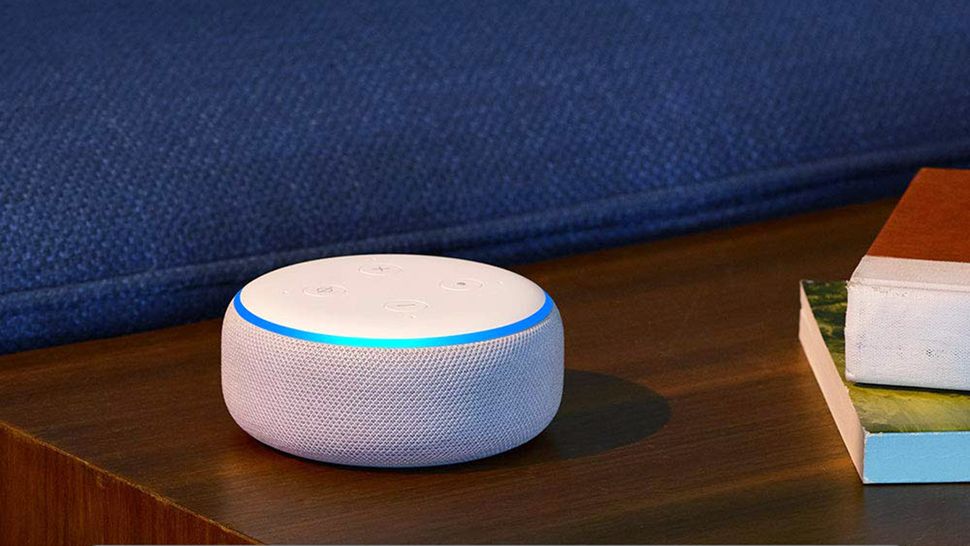 The third-generation Echo Dot has vastly improved sound over the previous generation and, with a fresh, cloth-covered design, looks better too. Although it was once higher on this list of the best smart speakers, it's been replaced by the spherical Echo Dot. You can still get this puck-shaped model for the great price of $30 (and often less,) which is why we think it's still worth recommending.
Amazon is continuing to sell this Echo Dot until it runs out of stock, which will likely happen during the holiday season. If you're looking for an even cheaper smart speaker, the $25 Echo Flex is an excellent variant. The plug-in Alexa device doesn't sound the best, but its useful nonetheless.
Read our full Amazon Echo Dot (3rd gen) review.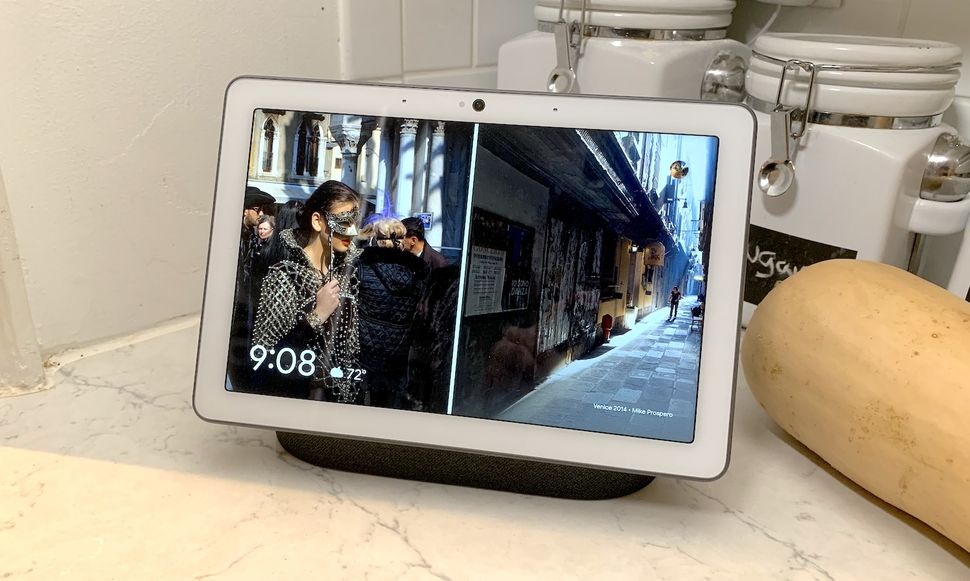 Why settle for a mere speaker when you can get one with a massive touchscreen, too? Yes, the Google Nest Hub Max is a great smart speaker — it has two 18mm, 10W tweeters and one 75mm, 30W woofer, which pump out great audio — but the star of the show its its large 10-inch display, which lets you do everything from watch videos to look up step-by-step recipes, control your smart home devices, and even get a glimpse at how long your commute will be. It's the ultimate vehicle for the best Google Home commands.
Atop the Nest Hub Max is a camera which you can use to make video calls (sadly, via Google Duo only), but it has a clever motion-tracking feature that will keep you in the center of the frame as you move about a room. It's great if you're in the kitchen making dinner, and can't remain planted in front of the display. We also appreciate the camera privacy switch, and imagine others will, too. It's taken Google longer than Amazon to come out with a 10-inch smart display, but the Echo Show now has a more than worthy competitor in the Nest Hub Max.
Read our full Nest Hub Max review.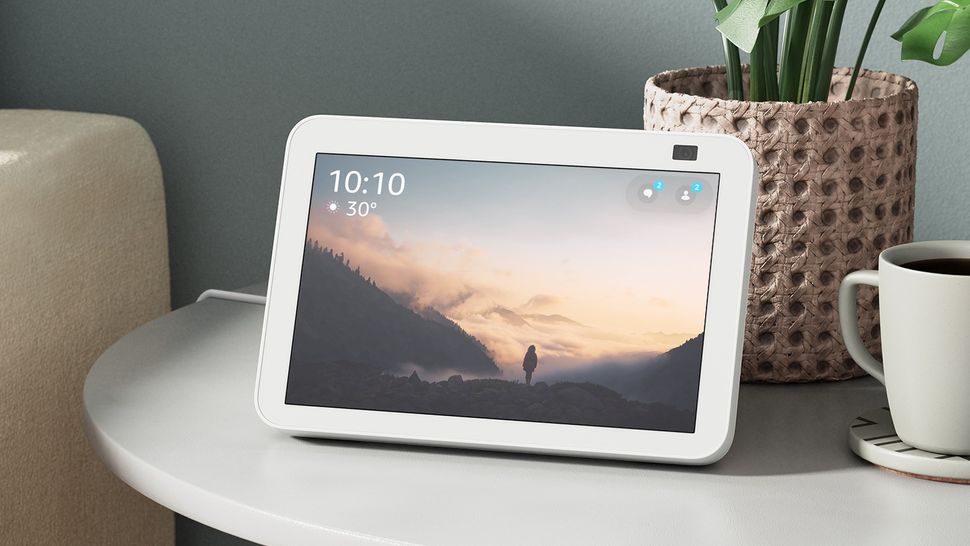 We're as surprised as you, but we think the Amazon Echo Show 8 is by far the best Alexa speaker with a display. That's right: We like it better than its larger sibling, the 10-inch Amazon Echo Show, and miles more than the adorably compact Echo Show 5.
For starters, the Echo Show 8 is much less expensive, yet delivers visuals and audio far better than its price would suggest. The main difference is that the Echo Show 8 has a smaller 1-megapixel camera, but we didn't find that impacting the overall quality of our video chats. It also lacks the Zigbee smart home hub found in the 10-inch Echo Show, but that shouldn't be much of a deterrent for those who want a quality smart display for around $130.
Read our full Amazon Echo Show 8 review.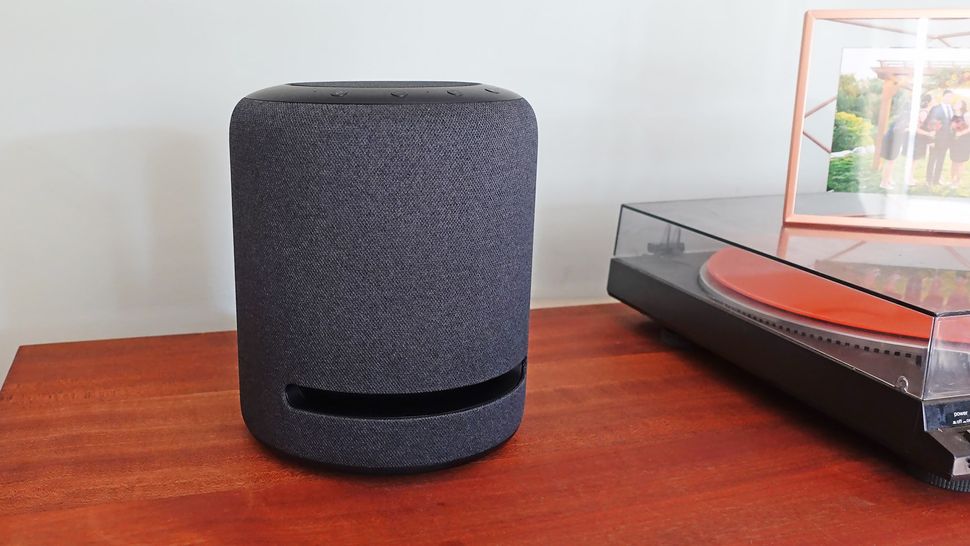 Perhaps tired of seeing Sonos eat its lunch, Amazon came out with its own premium smart speaker. The Echo Studio produces the best audio of any of Amazon's smart speakers, thanks to three 2-inch midrange speakers, a 1-inch tweeter, and a 5.3-inch woofer. You can also pair two Echo Studios together for stereo sound, and you can also use the Studio as a speaker for your HDTV as well as your Amazon Fire TV device
The Echo Studio delivers great room-filling audio and visceral, chest-pounding bass, though in head-to-head tests, the Sonos One still sounded better, with more defined mids. But, because the Echo Studio has a 3.5mm input jack — something the Sonos lacks — you can plug a turntable directly into the Studio, which gives you both a streaming speaker and an output for your record collection in one device.
Read our full Amazon Echo Studio review.
The Sonos Move 2 is the one of the best smart speakers and though the field is limited, the overall best-sounding portable smart speaker on the market. You're able to transport it around the home and outdoor spaces while still taking advantage of Sonos' extensive streaming collection. It also introduces Auto TruePlay, a technology that allows the speaker to adjust its sound for its location using the internal microphones.
The Move is also weather-resistant and can take a beating — we dropped ours a few feet without any damage. However, it's heavy, weighing in at 6 pounds, and isn't the easiest to carry. Also, if you move out of range of your Wi-Fi network, you lose most of the Move's smart features (minus the Sonos Voice Assistant) and have to rely on a Bluetooth connection to you phone. And, at $440, it's an expensive device. But, if you want the best audio in an outdoor setting, this is the smart speaker to get.
Read our full Sonos Move 2 review.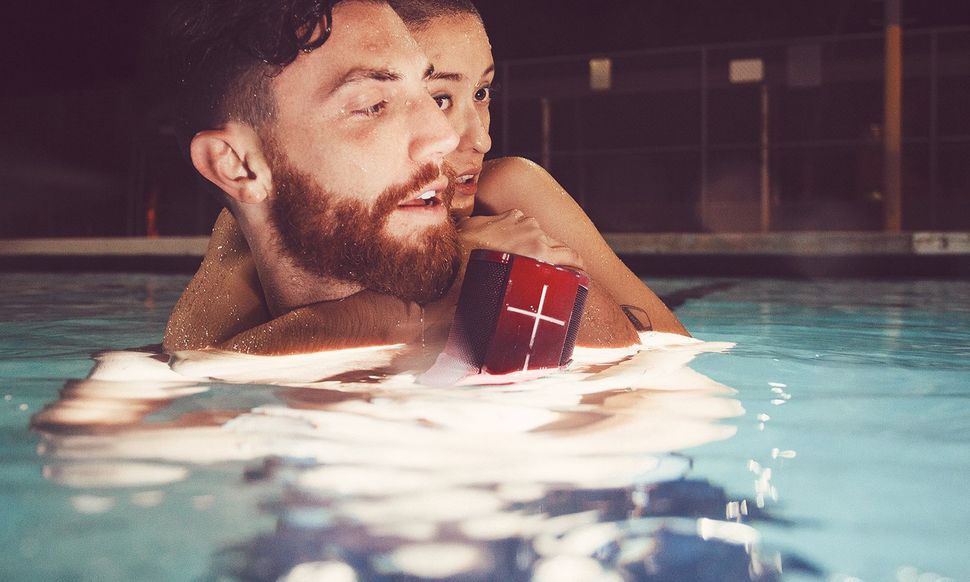 If you're looking for a portable smart speaker that's not as pricey as the Sonos Move, the UE Megablast is a great option. It costs half as much, weighs even less, yet sounds great for its size. Plus, the Megablast is water-resistant, so you can dunk it in a pool for up to 30 minutes, and it should come out just fine.
The UE Megablast's battery is good for up to 16 hours of playtime, which makes it an excellent companion for a backyard barbecue or a day at the beach. As with most third-party speakers, the Megablast has almost all of Alexa's capabilities, but Amazon reserves some features, such as drop-in, messaging, and calls, for its own devices. But if all you're looking for is a smart speaker that can crank out some tunes, then check out the Megablast.
Read our full UE Megablast review.
How to pick the best smart speaker for you
Before you purchase any of the best smart speakers, decide how you plan to use it. If it's going to be the only device in your living room that will play music, then you'll want one that has good audio quality. But while sound is important, it shouldn't necessarily be the deciding factor in which smart speaker you choose.
For example, the Amazon Echo Dot has perhaps the worst-sounding speaker among those we've tested, but its small size and low price make it useful for people who already have a good speaker and merely want to add some smarts to it. The Dot is also a cheap way to spread a voice assistant throughout your house. Same goes for the Nest Mini.
If you want one of the best outdoor speakers, though, you'll want to consider a portable option, such as the Sonos Roam. The Sonos Move and Bose Portable Home Speaker are great options, too.
And if you're set on either Alexa or Google Assistant, check out the best Alexa speakers and best Google Home speakers for more options.
Next: Looking for a smart speaker with outstanding sound? Find out what our audio editor made of the Denon Home 150. Plus, is this the best-sounding one-box music system ever?
How we test smart speakers
When evaluating a smart speaker, one of the first things we look at is its audio quality. After all, if a speaker doesn't sound good, then what use is it? We take into account the price and aim of the smart speaker here, too. If it's a small, budget device, we wouldn't expect it to sound as good as something that costs five times as much.
And, because it's a smart speaker, we also take into account what you can do with the voice assistant embedded inside. While smart speakers made by Amazon and Google naturally have all of the abilities of Alexa and Google Assistant, both companies exclude some features, such as the ability to make voice calls, from third-party manufacturers. So, if a speaker made by Amazon sounds the same as one made by another company, but that latter speaker doesn't have all of Alexa, then Amazon's device will get a higher rating.
We also look at the design of the speaker: How nice does it look? Does it have audio inputs, so you can connect things such as turntables or TVs? All these factors and more go into deciding what makes our list of the best smart speakers — and what doesn't.
More from Tom's Guide