Among the best Android phones on this list, you'll find phones that offer amazing value for money, cutting-edge features, or something in between that fits your needs and budget perfectly. You're certainly not short of choices thanks to Google's open-source software, so see just how wide your selection is on the list below.
The most expensive Android phones cost upwards of £1,000, but for that price you'll experience the latest and most powerful hardware. Meanwhile, the cheapest phones, which cost between £200 and £400, have fewer bells and whistles but can still take on flagships with one or two premium features.
With the Galaxy S22 now here, and our Galaxy S22 Plus review and Galaxy S22 Ultra review completed, we've had some unsurprising shake-ups to this list. We've gone hands-on with the Galaxy S22 but we've yet to review it, hence its absence from this list for now. However take a look at the OnePlus 10 Pro, Xiaomi 12 Pro and Realme GT 2 Pro as well, another three recent phones which have seriously impressed us.
Keep an eye out for our coverage of other interesting Android phones this year too, including this colour-changing Vivo phone or the Huawei P50 Pro and P50 Pocket.
Whether your priority is a phone with the best camera, best display, the most powerful chipset or the longest battery life — or something else entirely — these are the best Android phones in the U.K. you need to shortlist.
What are the best Android phones in the UK?
Just like on the other side of the Atlantic, the best Android phone in the U.K. right now is the Samsung Galaxy S22 Ultra. Although Samsung's flagship phone doesn't have as powerful a chipset as its U.S. counterpart, the Galaxy S22 Ultra's great screen, strong photography and built-in stylus are all intact and just as good.
If you fancy something premium but slightly more affordable, we like the OnePlus 10 Pro if you want all the best features but for less money, the Google Pixel 6 if you want to focus on photography features, or the Realme GT 2 Pro if you're looking to pay even less but with some more unique abilities.
At the budget end of things, picking between the OnePlus Nord 2T and the Redmi Note 11 Pro 5G should satisfy whatever your priorities are. The Nord 2 also offers strong photography, along with a brilliant display and above-average performance. Meanwhile, Redmi's Note 11 Pro gives you a fab screen and strong battery life and charging for a remarkably small sum.
If you're on an iPhone at the moment, the good news is you'll soon be able to switch to (almost) any of these devices easily. The Switch to Android app for iOS now supports all Android 12 phones, which covers the vast majority of phones on this list.
The best Android phones in the U.K. you can buy today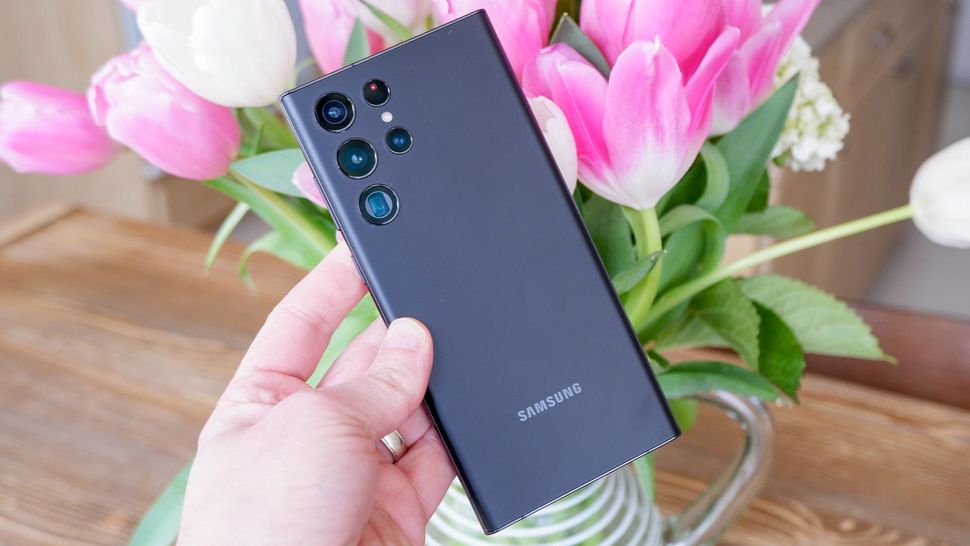 Once again, the top Android phone in the U.K. is Samsung's latest Ultra flagship. The Galaxy S22 Ultra takes the S21 Ultra as a base, then freshens up its design, improves the display, chipset and cameras and bundles in an S Pen to make a phone that covers all the bases.
There's faster 45W charging too, but there's no charger in the box so you'll have to provide your own if you want the top speeds. Also, Samsung's changed the default RAM to 8GB, meaning that compared to last year you're getting slightly poorer performance for the same price. Don't pay too much attention to these though, as everything else about the phone is outstanding.
Read our full Samsung Galaxy S22 Ultra review.
If you've got only £400 to spend on a phone, the best place to spend them as far as we're concerned is into the Nord 2T. OnePlus' revised version of the OnePlus Nord 2, itself a reworked version of the original Nord, is a well-rounded phone for the cost, excelling in charging speed and performance in particular.
What we like less is that you only get two years of guaranteed Android updates, which is quite low in comparison to rival phones. There's also the matter of the display refresh rate, which is a below-average and static 90Hz. Overall though, this is a great phone to go for if your budget is limited or you don't see the appeal of the advanced features found on more expensive phones.
Read our full OnePlus Nord 2T review.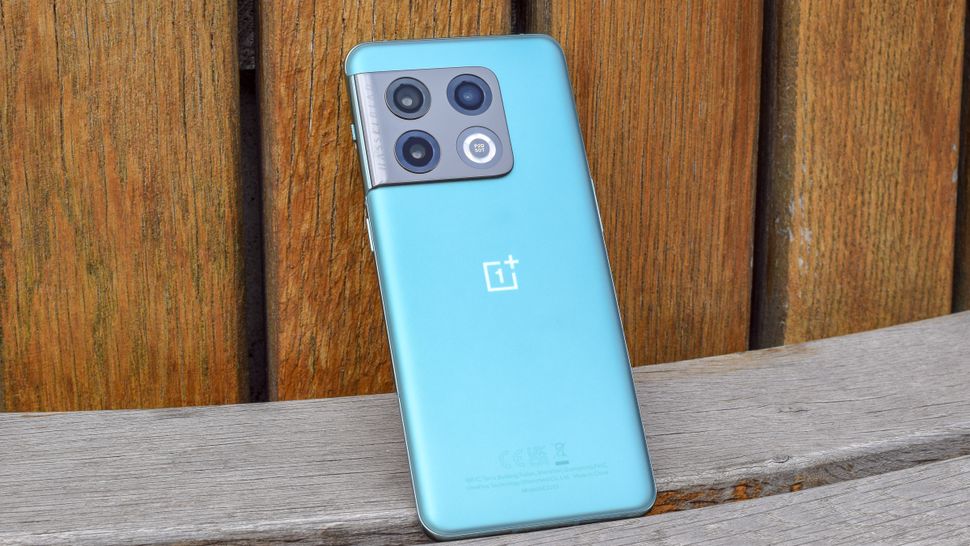 The OnePlus 10 Pro is one of the best deals in Android phones right now. After reviewing it, we were thoroughly impressed with its upgrades as well as its much more competitive price.
Now starting at an appealing £799, you get one of the best displays on any phone - a 6.7-inch QHD panel with an adaptive 120Hz refresh rate. Its 80W wired charging is also one of the fastest we've tried, and the cameras are worthy of the best camera phones on the market.
The 10 Pro's telephoto isn't quite up to the standard of the other cameras, but that's the biggest complaint we can find. This is a seriously capable phone that deservedly steals the spotlight from Samsung and Google.
Read our full OnePlus 10 Pro review.
Google has really turned its flagship fortunes around with the amazing Pixel 6 series. While this spot could easily belong to the Pixel 6 Pro, which offers an extra camera, a larger, more detailed display with a higher refresh rate, and superior computing performance, the sheer value of the £599 Pixel 6 makes it the better choice for the majority of buyers. Just watch out for the minor snags of a short battery life and the unreliable fingerprint scanner if you go for either Pixel 6 model.
Just like on previous Pixels, the photography is the standout feature. You may not have a telephoto camera, but between the initial quality of the images and clever editing features like Magic Eraser and Motion Mode, you have the best photo-taking experience around.
The new key part of the Pixel experience is Google's proprietary Tensor chip. This has decent performance, but shines when it comes to AI tasks like reading text from an image or translating for you in real time.
Read our full Google Pixel 6 review.
For your money, it's hard to find a better deal than with the GT 2 Pro. Realme's stuffed its unique bio-polymer body with all the stuff you'd expect from a flagship Android but it's kept the price generously low.
It's also a great phone if you're a fan of strange features. You can take microscope-style close-ups, fish-eye and 150-degree ultra-wide shots with the rear cameras, and you can use NFC features from any side of the phone.
Beyond the gimmicks, the quality of the photos doesn't match up with other phones on this list though. Everywhere else though, you're not missing out on much, if anything at all, by saving some cash and picking the Realme.
Read our Realme GT 2 Pro review.
The Galaxy S22 has taken the S21's approach to Samsung flagships and refined it into something much easier to recommend. While you could go for the Galaxy S22 Plus if you like a bigger display or access to a larger battery or 45W charging (all things the S22 lacks), this smaller model provides the best value.
Besides, perhaps you're after a smaller than average phone given how hard those are to find in the Android market. Also the smaller size hasn't deprived the S22 of all of the improvements, like a glass back, improved cameras and an excellent display.
Read our full Samsung Galaxy S22 review.
We found the Oppo Find X5, while still a well-put-together flagship phone, didn't quite capture us the way that the Oppo Find X3 Pro did last year. While the price has dropped, it's still more expensive than equivalent phones without offering the extra abilities that would justify that cost.
Highlights here include the large and smooth display, the improved low-light photography enhanced by Oppo's new MariSilicon X NPU, plus the unique unibody design of the back. The rest of the photography doesn't quite stack up so well though, meaning unless you really care about avoiding Google, Samsung or Apple, there's not really much to push you Oppo's way.
Read our full Oppo Find X5 Pro review.
If you don't like waiting around for your phone to charge, then we present to you the Xiaomi 12 Pro - a phone that can go from 0 - 100% full in only 22 minutes.
There's more to the phone than just its super-powered charger though. We really like the detailed and smooth display, the triple 50MP camera array on the back, and how you get all this for less than an S22 Ultra, with the charger included in the box.
For limitations, we'd point to the tinny speaker quality, and the fact that the price, while below Samsung, is a big bump compared to last year. So while it's no longer quite as good a value buy, it's still got its unique attractions to rely on.
Read our full Xiaomi 12 Pro review.
Most Ultra phones are happy just stuffing their backs with cameras, but Xiaomi went a step further and added a secondary display to the camera block, letting you take selfies with any of the three 50MP sensors, which includes top quality main and ultrawide sensors, plus a 5x telephoto camera for extreme close-ups. The phone can also charge at 67W, wired or wireless.
This phone costs a lot though, even for an ultra-grade flagship. Plus with two screens needing power, the battery life is understandably poor. If you don't mind these impracticalities, this is a phone that feels really special to use and own, and will catch the eye of basically everyone who sees you with it.
Read our full Xiaomi Mi 11 Ultra review.
For users with smaller amounts to spend on a phone, the Redmi Note 11 Pro offers a taste of the premium device life without much compromise. It's equipped with a 6.7-inch AMOLED display with a 120Hz refresh rate similar to phones way higher up on this list of the best U.K. Android phones. It also charges quite a bit faster and offers excellent battery life, making it a great workhorse of a phone for your daily usage needs.
Where the cheapness of the phone is revealed is in the performance department. Its chipset noticeably lacks power, and for some reason Redmi's shipping the phone with Android 11 rather than Android 12 like most phones this year. If you don't use demanding games and apps and aren't fussed about having the latest and greatest Android features though, the Redmi is a great choice for its cost.
Read our full Redmi Note 11 Pro review.
Do you have £1,600 and want to spend all of it on a phone? Why not throw caution to the wind and buy the Galaxy Z Fold 4, the most advanced phone currently on sale in the U.K.
The flexible phone has been adjusted to have a more comfortable aspect ratio, making the outer display more usable. You'll still want to spend plenty of time with the phone open though, as the new taskbar makes swapping between apps and opening several at once super easy, and the brighter display makes all your content really pop. The upgraded rear cameras and brighter displays make a big difference to the Z Fold 4's general usability too.
The main limitation here is the Z Fold 4's price, as it still costs far more than other, excellent phones. It remains a heavy, tricky to use device in its folded form too, while on the inside, the 4MP under-display camera still takes underwhelming selfies. These don't detract from the phone's main appeal though, which is its tablet-like productivity experience that fits in your pocket.
Read our full Samsung Galaxy Z Fold 4 review.
How to choose the best Android phone for you
To start off on making your Android phone shortlist, have a budget in mind. The price of a mid-range phone is around £400, with cheaper phones costing less than that, and the most expensive phones clearing £1,000 or more. Figure out what you can afford and stick to it.
Next, decide which features you want to prioritise. Even on phones that in theory do it all, there are some big differences in how well they handle things like photography, charging speed or performance. Whichever phones do these better should be your first port of call when looking for more information or prices.
The final bit of advice we'll give is to keep in mind how large the phones are. If you don't mind using your phone with two hands, then this won't matter so much. But if you like to be able to swipe around, type messages and browse through your apps with one hand, then you might be better off going for a more compact device, which we'd class as phones around 6 - 6.3 inches in size.
How we test smartphones
Every smartphone Tom's Guide evaluates is tested for several days in real-world use cases and benchmarked with a gamut of performance-measuring apps. In terms of performance, we used Geekbench 5 to measure overall speed and 3DMark to measure graphics performance.
We also use our own video editing test in the Adobe Premiere Rush app to see how long it takes to transcode a clip, which we run on both Android phones and iPhone to compare performance.
We use a light meter to ascertain display quality data, like brightness and color accuracy, and our proprietary battery test determines longevity on a charge by continuously loading live web pages over a 4G or 5G network. We set each phone to 150 nits of screen brightness and try to use T-Mobile's network each time in order to achieve comparable results across phones.
Lastly, we explore the software, test gaming performance and conduct live camera comparisons with rival handsets — and each of these factors play a part in our comprehensive verdict.