Saatva has a reputation for hand-crafted hotel-style mattresses that don't cost a fortune. The Saatva Classic sits atop our official best mattress guide – and you can learn why in our Saatva Classic mattress review – but after sleeping on a Saatva Loom & Leaf, I recommend that one if you prefer the sink-in comfort and superb motion isolation of a memory foam mattress.
Like the Saatva Classic, the Loom & Leaf features specialized lumbar support and multiple firmness options. I tested the relaxed firm Loom & Leaf and believe it's one of the best mattresses for back pain – it certainly aided me in my own recovery from a lower back injury. Of course, there are a few blind spots you should know about this mattress, too.
Before you consider spending your hard-earned cash on the Loom & Leaf in this year's Black Friday mattress sales, understand exactly what you're paying for. Who better to fill you in on that than me, a seasoned mattress tester who's slept on this and over a dozen mattresses in a box? Here's what I want you to know about the Loom & Leaf...
What it feels like to sleep on the Loom & Leaf
The Loom & Leaf comes in two comfort levels: relaxed firm and firm. I slept on a twin-size relaxed firm Loom & Leaf mattress for three weeks in October 2022. My full Loom & Leaf mattress review has all of the details but if you're short on time, here's the abridged version from an average-sized side/front sleeper...
As with all Saatva mattresses, the Loom & Leaf arrives flat and comes with complimentary in-room delivery. This was a real boon for me as I was just recovering from a flare-up of my back injury and didn't want to struggle with maneuvering a 60lb mattress. Plus, it's ready to sleep on right away.
Saatva rates the relaxed firm Loom & Leaf a 5-7 out of 10 on the firmness scale, but I think it skews closer to a 7 (medium-firm). A 5lb memory foam core combined with multiple layers of high-density foam delivers loads of pressure relief and ample support. My fellow testers and I were comfortable resting on it, no matter how we lay. The Casper Nova Hybrid has a similar feel, and we explore both models in our Saatva vs Casper mattress comparison.
A major reason why the Loom & Leaf is one of the best mattresses for back pain is its lumbar crown, a thin strip of gel-infused foam in the middle of the mattress designed to alleviate pressure and improve circulation in the lower back. This worked wonders for me during my recovery, especially when positioned flat on my back. (The Saatva Classic and the new Saatva RX share this feature, as well.)
I sleep solo so I performed a few drop tests to evaluate the Loom & Leaf's motion isolation – and it passed each round with flying colors. Saatva customers also praise the Loom & Leaf for its ability to limit movement. If you share a bed with a restless partner or someone who operates on a different sleep schedule, the Loom & Leaf should keep you both happy.
Unfortunately, the Loom & Leaf may not be the best pick for hot sleepers. Despite a layer of perforated gel-infused foam and a breathable organic cotton cover, I often woke up sweaty. (Then again, memory foam is notorious for trapping heat.) Those who struggle with night sweats would be better off with a hybrid mattress (which has springs to help circulate air) or a cooling mattress that's specially designed to regulate temperature.
Edge support is another weak point for the Loom & Leaf, especially around the middle perimeter. On nights when I rolled against the edge I'd jolt myself awake, fearing I'd fall overboard. If you're one to sprawl out or sit on the side of the bed before getting up, consider something with more robust edges. (For one example, check out our Saatva Memory Foam Hybrid mattress review.)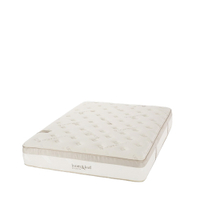 Loom & Leaf mattress: from $1,295 $1,101 at Saatva
This is one of the best mattresses out there for back pain – and it comes in two levels of firmness so you can tailor the comfort to your liking. Saatva sales are ongoing, but we're approaching a peak time for some of the brand's best deals of the year. As always, you'll get free white-glove delivery, a lifetime warranty, and a one-year sleep trial with purchase.
3 reasons to buy the Saatva Loom & Leaf this Black Friday
You may spot a stellar deal on this Saatva memory foam mattress but don't add it to your cart until you're certain it's the right one for you. Here are three reasons to buy the Loom & Leaf on Black Friday:
1. You're seeking salvation from back pain.
As a back pain sufferer, the Loom & Leaf is among the most comfortable mattresses I've ever slept on thanks to its specialized lumbar support, a 5lb body-hugging memory foam core, and multiple layers of high-density contouring foam. Plus, it comes in two firmness options so you can tailor it to your comfort.
Another bonus: white-glove delivery is included. Take it from me – when you're nursing a sore back, you don't want to haul a heavy mattress. Saatva handles the heavy lifting for you at no extra cost, and they'll even take away your old mattress.
2. It'll help couples sleep together in peace.
If you or your partner are restless sleepers or operate on different schedules, you'll hardly feel each other's movements with the all-foam Loom & Leaf. Plenty of Saatva customers claim they hardly feel any motion on the other side of the bed. The Loom & Leaf also passed my rigorous drop tests with flying colors.
Want even more motion isolation? The Loom & Leaf comes in a split king and a split California king. This will allow you to sleep next to one another but on separate surfaces.
3. You're willing to invest in a bed that's made to last.
Memory foam beds usually last 7 to 10 years, but the Loom & Leaf aims to surpass that average. My fellow testers and I thought it felt like a luxury hotel mattress
– and according to long-time Saatva customers, their Loom & Leaf mattresses remain as comfortable as the night they first slept on them, with no visible signs of sagging.
Saatva also includes a lifetime warranty, which indicates how much trust the brand places in the integrity of its materials. Yes, it's a pricier option, but the Loom & Leaf is worth the cost if you're seeking your 'forever mattress.'
3 reasons not to buy the Saatva Loom & Leaf this Black Friday
No one mattress is ideal for everyone, and that includes the Loom & Leaf. Here are three reasons not to buy the Loom & Leaf mattress on Black Friday:
1. It's not for hot sleepers.
Even with layers of gel-infused foam and an organic cotton cover, I occasionally woke up sweaty on the Loom & Leaf. As a general rule of thumb, chronically hot sleepers should avoid all-foam beds as they're less efficient at maintaining good airflow.
That said, there are anomalies. For a truly cool memory foam option, read my Nectar Premier Copper mattress review.
2. There's not a lot of edge support.
Memory foam beds aren't known for their sturdy edges, and that includes the Loom & Leaf. If you like to sprawl out starfish style or sit on the side of the bed while getting ready in the morning, a hybrid mattress with reinforced springs along the perimeter – including any of Saatva's innerspring offerings – will be a better choice.
3. Think twice if you're financially risk-averse.
Saatva is a trusted brand in the online mattress space and provides a generous 365-night at-home trial with all of its purchases. Still, you'll be on the hook for a $99 returns fee – and considering the Loom & Leaf is already an expensive option, it could make you hesitant to take a chance on it.
For a lower-risk option, consider the DreamCloud – a luxury hybrid at a mid-range price point that includes a one-year trial, a forever warranty, and free returns. Take a look at my DreamCloud mattress review for more details.
Where to find Saatva Loom & Leaf Black Friday deals
Saatva is the only retailer that sells the Loom & Leaf mattress. Last year, we partnered with Saatva to offer an exclusive $400 discount on mattresses over $1,000 – which beat most of Saatva's own Black Friday prices in its general sale. We're anticipating similar (if not better) bargains for Black Friday and Cyber Monday 2023.
Note that Saatva's MSRPs have risen over the last several years so we don't anticipate any historic price lows in the upcoming Black Friday sales. Still, you'll avail of strong deals that'll leave you with enough extra cash for new pillows or bedding. For a full rundown of pricing history and all of the latest discounts, visit our comprehensive Saatva mattress sales guide.