Roborock already produces some of the smartest robot vacuums on the market, but coming this March, the Roborock S7 will put all previous robot vacuums to shame. Featuring one of the fastest sonic mops on the market, the S7 has the power to break up dried on messes for a spotless clean. However, what really makes the S7 so revolutionary is the way it seamlessly shifts from mopping to vacuuming and back again, all without you ever needing to lift a finger.
The Roborock S7 achieves this feat through a combination of revolutionary surface recognition technology and an intelligent mop lift feature. When the S7 approaches carpet, it lifts the mop out of the way and begins vacuuming. When it returns to hardwood, it goes back to mopping, all without interruption. The added benefits of Roborock's iOS and Android apps, as well as compatibility with Alexa, Google Home, and Siri, lets you customize your cleaning schedule and preferences through a user friendly interface and voice commands.
In addition to ease of use, the foundation of the S7 is nothing short of top of the line. The main all rubber brush has been upgraded to better lift dirt and resist hair tangling. The floating main brush system also hugs your carpet, even over an uneven surface. With a maximum of 2500Pa of suction and a 5200Ah battery, it can clean for three entire hours in quiet mode. The S7 will also be compatible with Roborock's soon-to-launch Auto-Empty Dock, adding another layer of convenience, as well as added protection from allergens.
The S7 also features one of the fastest sonic mops available and the only sonic mop combined with auto-lifting technology. Capable of vibrating up to 3000 times per minute, the S7's mop provides 580g of pressure - nearly twice the S6 MaxV. Whether cleaning up after dried-on coffee stains, , grease splatters from the stove, or muddy footprints, the S7 eliminates what other robot mopping systems leave behind.
If you're eager to experience the unbeatable clean of the Roborock S7, you won't have to wait long. Beginning on March 24, 2021, the S7 will be available on Amazon for an MSRP of only $649.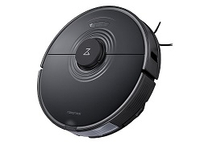 The Roborock S7 features a fast sonic mop and an intelligent mop lift that makes for a powerful clean and seamless transition from vacuuming to mopping and back. With Android and iOS apps, as well as compatibility with Alexa, Google Home, and Siri, the S7 provides heightened control over your cleaning experience.
Available on Amazon in the United States beginning March 24, 2021.