Demand for coronavirus cleaning products remains at an all-time high. As more businesses and schools reopen, Americans are looking to clean and disinfect their offices, cars, and homes.
To help you choose the best coronavirus cleaning products, the U.S. Environmental Protection Agency has released a list of recommended coronavirus cleaners. The list includes various household names like Lysol and Purell. Just last month the EPA updated their list adding Lysol Spray and Lysol Disinfectant Max Cover Mist to their list, which now includes over 400 cleaners. (Follow our guide on Where to Buy Lysol Spray to find the latest stock).
Just keep in mind that these products are selling out rapidly online and in stores. (For more protection, make sure to follow or guide on where to buy face masks).
EPA-approved coronavirus cleaning products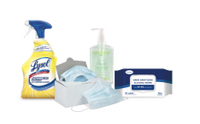 Cleaning products: buy four, get one free @ Staples
For a limited time, shoppers can use coupon "98422" at Staples to get a free cleaning product when they purchase four select healthy and safety essentials. (Enter the coupon code during checkout). The sale includes hand sanitizer, Lysol Spray, Clorox Wipes, Purell, and more.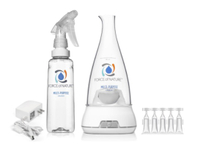 Force of Nature Kit: was $70 now $52 @ Force of Nature
Force of Nature's cleaning kit is on the EPA's list of disinfectants to use against COVID-19. It can be used on all sorts of surfaces from kitchens and bathrooms to floors and rugs. It comes with five capsules of precisely measured salt, water, and vinegar, which are converted to electrolyzed water when an electrical current changes the chemical composition of the solution into a cleaner. Use coupon "KITSAVE25" to drop its price to $52.50.
Other coronavirus cleaning products
According to the EPA, coronaviruses are enveloped viruses, which means they are one of the easiest types of viruses to kill, as long as you're using the appropriate disinfectant. As a result, you may be wondering where to buy Clorox wipes. Fortunately, there is still stock of some of the EPA-recommended cleaners.
In addition, the CDC says that good hygiene habits are still your best recourse. These include tips like washing your hands often with soap — for a full 20 seconds — avoiding close contact with people who are sick, and not touching your eyes, nose, or mouth.