If there's one thing this year has taught all of us, it has to be that foldable phones don't always have to cost a fortune. Best Buy's early Black Friday deal on the Samsung Galaxy Z Flip 4 is a perfect example because it's down to its lowest price ever.
Right now the Galaxy Z Flip 4 is just $299 at Best Buy, which is a whopping 70% off. This $299 deal on the Galaxy Z Flip 4 applies to the Verizon version of the handset, Not on Verizon? Well, you can still snag the unlocked version for $464. That's still a good offer at 53% off, given how the foldable sells normally for $999. That's cheaper than popular mid-range phones like the Pixel 7a and iPhone SE (2022).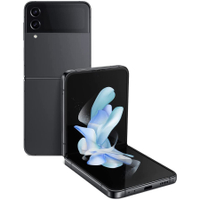 Samsung Galaxy Z Flip 4: was $999 now $299 @ Best Buy
With a gorgeous 6.7-inch Super AMOLED display that can fold in half, the Galaxy Z Flip 4 is one of the most compact phones around. You also get a handy Flex mode for taking hands-free photos without a tripod and solid performance from the Snapdragon 8 Gen 1 chip. And best of all, it's at its lowest price ever at $299 courtesy of Best Buy.
I've spent a fair amount of time with the Galaxy Z Flip 4 before reviewing its successor in the Galaxy Z Flip 5. What I love most about the Z Flip 4 is its compact design when it's closed. There's still something cool and satisfying whenever I take it out from my pocket and unfold it to reveal its gorgeous 6.7-inch Super AMOLED display. It's also a fashionable looking phone with its two-toned paint job.
Secondly, the 1.9-inch AMOLED display on the outside of the phone is handy at accessing some widgets on the phone — without the need to open it. For example, I use it a lot for capturing selfies with the main cameras because the quality is much better than its front-facing one on the inside of the phone. And yes, notifications come up nicely on the cover screen.
Speaking of cameras, the Galaxy Z Flip 4's dual 12MP cameras produce excellent results. Not only does it take sharp photos when the lighting is ideal, but I also find it better at low light than other foldable phones I've tested. If that's not enough, I love how it caters to content creators with its various flex modes that lets me vlog using the rear cameras — along with full manual controls for video.
While the newer Galaxy Z Flip 5 has some marked upgrades, it's more than double the cost of this one. All of this adds tremendous value to Best Buy's early Black Friday sale on the Galaxy Z Flip 4. Be sure to check out all of the best Samsung phone Black Friday deals and the best Black Friday deals.