Staying safe online is more important than ever, but many of the best VPN services are just so expensive. You usually get what you pay for, but for one week only our #3 provider Surfshark – rated 4.5/5 in our full Surfshark review – is offering huge savings to Tom's Guide readers.
From protecting your privacy to unblocking tons of streaming services worldwide, it's great for those on a budget. Coming in at $2.22 a month on the 2-year plan, it hugely undercuts the only two providers we rate higher. Plus, this VPN deal throws in 3 months free, which works out at about $55 all-in for 27 months of cover.
For those looking for a full privacy suite, the upgraded Surfshark One package is available too, which throws in antivirus, a data breach alert, and an anonymous search engine. Full details on this exclusive deal below.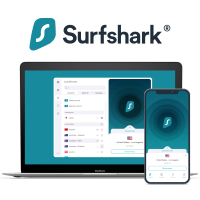 Surfshark | 3 months extra FREE | $2.22/pm
Ranked #3 out of all the VPNs we've reviewed, Surfshark offers incredible value and quality. It's the fastest VPN we've ever tested, has excellent privacy features, and can unblock just about every streaming service you can imagine.
Until Friday, June 30, Tom's Guide readers will be able to bag an exclusive discount which brings Surfshark's monthly price down to just $2.22, which works out at less than $60 all-in. There's simply no better deal out there right now.
What is Surfshark One?
We've rated Surfshark as the best cheap VPN option for a long time now, but it has recently launched Surfshark One, which is an add-on for Surfshark customers and really increases the service's value.
Essentially, Surfshark One seeks to offer all – or, at least, most – of the essential privacy and cybersecurity tools in one place. It includes:
VPN: Perfect for keeping your activity private online, and for accessing censored and geo-blocked content.
Antivirus: Protection from harmful files downloaded from the internet, like malware and viruses. Can also scan your devices for existing threats.
Search: Private and organic search engine which uses no ads, no trackers, and keeps no logs.
Alert: Detects information breaches across the web and alerts you if your data has been compromised, including emails and credit cards.
At just $1.49 a month (on top or your regular Surfshark subscription), Surfshark One is already a very affordable alternative to established antivirus providers.
While antivirus is very much the star of One's package, the other features are appealing in their own right – and remember, Surfshark will likely be adding features to One over time, so it should only become more powerful.
Why is this Surfshark deal so good?
Although Surfshark is cheap, there are no sacrifices to be made. You'll get every privacy feature you need, plus extras like Multi-Hop and excellent streaming VPN performance. In fact, in our independent testing only more expensive providers ExpressVPN and NordVPN scored higher overall.
Beyond its great privacy and very appealing price, one aspect we really like about Surfshark is its well-designed apps. No matter what device you're using they share a common design language, meaning it's easy to get up and running, and once you've used one, you've used them all.
So, if you're after the best-value option on the market – even better with those additional 3 months thrown in – Surfshark's your best bet.