I reviewed the Samsung Odyssey OLED G9 back in August and found it to be one of the best curved monitors and best gaming monitors out there. Aside from its enormous size, the main problem I had was its steep $1,599 asking price. But now that Black Friday deals are going strong, this monstrous gaming monitor is selling for an equally giant discount.
Right now, you can buy the Samsung Odyssey OLED G9 for $999 on Amazon. That means you can use that $600 savings to get yourself a PS5 or Xbox Series X to game on Samsung's monitor. This is the first major sale that I'm aware of for the Odyssey OLED G9, and I don't see the price dropping when Black Friday officially kicks off next week. Because of that, you should take advantage of this sale now.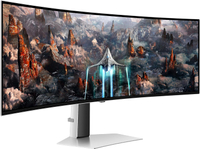 Samsung Odyssey OLED G9: was $1,599 now $999 @ Amazon
The Samsung Odyssey OLED G9 impresses thanks to its expansive 49-inch curved OLED display and lightning-fast 240Hz refresh rate. Normally $1,599, it's practically a steal at $999. This is a deal you don't want to miss if you want a super immersive gaming experience.
As I said in my review, the Samsung Odyssey OLED G9 is a curved gaming monitor that commands attention. Samsung says it's the world's first 49-inch OLED gaming monitor. Its 1,800R curvature helps immerse you in whatever games you're playing, while the panel's 240Hz refresh rate and 0.03ms response time ensure a smooth and lag-free experience. The Samsung OLED panel also delivers stunning detail and vibrant colors.
This monitor is ideal for multitaskers as the expansive display gives you plenty of room to keep multiple windows open — helping you become more productive when working. On top of that, built-in Samsung smart TV apps found in the best Samsung TVs make the Odyssey OLED G9 into a second (or even a primary) television.
The Odyssey OLED G9's size is both its greatest strength and weakness. When testing it, I had to sit about four and a half feet away from the display so that I could see it in its entirety while gaming. I also had a desk deep enough to let me pull the monitor back as far as I needed, which is something some folks might not have.
That said, the monitor delivers stellar performance. Thanks to its blistering high 240Hz refresh rate, every game I played ran silky smooth. The 0.03ms response time all but eliminated any perceptible input lag. Adaptive Sync and AMD FreeSync Premium Pro also ensure smooth gameplay. The Neo Quantum Processor Pro chip powering the monitor did a splendid job of ensuring blazing-fast performance, which is especially useful for FPS and fighting games.
If you have space for it on your desk, the Samsung Odyssey OLED G9 is one of the most immersive gaming monitors out there. I had trouble suggesting it before due to its price. But now that it's $999 for Black Friday, I can wholeheartedly recommend it. Don't miss out on this sale.