You don't have until tomorrow, July 11, to take advantage of Amazon's two-day sales event. That's because some of our favorite Prime Day deals have already started, with generous discounts across the board for those who have an Amazon Prime membership. I frequently check out deals at Amazon on the daily, but there's one I'm excited about that's happening right now.
Everyone knows how I love smart glasses like the Ray-Ban Stories. When I'm working on my desk at home, however, I prefer to wear the Razer Anzu Smart Glasses because of its blue light blocking abilities — providing my eyes the necessary protection while staring at screens endlessly. It normally retails for $199.99, but a whopping 73% off instant discount slashes the Razer Anzu price down to an unbelievable $54.99. I swear by these blue light blocking glasses after using them for close to a year.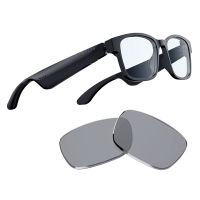 Razer Anzu Smart Glasses: Was $200, now $55 at Amazon
Your eyes deserve better while they're staring at all the screens and monitors that are in front of you. That's why the Razer Anzu Smart Glasses will give them the protection they deserve with their blue light blocking lenses and swappable polarized lenses.
Price Check: $60 at Razer | $100 at Walmart
As I've mentioned, the Razer Anzu are blue light blocking glasses that reduce eye fatigue often caused by staring into bright monitors. Whether it's the OLED laptop centered on my standing desk, or the portable monitors to its left and right, I can't tell you how easy it's been for me to work hours without eye strain thanks to these blue light blocking glasses. In fact, I've worn them consecutively for three hours at one point without a shred of fatigue to my eyes.
Another thing I love about them is that there are speakers built into the frames, which allow me to listen to my favorite podcasts and music while working away. Since it features an open ear design, I'm never distracted by the music that's playing — so if someone were to talk to me, I would still be able to hear them without removing the Razer Anzu Smart Glasses. And with built-in touch controls, I found it convenient to pause, reverse, and forward songs without touching my smartphone.
Most people also don't realize that the Anzu also come with polarized lenses, which I swap out whenever I plan on using the Razer Anzu Smart Glasses outdoors. The polarized lenses do very well while I'm driving, since they cut out the reflections on my dashboard — along with the glare during sunset. And lastly, they feature an IPX4 rating that safeguards them from light splashes. The option to use them indoors or outdoors gives these glasses a lot of utility.
If you've been searching for some blue light blocking glasses, this is definitely a Prime Day deal you shouldn't overlook.