It's no secret that Black Friday deals make it the best time of the year to buy new Lego sets. Even some of the most coveted Lego sets are on sale now, with Amazon offering huge discounts as part of its Lego Black Friday sale. In fact, the deals are so enticing, I ended up buying a set for myself.
And it's not just any set. It's Lego's annual Star Wars advent calendar, which is on sale for $33 at Amazon. The set normally costs $44, so I saved 25% on what I'd consider a must-buy for Lego Star Wars fans. Not only is it an excellent holiday gift, but some would argue it's a collector's item, too.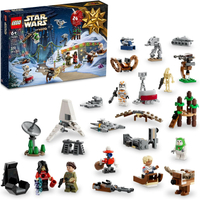 Lego Star Wars Advent Calendar 2023: wasd$44 now $33 @ Amazon
The Lego Star Wars Advent Calendar 2023 offers 25 days of mini-builds inspired by different characters, vehicles and scenes from the Star Wars franchise. This set is an annual Lego release, featuring new collectibles every year. It's a perfect gift for fans, and right now you can get it at a great discount.
I buy the Lego Star Wars Advent Calendar every year — it is an annual release after all. Then, I spend 25 days leading up to the holidays building one of the surprise mini-building hidden behind punch-out windows. It's nearly a month of Lego joy, but one I usually pay full price for.
In fact, I don't recall ever purchasing a Lego Star Wars Advent Calendar for less than it's typical retail cost. So, when I saw the 2023 set on sale at Amazon, I didn't hesitate to hit the 'Buy Now' button. The set is only available for a limited time, after all.
But what makes it special? As I mentioned, every day, you get to build a new Star Wars construction. You won't know what you're building until you've opened the cardboard window. Inside each cut-out is a bag filled with Lego pieces, with the instructions of what you're supposed to build printed on the inside window.
It's also special because the 25 mini-builds are exclusive to this year's advent calendar. I won't spoil specifically what's inside (and recommend not looking at the Amazon description too closely if you want it all to remain a surprise) but it's a mix of Star Wars-inspired things. Think: minifigures, vehicles and accessories inspired by iconic Star Wars scenes.
Some of the constructions even take a unique holiday twist. If you don't mind merging the world of Star Wars with the holiday spirit, you might also want to check out the Lego Star Wars Millennium Falcon™ Holiday Diorama, on sale for $44 on Amazon. (You might need to click on 'See all buying options' for the sale.) I haven't purchased this one for myself yet, but at 26% off, it's definitely enticing.
There are currently dozens of Lego sets on sale across retailers including Walmart and Amazon, so be sure to stock up while Black Friday deals are underway.