Best New Trailers: Ocean's 8, Jessica Jones Season 2 and More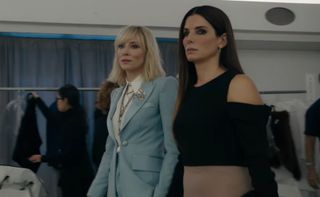 The trailers to watch
From the looks of these new trailers, 2018 looks like a fantastic time to enjoy the cinema, as well as upcoming gems from Netflix. Sandra Bullock and her band of seven misfit con artists look to flip a franchise around in Ocean's 8, and Alicia Vikander is poised to push Lara Croft into the next generation.
We've also exciting looks at the next season of Jessica Jones, and the trailer for Avengers: Infinity War, which has us ready to buy advance tickets right now. Here are the best trailers to check out right now.

Ocean's 8
More than a gender-swapped version of the Ocean's 11 franchise, Ocean's 8 looks like a phenomenal remix of the original. Sandra Bullock stars as Debbie Ocean, a thief who's just been let out of prison and can't wait to pull off another heist. And since her targets are at the Metropolitan Museum of Art's annual high-profile Gala Ball fundraiser, she's pulling in a murderer's row of stars to help, including Rihanna, Cate Blanchet, Helena Bonham Carter and Mindy Kaling.
Ocean's 8

Sicario 2: Soldado
Sicario, a bleak and brilliant action movie from 2015, may not have looked like the start of a new franchise, but this trailer is intriguing. In this chapter, federal agents Matt Graver (Josh Brolin) and Alejandro Gillick (Benicio del Toro) are looking to take down terrorist-trafficking drug cartels, blurring the lines between right and wrong along the way.
Sicario 2: Soldado

Tomb Raider
Alicia Vikander's turn as Lara Croft looks like an adaptation of the 2013 reboot of the video game franchise, which gives us some hope that it will be better than Angelina Jolie's films. The trailer shows Croft searching for answers about the death of her father (The Wire's Dominic West). His death appears to be just the first strand that unravels in a larger story, as a tape he left for her reveals the dangers of an organization called Trinity looking to reach a treasure that Ms. Croft must find first.
Tomb Raider

Annihilation
Why is Oscar Isaac always rushing head-first into trouble? This time, he's playing a seriously injured man who rushed into a mysterious region known as The Shimmer, and his only hope rests with his biologist wife Lena (Natalie Portman). When Lena investigates The Shimmer, she brings backup, including Jennifer Jason Leigh as a psychologist and Gina Rodriguez as an anthropologist. Inside, this group of scientists finds a series of oddities, including monsters that appear to be the results of cross-species breeding.
Annihilation

Jessica Jones Season 2
It was no secret that the Marvel Netflix Universe's favorite wise-cracking private investigator was coming back for a second season, but now we know a lot more. Not only does this new trailer give us a Mar. 8 release date, but it suggests that the series will dig deeper into the truths behind Jessica Jones' powers. Fans of Marvel's movies and characters need to check out this trailer ASAP, if only for the dig she takes at one of the MCU's biggest stars at the end.
Jessica Jones Season 2

Red Sparrow
The Sparrow School, a secret Russian intelligence service and task force that trains young women to seduce and destroy, has found its latest star pupil in Dominika Egorova (Jennifer Lawrence). Egorova, a caring daughter and failed ballerina, turns to the service once she's run out of options, in a trailer that looks like the start of another bird-named franchise for the former Mockingjay. While we don't see co-stars Charlotte Rampling, Mary-Louise Parker and Jeremy Irons in this trailer, the mere suggestion that these stars will have roles within this universe is an excellent tease.
Red Sparrow

Mortal Engines
The latest film from Peter Jackson (credited as co-producing and co-writing), Mortal Engines paints a staggering picture of a dystopian steampunk universe with moving cities. Yes, as you'll see in this trailer, London (and other cities) are actually flying. And in order for larger powers to stay moving and alive, they prey on smaller moving communities for the already-scarce resources.
Mortal Engines

Avengers: Infinity War
Yes, you've probably already seen this clip, as it's the most-viewed trailer in YouTube history. But in the Tom's Guide office, we're of the belief that this reveal of the latest mega-milestone in the MCU is so good that it merits multiple re-watchings. From Black Panther throwing a trident to reveal a soldier in the shadows to Thor wondering who the heck he's met, this trailer has us eagerly anticipating its May 4th release, and willing to accept that this year it's Marvel (and not Star Wars) that owns May 4th.
Avengers: Infinity War

Deadpool 2
And now for something completely different. While there's no official Deadpool 2 trailer yet, minus the clip in front of Logan, this tease will sate your need for more of the original's irreverent humor. In it, Mr. Pool riffs on The Joy of Painting, an old TV series where the supremely-calm painter Bob Ross painted happy little clouds. But instead of delivering a super-wholesome trip down memory lane, this video shows that the rated-R smart-alec isn't losing any of his rough charm any time soon.
Deadpool 2