The Nectar is one of the most popular mattresses in the US, rated for its sheer value for money and overall comfort. I reviewed it for Tom's Guide and now rank it as the best mattress for sleepers who want a firmer feeling memory foam bed that doesn't cost the earth.
I liked sleeping on the Nectar, but that doesn't mean you will too, as I'll explain in this article. The Nectar Memory Foam is normally one of the most popular Black Friday mattress deals of the year with a queen size discounted to $699 or lower. While sticking to your budget is important, don't let price be your only guide; an affordable mattress that's a poor fit for your sleep will end up costing you more than you realize. Trust me, I've been there.
So if you're seeking advice on whether or not you should buy this top-rated memory foam mattress during Black Friday, take it from someone who's tried it: me, a professional mattress reviewer who's slept on countless other mattresses in a box too. Here's what I want you to know...
What it feels like to sleep on a Nectar
In May 2023, I spent three weeks sleeping on an updated Nectar complete with a new cooling cover and a taller base layer. I detail everything in my Nectar Mattress review but if you're short on time, here are the highlights from an average-sized side/stomach sleeper with recurring back pain.
If you buy this mattress, set it up as soon as it arrives. Nectar says it can take 24 to 72 hours to fully expand. I unboxed mine 12 hours before bedtime and it was a good call. It's super-soft at first but becomes firmer in a matter of hours. Once it's completely inflated, I felt that it was on the firmer side of a medium-firm mattress (I rated it as a 7 out of 10 on the firmness scale).
The Nectar is one of the best mattresses for side sleepers I've ever tried, with a subtle contouring that cushioned my shoulders, hips, and knees without throwing my spine out of alignment. The pressure relief here is fantastic and I didn't wake up with any soreness. So definitely consider the Nectar if you have back or joint or like I do and want a good mattress for back pain
The top foam layers aren't incredibly plush so switching positions was comfortable; I didn't feel like the mattress was trying to 'eat' me. Oh, and couples take note – my drop tests show that motion isolation here is excellent. Plenty of Nectar shoppers who share a bed with a restless partner seem to think so too.
I felt fine sleeping on my front but noticed a slight dip in my midsection when resting on my back. For front and back sleepers, particularly those who are on the larger side, the Nectar may not be supportive enough. (Take a look at our guide to the best mattresses for heavy people or the best mattresses for stomach sleepers instead.)
The same goes for its edge support. While I didn't topple over I would have liked a little more stability along the sides of the bed. Nectar customers appear to agree with me on this point, regardless of mattress size.
The Nectar's cooling cover did its job well and should help keep most sleepers comfortable. However, if you're a chronic overheater you may fare better with one of the best cooling mattresses. In fact, you can read my review of the Nectar Premier Copper mattress and its top-notch temperature regulation.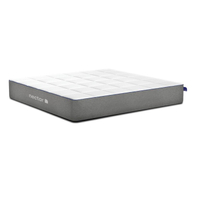 Nectar Mattress: from $699 $359 at Nectar
The Nectar Memory Foam is never sold at MSRP. The standard discount takes 33% off but occasional flash sales slash as much as 40% off. Either way, you'll avail of a lifetime warranty and a one-year sleep trial, which are incredible perks for the price. Side sleepers will appreciate the subtle contouring of this medium-firm foam bed, especially if they have sore joints.
3 reasons to buy the Nectar on Black Friday
Wondering if the Nectar is right for you? Here are three reasons why you should buy the Nectar mattress on Black Friday.
1. It's just right for side sleepers
The Nectar is a firmer memory foam mattress that perfectly blends cushioning with support, making it an excellent choice for side sleepers. There's less of a sink-in feeling and more of a subtle cradling to relieve pressure from your knees, hips, and shoulders without wrecking your alignment. It also helps if you're prone to switching positions at night as you won't feel swallowed by the mattress.
However, for petite sleepers or those who like to feel snug in their bed, something like the plush SleepOvation mattress might be a better fit.
2. It's one of the best mattress values out there
Among mattress-in-a-box brands, the Nectar is a stellar value. Regular sales cut 33% off the MSRPs, and occasional flash sales slash as much as 40% off. Plus, it includes a lifetime warranty and a one-year mattress trial. While these perks are becoming more common, they're still a rare find in lower mid-range models like the Nectar.
Nectar used to bundle in free sheets and pillows with purchase but has since dropped that practice in favor of lower upfront prices. If you need to refresh your bedding, though, you can add a bundle at a significant discount.
3. It'll help keep couples together in the bedroom
Memory foam beds are known for their excellent motion isolation and the Nectar is no different. I sleep solo but during my drop tests the Nectar did a superb job of absorbing movement. Need more proof? There are over 1,000 five-star reviews from Nectar shoppers who praise this bed's low motion transfer.
Before you and your partner consider separate rooms, try a Nectar mattress. You'll barely notice their movements when they get up or toss around. Or opt for a split king, which offers individual sleep surfaces without actually sleeping apart.
3 reasons to not buy the Nectar on Black Friday
Unfortunately, the Nectar isn't the perfect bed for everyone. Here's three reasons why you shouldn't buy a Nectar mattress on Black Friday:
1. It's not ideal for heavier bodies or front/back sleeping
The Nectar mattress may be too soft for those over 230lbs. It's more of a mixed bag for front and back sleepers but on the whole, the Nectar is best at accommodating side sleepers. For a more versatile and heavy-duty foam bed, read my Saatva Loom & Leaf mattress review.
2. It won't sleep cool enough for everybody
Memory foam is notorious for trapping heat, which is why foam beds aren't usually recommended for hot sleepers. The Nectar sleeps cooler than I expected and throughout the testing period, I remained comfortably dry. But for those who deal with hot flashes and night sweats, a hybrid mattress or a specialty cooling model will be more effective at promoting airflow and drawing heat away. Check out our Nectar vs DreamCloud guide to see how the Nectar compares to that hybrid.
3. Edge support is lacking
Granted, memory foam isn't known for excelling in this area but if you're someone who needs to push off the sides to get in or out of bed, the Nectar will likely disappoint. Read my Siena Memory Foam mattress review for an example of an all-foam bed with fantastic edge support. (Also, Siena is a sibling brand of Nectar; both are owned by Resident.)
Where to find the best Nectar Black Friday deals
Nectar mattresses can be found at several major retailers including Amazon, Raymour & Flanigan, and Mattress Firm. Most third-party merchants match Nectar's pricing as it is, but keep in mind that buying straight from the brand will ensure the highest level of aftercare in terms of warranties and trial periods.
However, be prepared to make your purchase before Black Friday. Last year, Nectar hosted a flash sale in early November that offered better deals than their Black Friday and Cyber Monday promotions. Will Nectar follow that pattern again this year? Bookmark our Nectar mattress sales hub where we'll be covering any flash sales and the latest price drops.