Apple Event recap: New MacBook Air, MacBook Pro, Mac mini and more
Everything you need to know about the new Mac family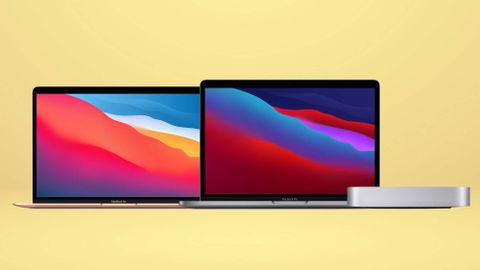 (Image: © Apple)
Apple's "One More Thing" showcase is in the books, revealing a new lineup of Mac devices packing Apple's powerful M1 processor. Now that the next generation of Macs are built from the ground-up with Apple's own hardware and software working together, you can expect faster speeds, better battery life and overall better efficiency that matches the seamlessness of using an iPhone or iPad.
Missed the big show? Here's a quick breakdown of all the new products.
Apple Silicon MacBook Air: The new M1-powered MacBook Air promises 3.5 times the CPU speeds and 5 times the graphics power as its predecessor, as well as up to 18 hours of battery life. You can pre-order it now for $999.
Apple Silicon MacBook Pro: The upgraded MacBook Pro is built to deliver 2.8 times to the CPU power and 5 times the GPU muscle as the previous generation. You'll also get up to 20 hours of battery: The longest ever for a Mac. The M1-powered MacBook Pro is available now starting at $1,299.
Apple Silicon Mac mini: Apple's tiny desktop is also getting an M1 upgrade, packing 3 times the performance of the previous model and up to 15 times better machine learning capabilities. Better yet, its even cheaper than before at just $699.
Be sure to also check out our archived live blog below for more details, as well as our live reactions to every big announcement as it happened.
Refresh
The big day is here, and 9to5Mac has a new report that might make you temper your excitement for Apple Silicon Macs. While the new chips will theoretically let any iOS app run on macOS, the outlet notes that those apps will have to be part of the Mac App Store to also work on your MacBook.
9to5Mac notes that several major developers have chosen to opt out of the Mac App Store, which means that Apple Silicon Macs could be missing some notable apps at launch.
Let's take a look at some recent Apple Silicon rumors before the big unveiling today. Most signs point to up to three new models launching at the event, including a 13-inch MacBook Air, a 13-inch MacBook Pro and a 16-inch MacBook Pro with the new chips. These processors will be based on the A14 found in the new iPhone 12 range, which offers truly blistering performance.
A recent Geekbench 5 leak of the reported A14X chip — which is believed to power the new MacBooks — reveals some seriously impressive performance, showing big gains over both the standard A14 as well as the 10th Gen Intel Core i7 found in the latest MacBook Pro.
As per usual during a big Apple Event day, the Apple Store is currently down for maintenance. Bring on the Apple Silicon Macs!
Tim Cook seems excited for the big day (and is showing off his new iPhone 12 Pro Max, which hits stores on Friday).
One more sleep. #AppleEvent #ShotOniPhone12ProMax pic.twitter.com/OwUezUWWEYNovember 10, 2020
Apple has yet another fun effect for those tweeting out using the #AppleEvent hashtag on Twitter. See what happens when you hit "Like" below.
Let's check in with some last-minute hopes and predictions from the Tom's Guide team.
Henry T. Casey, editor: "[I want] a new design for the MacBook Air and Pro, with thinner bezels and cooler color options. HP and Dell have been drinking Apple's milkshake for a while now."
Mark Spoonauer, global editor-in-chief: "An ARM MacBook priced under $800 would be killer for the holidays, but I don't know if Apple is willing to go that low. One analyst says that Apple Silicon could help the company save $150 to $200 per computer.
"I also predict Intel's stock to fall :)"
Henry: My mom was worried about her Intel stock when I told her the news.
Nick Bush, operations editor: "I would like an Apple remote that doesn't suck."
And we're off! Cue the bubbly pop music and fancy glowing logo. It's another dramatic reveal of Apple Park in California, this time covered in the same rainbow color scheme from the event invite.
"It's amazing to think that this is our third major event in just two months," says Tim Cook as he walks around a fancy cafeteria. It really is amazing -- my hands are still sore from last month's live blog.
We're getting a recap of all of Apple's previous fall announcements, including iPhone 12 and HomePod mini, but today's all about the "One More Thing." And as we suspected, it's the Mac.
Cook is starting off by recapping the Mac's "best year ever," noting that over 50 percent of Mac buyers are new to Apple's computing ecosystem.
We're now getting a video of all types of creators who use Mac, from filmmakers like Tom Hanks and Spike Lee to singers like Billie Eilish and Lady Gaga. And now it's time to get into the real main event: Apple Silicon MacBooks.
After a flashy segway that seemed to nod at those classic iMac colors, John Ternus from hardware engineering is breaking down what to expect from these new Macs. Dubbed the "next generation of Mac," Apple's new computers powered by in-house chips promise better efficiency and performance.
And here's our first proper Apple Silicon chip: the M1! M1 promises a "giant leap in performance per watt," combining various technologies that previously required multiple chips working in tandem.
M1 is also the first computer chip built on a 5 nanometer process, packing a ton of advanced technology into a tiny piece of silicon. It's got 16 billion transistors for blistering performance, and an 8-core CPU consisting of four high performance cores and four high efficiency cores. Apple promises that M1 outperforms most major PC chips by a large margin.
The M1 chip's integrated 8-core GPU is the most advanced Apple has ever created, built to outperform Intel's Tiger Lake in terms of both peak performance and power efficiency. There's also a Secure Enclave for advanced personal security.
We heard all about the M1, but what about the software? According to Apple, macOS Big Sur is designed to be fully optimized around the new CPU and unlock new tricks and experiences.
Craig Federighi is now on-screen (amazing hair and all), noting that the Mac will instantly wake from sleep just like an iPhone or iPad. And yes, he demoed this by opening a Mac with cheesy R&B music playing in the background. I can dig it.
You can expect a better overall snappiness on Apple Silicon Macs, as well as a boost for intensive tasks like editing photos and videos. Thanks thanks to a unified memory architecture that allows apps to work more seamlessly.
The M1 chip can also automatically optimize its power output for demanding and non-demanding tasks, leading to better battery life and the best possible speeds when you're, say, playing a game or rendering 3D graphics.
All Apple apps will be optimized for M1, with Apple noting that Logic Pro can render 3 times as many instruments at once.
Universal apps work on both Apple Silicon and Intel machines, with companies like Adobe already working on their own Universal Mac software. And a special tool called Rosetta will allow non-native Intel apps to run on Mac.
But here's the big news: iOS apps will finally work on Mac! If developers choose to enable it, just about any iOS or iPadOS app can be ported to be used on your MacBook or Mac desktop. That's a huge boon, especially for mobile games and productivity services.
We're now getting a sizzle reel of how excited developers are by the potential of Apple Silicon. You can expect added functionality like more on-screen objects, seamless interactivity between mobile and desktop, and faster-than-ever editing and rendering.
And now it's time for some actual hardware. After a slick dramatic 3D video that shows a computer being assembled, we're seeing the brand new MacBook Air! Apple says this laptop will "redefine what a notebook can do," delivering a level of power that previously wasn't possible on a PC so thin and light.
You can expect up to 5 times the graphics performance, perfect for playing Apple Arcade games at higher framerates. And you can use the Air to reliably edit 4K video. The new Air is also reportedly 3 times faster than its best-selling Windows rival, and 98% more powerful than most laptops on the market.
In terms of battery life, you can expect 6 more hours of video playback, and better overall endurance when using apps or on video conferences. The webcam is getting a nice little upgrade, too, and you'll get an improved Retina display. This just might get some people to reconsider splurging for a Pro.
The new MacBook Air will still cost $999 (or $899 for education users), giving you a big performance boost for the same price.
The new MacBook Air isn't all Apple has up its sleeves today -- we're also getting a new Mac mini! Now that's a name I haven't heard in a while.
Another M1-powered computer, the new Mac mini packs 3x better CPU performance than its predecessor, as well as 6 times the graphics performance for designing games (or playing them at high settings).
Apple says the new Mac mini is just 1/10 the size as the top Windows PC while being 5 times faster. Apple's mini PC is also getting 15x better machine learning performance thanks to the Neural Engine, which will come in handy for making quick automatic fixes in photo editing apps. Holding this all together is a new thermal design that promises to work super fast while staying cool and quiet.
The new Mac mini now starts at just $699, which is $100 less than the previous-gen model. That's a pretty huge upgrade for a cheaper price.
And now it's MacBook Pro time. The new 13-inch MacBook Pro will now be powered by the M1 chip, promising similarly big gains as the new Air and Mac mini. You can expect 2.8 times the CPU performance, as well as 5 times the graphics power for designing in 3D or playing games when work is done. Apple is again touting how much better Mac is than the top competing PC, saying its 3x faster than major Windows rivals.
The new MacBook Pro packs a new active cooling system to stay efficient and quiet under pressure, and is built to deliver up to 17 hours of wireless web browsing and 20 hours of video playback. That's an increase of 10 hours, and the longest battery life a Mac has ever had, according to Apple.
These new performance upgrades come backed into the same compact MacBook Pro design, which keeps its starting price of $1,299.
And that's the new Apple Silicon Mac lineup. Better yet, you can order them all today, with the new Macs set to ship next week. Oh, and macOS Big Sir is finally arriving on November 12, allowing you to enjoy a ton of new software upgrades on your MacBook or Mac desktop.
Apple is now playing a short film showing various power users' reactions to the new M1-powered PCs, and they seem really excited about it. These writers, musicians, and designers are praising the speed, battery life and lack of noise -- while this is a promotional video, that seems to bode well for those who use Mac as their primary work machine.
And here's Tim to take us home. Another lean, informational online show from Apple, and one that has me really excited to see what Apple can do now that it's in full control of both software and hardware for the Mac. Apple even included a little post-show easter egg with the "I'm a PC" guy from the old commercials! Nice touch -- until next time.