The Xbox Series X comes with a 1TB hard drive built in, but this doesn't actually stretch very far when you account for the mammoth file size of many new video game releases — the latest Forza demands a whooping 132GB! But while a lot of Prime Day deals have expired, there's still a low-cost solution if your console is running low on storage space.
For a limited time, the Seagate 1TB Storage Expansion Card for Xbox Series X/S is on sale for $149 at Amazon. That's a big $70 discount, and while it's not the same $90 saving we saw during Amazon's main event, it's still a worthwhile deal.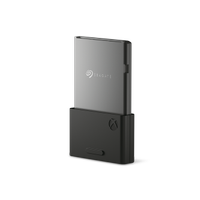 Seagate 1TB Storage Expansion Card: was $219 now $149 @ Amazon
The Seagate Storage Expansion Card is an officially licensed Xbox Series X accessory that increases your hard drive space by a full 1TB. This is the ideal extra if you want to store dozens of the best Xbox Series X games on your console at once.
The Seagate Storage Expansion Card is a fairly self-explanatory Xbox accessory. It can be slotted into the back of an Xbox Series X or Xbox Series S console, and once installed it will boost your console's available storage by an extra 1TB.
As the average file sizes of the latest video games continue to balloon, you might find your console's stock hard drive isn't quite large enough, and that's what makes this Storage Expansion Card practically essential. It's an especially useful accessory if you like to jump between multiple games at once or have a significant number of Xbox Game Pass titles downloaded to your console at the same time.
For almost two years, this Seagate card was the only storage solution available. This meant that its price remained relatively high due to a lack of alternative options to drive prices down. However, the release of the WD_Black C50 Expansion Card earlier this year saw the Seagate option drop to a new low of $149 during the July Prime Day event, and now it's fallen even lower courtesy of Amazon's latest sales extravaganza.
This isn't the only worthwhile Xbox Series X deal either. Amazon has discounted a range of the best Xbox Series X games as well as additional accessories. Plus, even the console itself has received a small discount, which is ideal if you are looking to be extra generous with your holiday gifting this year.