We're now more than halfway through the month of January and if hitting the gym isn't working for you, how about getting some fresh air?
For a limited time, you can get the Dyson Purifier Humidify + Cool for just $599 at Walmart. That's a $200 discount and one of the best air purifier deals we've seen. (For more ways to save at Walmart, browse through our guide of this week's best Walmart promo codes).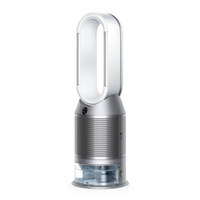 Dyson Purifier Humidify+Cool: was $799 now $599 @ Walmart
This combination air purifier and humidifier draws in dust and pollution while circulating clean air back into your home. The fan also helps keep your room cool. This model offers several useful features like backward air flow, night mode, jet mode, and a deep clean cycle.
The Dyson Purifier Humidify+Cool may be pricey, but it's a fully-featured device that takes care of a lot of common household issues. It's an air purifier, humidifier, and fan all in one — so if you have polluted, hot or dry air in your home, it will solve all your problems.
It may be winter right now, but allergy season looms in the near future for those who suffer from hay fever. Our Homes Editor bought a Dyson air purifier and was seriously impressed by the results — the device took care of the pollen in her home and eased her allergy symptoms with almost immediate effect.
We also like the design of this air purifier. Its small footprint means it can be tucked into a corner, and you'll probably forget it's there. But it also has a stylish and futuristic look worthy of conversation, if you decide to put it front and center in your living room.