While plenty of Prime Day deals have caught my eye, there's one that stands out from the rest. The blow drying brush I swear by has received a rare sale during Amazon's annual savings event.
Right now, the Drybar Double Shot Oval Blow Dryer Brush is $108 on Amazon. It normally costs $154 (which is about how much I paid for it a year and a half ago), so today's deal is one I don't think you should miss.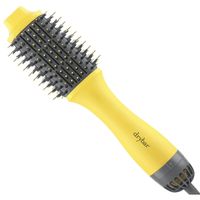 While I might have a bit of buyer's remorse for purchasing the Drybar Double Shot Oval Blow Dryer Brush at full price as a gift to myself, I'm glad to see it's received a discount during Prime Day. Deals on Drybar products — sourced from the company that popularized the blow dry bar concept — don't come around often.
I use the Drybar Double Shot Oval Blow Dryer Brush to recreate blowouts I normally get at the hair salon. Once my hair is 80% dry, I part it and run the brush through my locks. It continues to dry my hair while adding plenty of volume and subtle twists, and I have a completely styled look in less than 20 minutes.
Hair styling systems are hot these days (Dyson AirWrap, anyone?), but they can be expensive and come with more tools than you might need. The Drybar Double Shot Oval Blow Dryer Brush is a one-stop device that you can get for just over $100 now, and it stores easily.
Of course everyone's hair is different, so this Drybar tool won't be right for everyone. But if you've been curious about blow dryer brushes, this one is a great place to start. It might take a bit of practice to master the technique, but soon enough, you'll be achieving quick blowout looks. Talk about connivence.