This is one of the best Apple Watch deals I've ever seen. The newest Apple Watch has crashed to its lowest price ever, and the sale applies across all the sizes and colors of the Apple Watch 8.
The Apple Watch 8 (41mm/GPS) is $329 at Best Buy right now. This is the lowest price I've ever seen for the Apple Watch 8. If you want the Apple Watch with a bigger screen, you can also get the Apple Watch 8 (45mm/GPS) for $359 at Best Buy.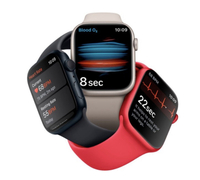 Apple Watch 8 (41mm/GPS): was $399 now $329 Best Buy
Lowest price! The Apple Watch 8 sports a new skin temperature sensor to monitor sleep tracking and cycle tracking. It also comes with new advanced safety features like Crash Detection, which can sense when you've been in a car crash. In our Apple Watch 8 review, we called it the best smartwatch hands down. Amazon offers the same price, but only on the Product Red model.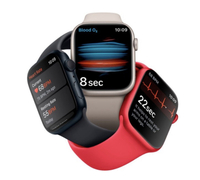 The Apple Watch 8 is the best smartwatch on the market right now. While it doesn't offer huge upgrades over the Apple Watch 7, it's still an awesome smartwatch and the perfect complement to your iPhone.
The Apple Watch 8 sports a similar design and display to the previous model, but that's hardly a bad thing. The Apple Watch 8's large, bright display and slim bezels are simple but effective and easy to use. There's also a digital crown and an additional button on the side of the Apple Watch which make for easier navigation.
We also love the Apple Watch 8's low power mode. It can extend the Apple Watch 8's battery life from 18 hours to up to 36 hours, allowing you to keep using your watch while disabling power-draining features. Additionally, the Apple Watch 8 can charge up fully in about an hour, while an 8 minute quick charge is enough for 8 hours of sleep tracking.
New to the Apple Watch 8 is a skin temperature sensor and crash detection. The skin temperature sensor can be used to track your sleep and can predict your ovulation windows if you're trying to conceive. Meanwhile, crash detection can detect if you get into an accident, and if so automatically call emergency services and notify your emergency contacts.
The Apple Watch 8 has hit its lowest price ever, so there's no better time than now to pick one up. Looking for more sales on Apple products? Stay tuned to our Apple deals coverage.