The Starfield Direct blew the lid off Bethesda's upcoming sci-fi RPG. And while the extended look at the highly-anticipated game included more details than we can even remember, one of the biggest announcements was Starfield's high-end collector's edition known as the Starfield Constellation Edition.
Pre-orders for this $299 edition went up immediately after the showcase concluded, and unsurprisingly, retailers including Walmart and Best Buy were sold out within minutes. However, if you're still hoping to get your hands on a Starfield Constellation Edition we've found a retailer that is still taking orders, GameStop (U.K. readers, check out Game).
There is a slight catch with this one, you will need a GameStop PowerUp Rewards Pro membership in order to lock in your pre-order. Fortunately, a subscription costs just $15 for a full year, and that's a small price to pay to secure your Starfield Constellation Edition.
Alternatively, pre-orders will open to all customers on Tuesday, June 13, but be warned we expect the Starfield collector's edition will sell out extremely quickly on this date.
Where to pre-order Starfield Constellation Edition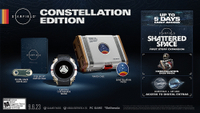 Starfield Constellation Edition: $299 @ GameStop
GameStop is currently taking pre-orders of the Starfield Constellation Edition, but you will need a PowerUp Rewards Pro membership to secure yours. This pricey Starfield collector's edition includes the full game as well as a suite of digital and physical goodies. The flagship extra is a replica watch modeled from a device you'll use in the game, other highlights include five days early access and the game's first expansion, Shattered Space.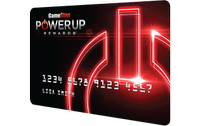 PowerUp Rewards Pro: from $15 @ GameStop
GameStop's PowerUp Rewards membership comes with a host of benefits, and the latest is exclusive early access to pre-ordering the Starfield Constellation Edition. If you're very eager to secure yourself this premium edition of the upcoming sci-fi RPG, this could be $15 well spent.
Where to pre-order Starfield Constellation Edition in the U.K.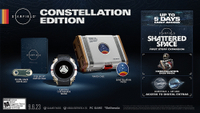 Starfield Constellation Edition: £249 @ Game
Over in the U.K., the Starfield Constellation Edition is exclusively available via retailer Game. It will cost £249 and is available with either an Xbox or PC copy of the game. The Constellation Edition can be pre-ordered now but is highly likely to sell out before launch.
What's included in the Starfield Constellation Edition?
The Starfield Constellation Edition will launch on Xbox Series X, Xbox Series S and PC, and will cost $299. That's definitely a hefty price tag even compared to rival collector's editions — the Spider-Man 2 Collector's Edition retails for $229 — but the Constellation Edition does include quite a large amount of Starfield swag.
Naturally, the Starfield Constellation Edition includes a copy of the base game. And with up to five days early access, you can start playing Starfield on Friday, September 1. Meanwhile, the standard game launches on Wednesday, September 6.
The big ticket item is your very own Starfield Chronomark Watch. This device is modeled on the watch your character wears in-game. While it probably won't win a spot on our list of the best smartwatches, it'll connect to your smartphone in order to tell the time and receive notifications. But, be warned, it's not a touchscreen device. The watch also comes in a slick custom case.
The collector's edition also includes a collectible steelbook display case and a Constellation patch. A physical game disc isn't included, but the supplied digital game code comes laser-etched on a credit stick again modeled after the ones found in-game which is a pretty neat addition.
Finally, there's a host of digital extras, including the aptly-named Constellation Pack which offers various cosmetic items only found in this collector's edition. You'll also get access to the Shattered Space story expansion upon its release. There's no confirmation when this first DLC will launch but we expect it'll be in 2024. If all of the above wasn't enough you also get a digital artbook and copy of the game's original soundtrack.
More from Tom's Guide