Spider-Man 2 swings onto PS5 this week, and to mark the occasion Best Buy is restocking the entire range of limited edition Spider-Man PS5 hardware, as spotted by popular stock tracker Wario64.
This drop will include the Spidey-themed console, the seriously-popular Spider-Man 2 console covers and the special edition DualSense controller. If you missed the opportunity to score these collector's items earlier this summer, don't pass up this second chance to get kitted out ahead of the launch of Spider-Man 2.
Best Buy is restocking these in-demand items this week. The Spider-Man 2 Console Covers arrive on Wednesday (Oct. 18), followed by the Spider-Man 2 PS5 console bundle on Thursday (Oct. 19) and then finally the Spider-Man 2 DualSense controller on Friday (Oct. 20). The retailer has yet to confirm what time the restocks will begin, but we'll update this article if that information becomes available.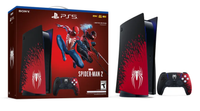 Spider-Man 2 PS5 console: $599 @ Best Buy
The first-limited PS5 console marks the release of Spider-Man 2. This console bundle comes with a custom PS5, and matching DualSense controller, both are decked out in Spidey-theme artwork. Plus, you get a digital copy of the Spider-Man 2 game. It costs $599 and will be restocked at Best Buy on Thursday, Oct. 19.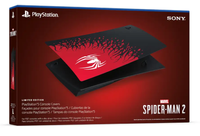 Spider-Man 2 PS5 Console Covers: $64 @ Best Buy
If you've already got a PS5, but want to give your console a Spidey-themed makeover, these console covers are the perfect purchase. A set costs $64 and the demand for them has been extremely high. Best Buy will be restocking these covers later this week on Oct. 18.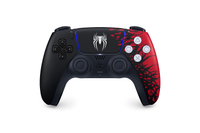 Spider-Man 2 PS5 DualSense: $79 @ Best Buy
Best Buy is gearing up to restock the limited-edition Spider-Man 2 DualSense controller. It packs a special design inspired by the game and all the same tech found in the regular gamepad including haptic feedback and adaptive triggers. This special edition pad costs $79.
This drop will be a little different from PS5 restocks of the past as it will be part of the new Best Buy Drops promotion. This essential means the items will only be available to buy via the retailer's mobile app. So if you're looking to pick up a Spider-Man PS5 console, or either of the limited-edition accessory be sure to download the app ahead of time as we don't expect stock will be available for very long. After all, when these items went on sale previously they each sold out almost immediately.
If you missed the Spider-Man PS5 console when it was unveiled back in July, it's pretty much exactly what it sounds like. It's a reskinned PS5 console with a Spider-Man-themed look. Just note it's a regular PS5 rather than the recently announced PS5 Slim. Although, I'd personally argue the standard console is a better buy than the slim model. Alternatively, the Spider-Man 2 console covers are a great way to get this limited-edition design without having to fork out for a whole new machine, and the DualSense is also a great option for current PS5 owners.
The Spider-Man 2 PS5 console retails for $599 and includes a copy of the game alongside the hardware. The limited-edition DualSense costs $79 and the console covers cost $64. As noted, these items were very popular when they first went on sale, so we expect this Best Buy restock will rapidly sell out. Best prepare yourself.