Hold up! Black Friday is just around the corner, but the Oura Ring Black Friday and Cyber Monday sale starts today at 9am ET. That's right now. The most popular OG smart ring out there will be discounted for a limited time, and it's the perfect opportunity to pounce if you've had your eye on the health and fitness tracker for a while.
I'm nothing short of obsessed with my Oura Ring. It lives on my finger like jewelry while tracking health stats like sleep, daytime stress, menstrual cycle and fitness stats, including steps, heart rate and activity. It's some of the best fitness tech around, and right now you can pick up the Oura ring for just $269 at Oura before Black Friday. Some discounts get you a whopping $100 off the retail price.
You can choose from several colors and sizing options. But move fast while it lasts.
The Oura Ring Black Friday deals to shop right now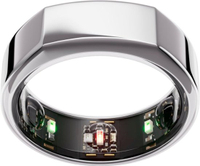 Oura Ring Heritage: was $299 now $269 @ Oura
Heritage rings in black and silver have dropped from $299 to just $269 before Black Friday. Save $30 off black and silver finishes or opt for stealth, which is down $50 from $399 to $349, while gold is $70 off from the $449 price tag to just $379.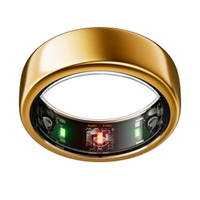 Oura Ring Horizon: was $349 now $319 @ Oura
The Horizon model removes the curves from the ring to give you a smooth finish. Silver and black finishes are just $319, while stealth and brushed titanium models are $50 off down to $399, gold is $70 less at $429 and rose gold is a whopping $100 less at $449.
Oura Ring: the intelligent health and fitness tracker for your finger
I'm not exaggerating when I say the Oura Ring has completely changed how I look at my health from a sleep and stress perspective. We've even read that Mark Zuckerberg uses his Oura Ring daily. You can now save $30 on the black and silver finishes and up to $100 on rose gold models during Black Friday sales.
And that's not all. Save $50 on stealth and the new brushed titanium finishes, plus $70 off gold. If you're unsure what ring size you are, you can order a free sizing kit with every order.
I wear my Oura ring in gold and the ring still looks great after three years. The battery life is still powerful, lasting at least five days between charges, but Oura says you should get seven days of juice out of it. And even when you do need to charge, it barely takes any time at all.
So what do we know about the Oura Ring? Well, it syncs with partner app Natural Cycles to bring you automatic temperature measurements each morning straight to your Natural Cycles app via Bluetooth connection. Sensors on the inside of the ring sit against the underside of your index finger (the recommended ring finger for your Oura); green LEDs act as an optical heart rate sensor while red LEDs offer blood oxygen monitoring. The ring also houses PPG and skin temperature sensors and a 3D accelerometer.
The latest feature from Oura allows the ring to gather information on your stress, updating every 15 minutes to provide trackable stats around your physiological stress levels and reporting them in a handy graph. You'll also receive guided meditations, guidance about your sleep quality and overall readiness scores, as well as suggestions to improve bedtime routines, early illness detection and the option to switch to rest mode on days where you just want to tap out.
I check in with my sleep scores every morning, noting sleep quality, deep and REM sleep stages and how many disturbances I faced. I can also check for signs of sleep apnea by checking blood oxygen levels. All from my finger and one app.
Other Black Friday deals
You can keep an eye on Black Friday fitness deals and save on other wearables like Fitbit Black Friday sales and Apple Black Friday sales here.
The Oura Ring is on sale at Best Buy and other stockists so remember to shop around for the best deal available.