The Apple Watch 8 is one of the best smartwatches based on our testing, and i just spotted a big discount that's hard to pass up.
Right now the Apple Watch 8 (GPS/41mm) is $329 at Amazon. This is the lowest price I've ever seen for this smartwatch, making it one of the best Apple Watch deals around.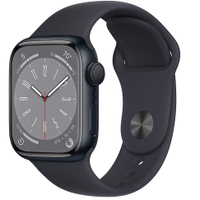 The Apple Watch 8 is the best smartwatch on the market right now. If you're an iPhone user, it's the perfect addition to your ecosystem.
The Apple Watch's design hasn't changed much in the last few years, but that's not a bad thing. We love the Apple Watch 8's large, bright display, slim bezels and digital crown. Plus, the Apple Watch 8 has a full QWERTY keyboard which is great for quickly typing out messages on the go.
The Apple Watch 8 also offers several useful health tracking features. It can automatically track your workouts, and monitor your heart rate zones through your exercise. Sleep tracking can help you get better rest and the new skin temperature sensor can help predict ovulation windows.
Also new to the Apple Watch 8 is a crash detection feature. In the event of a car crash, this feature automatically alerts emergency services and your emergency services.
The Apple Watch 8 isn't perfect — we wish it had the Apple Watch Ultra's siren, and a few more hours battery life would be nice. However, its combination of features and price make it the best smartwatch on the market for most people. And with watchOS 10 on the way, you'll be be able to take advantage of new Smart Stack widgets and other new features. If you're looking for more options, check out our Apple Watch deals coverage.