If you've been waiting for the Black Friday deals to drop to update your running watch, I've got good news — the sales have started early, and right now, my favorite Garmin watch is $200 off in the sale. Forget the Apple Watch Ultra 2 this Black Friday, this is the deal to shop instead.
The Garmin Epix Pro is currently $694 on Amazon in an early Black Friday sale. This is over $200 off its normal price of $899. The Epix Pro is one of Garmin's newest running watches and is a top-of-the-line watch, with all of Garmin's best training features, a bright AMOLED screen, and a built-in flashlight.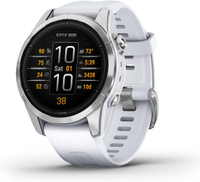 Garmin Epix Pro: was $899 now $694 @ Amazon
The Epix Pro is currently on sale on Amazon for $694 in the smaller 42mm bezel size. The 47mm watch is also on sale for the same price right now, but don't delay, as this deal isn't likely to hang around for long.
The Garmin Epix 2 was already one of the best Garmin watches on the market when Garmin released the Epix Pro in June. The newer watch allowed users to pick between three different sizes when choosing the Epix line, making it more attractive to users who prefer a smaller watch on their wrist.
The Epix Pro also has a built-in flashlight — a feature we saw with the launch of the Garmin Fenix 7X last January. The flashlight can be used in situations where you might use your phone's flashlight, but can also be used in certain sports modes, as the flashlight can blink or pulse on a bike ride. There is also a running-specific cadence visibility flashlight, where the watch will flash white as your wrist goes forward, and red as your arm moves back, in order to help keep you safe and seen.
Underneath the screen, the one key difference between the Epix 2 and the Epix Pro is the heart rate sensor. The Epix 2 has Garmin's Elevate V4 sensor, whereas the Epix Pro has the newest sensor (we're not sure if this is the Elevate V5), which has twice as many LEDs as that of the Epix 2 spread over a wider area. According to Garmin, the "more spatially diverse" sensors and updated algorithms result in more accurate data. Read more about the differences between the Garmin Epix 2 vs Garmin Epix Pro here.
If you're in the market for a high-end adventure watch, the Epix Pro ticks all of the right boxes. It's an impressive watch, at an excellent price right now. Not for you? Check out all of the best Garmin Black Friday deals here.