21 Steam Games You're Not Playing (But Should Be)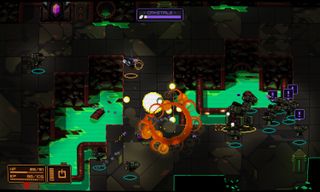 Best Steam Games You're Not Playing (Update)
Dozens of games are added to the Steam store on any given day, and a lot of them are from small developers you've never heard of, selling low-priced games you'll probably ignore. Often, scattered among those many new titles are a few gems worth the asking price, and sometimes they're even free. But even if you've heard of some of these games, they can still get lost in the shuffle. To help you out, we looked through the freshly updated Steam store for promising indie games of various sizes and genres, and came up with the following 21 indie games you shouldn't ignore.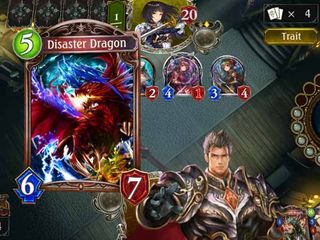 Shadowverse
This is a card-dueling game with higher-than-average production value for a free-to-play title. It features a single-player campaign that lets you earn new cards, and boasts surprisingly solid voice acting throughout a serviceable storyline.The battle system offers quick turns with cards that level up ("evolve") and a limit on card ability text to keep things from getting bogged down. With a challenging solo campaign and a full online multiplayer mode with custom decks, this game provides a fine alternative to other digital collectible-card games.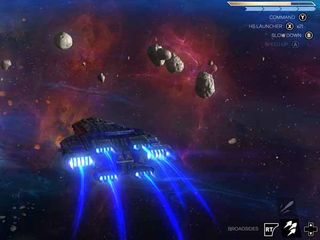 Rebel Galaxy
As one of the few worthwhile spaceship exploration games on Steam, Rebel Galaxy gives players a lengthy single-player campaign as a space trucker/bounty hunter.Gameplay feels like a ship on water as you fire broadsides and turrets at enemies darting around your ship. It's less like dogfighting and more like a naval ship battle. It will take you a long time to go from the dinky starting ship to a truly massive battle cruiser capable of hauling tons of space goodies, so expect the game to have some staying power.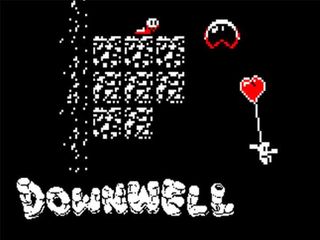 Downwell
A rare indie treat from Japan, Downwell became an instant hit thanks to its very simple (but addictive) mechanics and combo system. Using a very limited color palette, this game does an amazing job of communicating how to play without using any text.The object is to simply descend the well and rack up a score by either jumping on enemies or shooting at them from above with your neat gun boots. With several different gun types to pick up — as well as health upgrades, character types and different palette schemes to unlock — this run-based game should keep your attention for a while.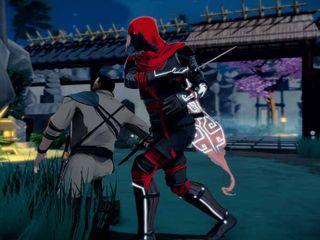 Aragami
If stealth gameplay is your thing, then Aragami will scratch that itch like few games can these days. It focuses mainly on ambush kills, because you lack any combat ability as the titular Aragami character, who has been summoned using a mysterious ritual to get revenge for a kidnapped woman.The plot takes a few interesting turns, but it's window dressing for playing around with your cool shadow powers that let you warp from shadow to shadow, avoiding light sources that drain your power, while studying enemy routines for the perfect kill. Whether you prefer to go deadly or completely non-lethal, Aragami has more than a few ways to play.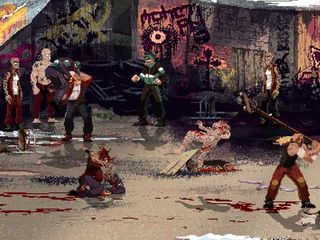 Mother Russia Bleeds
Straight from the SNES days of side-scrolling beat 'em ups like Final Fight, Mother Russia Bleeds will give you a new reason to hone your old-school skills again. Movement is stiff, and chaining combos requires good timing, just as in the games that inspired it.Mother Russia Bleeds has a semblance of a story, but the main attraction is the brutal beat 'em up experience paired with a cool healing/buffing mechanic that lets you inject yourself with a drug to either regain health or go into a "berserk" mode. Local multiplayer is a nice addition to this fun and challenging game.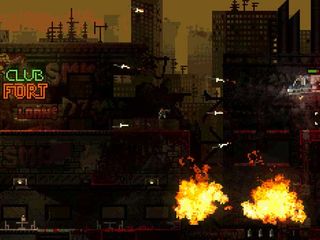 Butcher
Butcher sums itself up pretty well in the opening screen with the line "The easiest mode is 'hard.'" That's literally true in the menus, and generally true, as this game tests your reactions and aiming skills.Enemies will fire on you at the first opportunity in this very pixely 2D side-scroller, and it's up to you to keep a keen eye out for line of sight and maintain a steady hand on the mouse for returning fire. Limited health and ammo pools mean you also need to make every shot count as you run around, avoiding incoming enemies.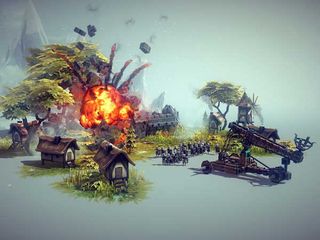 Besiege
Besiege is a physics game that challenges you to destroy or eliminate obstacles using certain building tools at your disposal. You're essentially building a siege machine of some sort, but don't let rational design get in your way.Besiege shines when you slap together a totally insane and semi-effective killing machine that halfway flies and halfway propels itself forward with cannon fire. The building system is easy to understand and gives you a wide array of connectors, joints and wheels to snap onto your catapult that hurls buzz saws.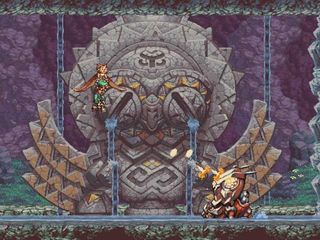 Owlboy
Owlboy is one of the most beautiful games, let alone indie games, to hit Steam in a very long time. Thanks to the many years it spent in development, Owlboy has polish in places you didn't even know a video game had.The visuals don't carry the experience, either, as this side-scroller delivers on its unique gameplay mechanic of carrying around party members, each of whom has different abilities. As Otus, you can't do much but fly. Once you grab one of your buddies, you can shoot, grapple and clear away obstacles in between being blown away by the buttery-smooth 16-bit style animations.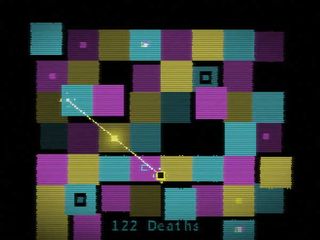 Magnetized
Magnetized is deceptively clever: After you spend some time playing within its rules, by guiding a little square through an obstacle course using other "magnetic" squares to influence its trajectory, the game opens up a lot by introducing different kinds of magnets.Blue, pink and yellow magnets all have vastly different effects on the course your square takes through each level, and when the game starts combining these mechanics, it really becomes a challenge to foresee and time your moves correctly.The game sadistically keeps track of your total death count (I quickly racked up over 240 of them), and its crunchy chiptune soundtrack does a good job of rounding out the package.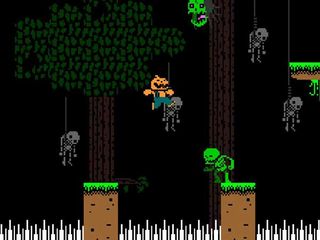 Halloween Forever
Halloween Forever is an old-school platformer through and through, but with a nice coat of Halloween paint on top. A player-lives system with no continues? Check. One-hit-kill spike pits? Check. And it's all free of newfangled upgrade systems or role-playing-game mechanics.Halloween Forever just gives you a sequence of levels, some secret areas to uncover and three unlockable characters, each with slightly different attack projectiles. With that and a trusty double-jump, you already have all the tools you need to enjoy this neatly animated throwback to the classics.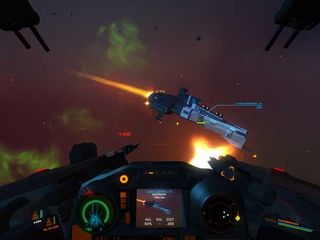 House of the Dying Sun
House of the Dying Sun is a tactical dogfighting experience that puts you in command of a growing fleet against often overwhelming odds.It's up to you to decide when things have gotten too dicey in a mission and bail before the big guns show up, and it's also up to you to take hands-on control of your ships or give orders from afar in the really cool-looking tactical view. The AI does an OK job of executing on orders, and the story is paper-thin. But it offers a lot of challenge and comes with a VR mode, if you happen to have a headset.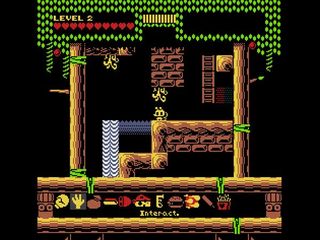 Creepy Castle
If you're looking to get absorbed in a quirky role-playing game that costs only about 15 bucks, Creepy Castle is a good fit. You'll be doing a lot of reading — that is, of journal entries and dialogue with nonplayer characters — and most of the writing is funny and endearing.Gameplay is like a boiled-down RPG system that has WarioWare-esque minigames thrown into the mix. You might just trade blows when pressing the attack button, or you might launch into one of these minigames, which usually focus on timed responses in order to deal damage. The game's standout pixelated visuals are topped off with a really fun chiptune soundtrack, which is arguably worth the price of admission alone.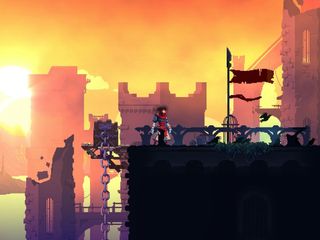 Dead Cells
Despite being one of many 2D indie platformers on Steam, Dead Cells manages to rise above the rest by delivering rock-solid gameplay, a satisfying sense of progression and beautiful sprite work. You'll pick up weapons and items to help cut your way through your enemies in randomized levels, restarting at level one when you die. Melee and ranged weapons, as well as shields and bombs and other fun items, will make up your arsenal and can be permanently powered up after clearing each level, giving you something to look forward to on each run.
Combat can be unforgiving, with enemies that take off large chunks of health if you don't roll away from attacks in time. Expect to invest a fair amount of time learning both how to survive and how to level up your weaponry.
Credit: Motion Twin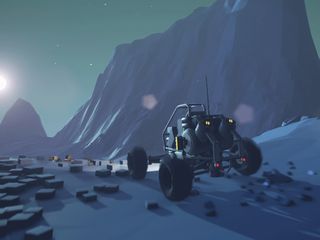 Astroneer
Astroneer is an open-world multiplayer survival game in Early Access. Think Minecraft, but on an alien planet and without the blocky graphics. You mine out and build the terrain with a really nifty vacuum gun that sucks up or deposits material, deforming the terrain with ease. You also use it to mine resources and build prefabricated additions to your space pod, which lets you make vehicles and other useful things for getting around the planet.
Astroneer emphasizes the survival aspect with its oxygen meter that ticks down rapidly if you're not close to your main base stations. While exploring, you'll need to drop tethers that connect to your base to supply oxygen, which doubles as a cool way of charting your progress in the game. It's fun solo, but best enjoyed while getting into trouble with a friend.
Credit: System Era Softworks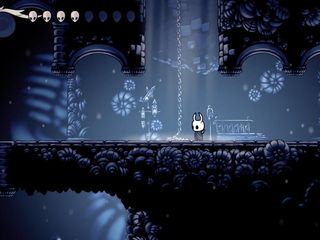 Hollow Knight
Hollow Knight is a lovingly crafted 2D single-player game that takes direct inspiration from past Metroidvania games. Refreshingly, it is not a Rogue-like game with randomized world design, instead it hasplayers chart their way through the fully realized world of The Hallow.
You play as a little bug knight in a world full of bug people, wild bug enemies and various bug-themed environments. You need to rescue a once-lively underground city from a ghostly darkness, learning new skills for combat and traversal along the way. Like old Metroid games, Hollow Knight has a big emphasis on backtracking through environments, making it a title you can easily pour a ton of hours into.
Credit: Team Cherry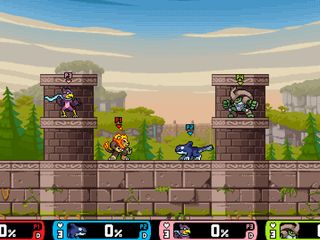 Rivals of Aether
Rivals of Aether is the first good attempt at copying Nintendo's Super Smash Bros. formula for fighting games. The rules and controls are very similar — you build up damage on your opponents to launch them off the screen with single-input directional attacks instead of long combos. Rivals of Aether copies the competitive elements of Smash Bros., which means you won't find the items or other random elements that Nintendo's brawler is known for.
The game does a good job teaching you the basics of gameplay in its tutorial modes, and offers quick and easy online matchmaking for one-on-one matches. Rivals of Aether should be on any Smash Bros. enthusiast's radar.
Credit: Dan Forance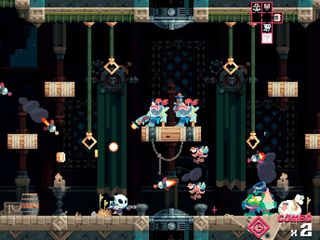 Flinthook
Flinthook is a challenging and beautifully animated 2D game that has you going from grappling hook to grappling hook while shooting pirates and collecting all sorts of treasures. It takes some practice to be good at zipping between the hooks while dodging enemies and stage hazards, but getting from place to place becomes a joy once you get comfortable.
You raid space pirate ships in search of treasure as a ghostly figure, upgrading your loadout and stats before setting out on small assignments to take down a bounty . You'll need to board and clear out a certain number of ships to gain access to the bounty boss fight, but even if you fail, you'll make it back with money for upgrades to help you try again. Flinthook is perfect for short play sessions.
Credit: Tribute Games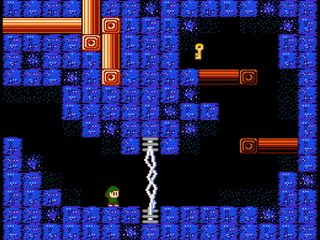 Super Win the Game
Going from a challenging platformer to a casual trip down memory lane, Super Win the Game is a love letter to old 8-bit gaming. It takes most of its inspiration from Zelda II, with its level design plainly ripped from the NES classic. But you won't slay any evil minions in Super Win the Game — it's entirely combat-free. Instead, the game focuses solely on exploration, platforming and collecting keys while avoiding enemies.
The game also comes with a meticulous simulation of a CRT display, with more options for adjusting the image than you probably thought possible. It adds to the retro feel of the game and is entirely optional if you prefer a clean image. The game's creator, Kyle Pittman, even released the effect software as a standalone .exe file for use with any program on PC.
Credit: Minor Key Games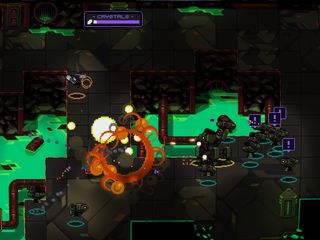 NeuroVoider
NeuroVoider wastes no time getting to the point. It's a Rogue-like that excels at getting you into the progression loop as quick as possible. You play as a brain in one of three robot chassis — a quick robot with a dodge skill, a strong robot with a dual wielding skill, or a tank-y robot with a shield skill. You then pick a secondary skill from a list of 27 and you're off.
You get two weapons to start and the goal of destroying each randomly generated level's reactors while mowing down tons of enemy robots. Between levels, you sift through your loot for new weapons (being able to test weapons before starting a level is a godsend) and chassis parts for upgrades. The menus and actions are super-snappy, so you'll be blasting through enemies and sorting through loot in a flash once you get used to it. NeuroVoider is good for a fast-paced looting Roguelike experience.
Credit: Flying Oak Games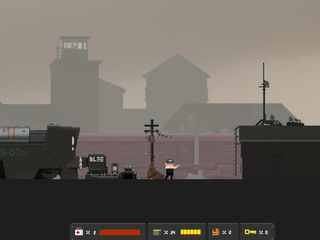 The Final Station
The Final Station is an unnerving 2D game with some light combat, exploration and resource management. You play the role of a train conductor trying to carry out important delivery missions for the government, but something goes wrong in the process. Unraveling the story is half the fun, but along the way you'll be fending off unknown monsters and rescuing stranded civilians.
While on foot, you'll shoot, punch and explore your way across scripted levels. While between stops on the train, you'll need to keep the train operational with simple button prompts, keep any rescued passengers you have alive with food and medkits, and just soak in the dialogue each person has with each other. It's a surprisingly tense game that isn't afraid to do the unexpected.
Credit: TinyBuild Games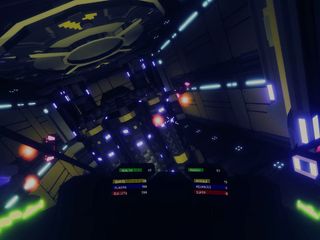 Sublevel Zero
Get ready to test your sense of direction with this Rogue-like six-degrees-of-freedom ship shooter with VR and joystick support. You pilot a small vessel making its way through tight passageways with control of forward and backward, left and right, pitch, yaw and roll movements. A joystick would work best, but I felt fully in control with my Xbox One Elite controller after some minor button remapping.
The goal is to reach each level's reactor core and destroy it to get to the next level. Along the way you'll shoot down other ships, open loot chests and equip weapon and ship upgrades. You also unlock more ship chassis as you progress through the game that changes things like ammo capacity and speed. With a fun retro low-poly look, Sublevel Zero is a modernized throwback to games like Descent.
Credit: Mastertronic