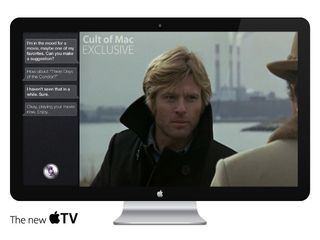 The latest Apple iTV rumor to surface this week claims that Apple manufacturing partner Foxconn (Hon Hai Precision) is scheduled to begin receiving LCD panels for the Apple HDTV in the third quarter this year. The rumor arrives by way of Topeka Capital Markets analyst Brian White on Thursday as he relayed a report from Chinese-language 21cbh.com.
Foxconn reportedly expects to start receiving LCD TV panel orders from Sharp in 3Q12 instead of 4Q12 as was originally planned. This may be due to Foxconn's investment in Sharp earlier this year to secure LCD panels -- panels that are believed to largely support a new Apple TV.
"Based on a recent interview by 21cbh.com with a Sharp executive and information from sources at the company, the online news source believes the order is for the new Apple TV and could be available for the holiday season," White wrote in a note to clients on Thursday. "In our view, a holiday launch would make for a very merry holiday season for Apple and consumers. However, we will continue to monitor the data points surrounding the timing of this launch as they could change."
Previous rumors claimed that Apple would finally reveal the iOS-powered HDTV during WWDC 2012. That never happened, so now there's indication that it will be released later this year along with an updated iPod Touch and the iPhone 5 -- both of which will likely feature some kind of connectivity feature with the rumored iTV.
Speculation and rumors surrounding the Apple iTV went prime time after Steve Jobs made his "I did it!" revelation late last year. Since then, reports have covered subjects such as Apple wanting an actual TV service by the end of the year, how iTV looks like a Cinema Display only bigger, face detection, voice (Siri) and motion control, and so on. An SDK will supposedly be available for manufacturers and developers to create accessories and apps while a unique content distribution model will offer channels in app-like bundles.