Privacy and security are priorities when searching for the best VPN, and keeping you safe online is ProtonVPN's core mission. However, unlike many security-focused services, the Swiss provider doesn't sacrifice anything in terms of day-to-day usability, and that rare combination alongside the best free VPN available today makes for a seriously attractive product.
Just like any software, though, ProtonVPN isn't absolutely perfect. So, in our comprehensive ProtonVPN review, we'll be taking a look under its skin to see what it can really offer you, what it might lack, and whether it's the right VPN for you.
To jump to a particular section, head to the navigation bar at the top of the page. For the full review, just keep scrolling.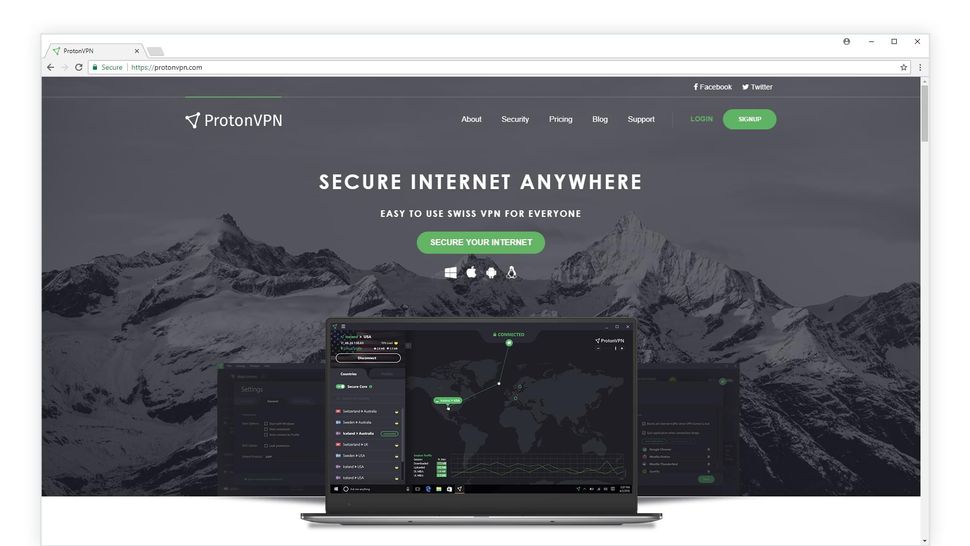 Latest updates
ProtonVPN has steadily increased the number of servers it offers, and it's now up to a respectable 1,300+. That's still not as many as some rivals, but it's plenty to get by with, and the spread over 61 countries is better than many.
The biggest news, however, is the addition of WireGuard. The devs have evidently done a good job of it too, and with speeds of around 740Mbps, it's easily in the 5 VPNs we've tested.
Another one of main concerns from our last review has been addressed too. ProtonVPN has now added live chat, and while it's not yet 24/7, the fact it has been added at shows ProtonVPN has a clear intention to acknowledge issues and improve weak areas.
Finally, you can now use the Plus plan on 10 devices simultaneously, which is up from 5. Good stuff all round, then.
ProtonVPN on paper
Number of servers: 1,300+
Number of countries: 61
Platforms supported: Windows, Mac, iOS, Android, Linux, Chromebook, Android TV
Simultaneous connections: 10
Split tunneling: Yes (Windows and Android)
Kill switch: Yes
Supported protocols: OpenVPN, WireGuard, IKEv2/IPSec
Country of registration: Switzerland
Support: Email, knowledgebase, live chat (not 24/7 yet)
Plans and Pricing
ProtonVPN has one of the most attractive free options we've seen from any provider. Without paying anything at all, you can get an ad-free service with no data logging and no bandwidth limits. The only catch is that you're limited to choosing from servers in just three countries.
For paid plans, pricing gets a little complex. A Basic plan costs $5/mo paid monthly, but is reduced to $4/mo paid annually and $3.29/mo on a two-year plan. This gives you P2P support, two simultaneous connections and access to servers in every country ProtonVPN operates in – but not the 'Plus' servers, which are designed for streaming as well.
For the Secure Core feature and content unblocking, you'll need at least a Plus plan, which comes in at $10/mo ($8/mo paid annually, $6.63/mo on a two-year plan). You'll also get 10 simultaneous connections with this plan (that's up from five since our last review), but it's still somewhat expensive. It's probably the one you'll want, though, as it enables ProtonVPN's great streaming power and enables access to every server.
It's worth noting that ProtonVPN has started to offer some discounts on special occasions, and at the time of writing, you can bag a 2-year Plus plan for just $4.99 a month. That's much more competitive, and is certainly worth the money.
If you want to go all-out, $30 a month will get you the Visionary package, which includes everything from the Plus package as well as a full ProtonMail subscription. The Visionary plan is reduced to $24/mo on a one-year plan, and $19.96/mo on a two-year plan, but it still costs a hefty premium that we expect few people will pay unless they really need encrypted email support as well as a VPN.
As an aside, this is essentially the same as the ProtonMail Visionary package, which includes the VPN. ProtonMail is one of the best email services, and focuses on security without sacrificing too much usability – and the Visionary plan does get you quite a lot of extras, if you need them.
Notably, you can remain completely anonymous when signing up for ProtonVPN. The platform supports ProtonMail email addresses and accepts payment via Bitcoin. That's a big draw if you're looking to stay as anonymous as possible.
Finally, ProtonVPN offers a 30-day money-back guarantee. However, unlike most other providers, this refund is pro-rata. So, if you claim your refund after 20 days, you'd get your money minus the effective cost of those 20 days. While that's not going to break the bank, it'd be nice if ProtonVPN offered a full refund at any time within the month, like almost all of its competitors.
How private and secure is ProtonVPN?
Right out the gate, ProtonVPN has an advantage over much of the competition, in that it's based in the security-friendly Switzerland. Unlike much of the rest of Europe. Switzerland is not part of any intelligence-sharing alliance like the 5 or 14 Eyes, is outside the EU, and generally protects its data jealously.
ProtonVPN's no-logging statement is comprehensive, and that's reflected in practice – the only data stored is your very last timestamp, which is immediately overwritten the next time you connect.
On sign-up you can also use the company's secure ProtonMail as your email, and while you can pay with PayPal and credit card (both handled by a third party and anonymous to ProtonVPN itself), you can also use Bitcoin, or even cold, hard cash. Apart from Mullvad, ProtonVPN is the only VPN worth signing up to that does this, so compared to rivals, it's quite possibly the most anonymous from start to finish.
One of the most exciting and unique features that ProtonVPN offers is what it calls Secure Core. This essentially means that when you connect to a server using ProtonVPN, your connection is first routed through several of ProtonVPN's most protected servers. As a result, even if you access a malware-infected website, your true IP address and browsing history can never be leaked to network attackers.
ProtonVPN also offers a built-in kill switch to protect your IP in case your connection drops. There's no option to have the VPN automatically turn on when you connect to a public Wi-Fi network, but you can set ProtonVPN to open a connection automatically when you turn on your computer.
ProtonVPN's server network is a little smaller than many other VPNs that charge similar or cheaper prices – the company has just over 1,300 servers spread across 55 countries. However, with the server locations seemingly ever increasing – currently 61 – you'll have a good spread worldwide.
Privacy obsessives will be pleased to note that ProtonVPN offers Tor over VPN, which integrates your connection with the anonymous Tor network. In a single click, all data is routed through the Tor network which gives the user an extra layer of privacy as well as access to Onion sites. Other than NordVPN, we can't name many VPNs that offer this as an integrated feature.
And, finally, in January 2020 ProtonVPN went through an independent audit by SEC Consult. The results were impressive, with just 11 issues found over all apps, none of which being high-risk.
While that might sound worrying, these audits are incredibly thorough, and when vulnerabilities are identified, it allows the developers to address them. And, thanks to the fact the apps are all open-source too, anyone interested can verify the fixes made.
All in all, we're seriously impressed with ProtonVPN's privacy and security, from cash payments to the audit, and if you're looking for a VPN to keep you safe online, it's we're comfortable saying it's easily one of the best secure VPN services around today.
How fast is ProtonVPN?
Beyond privacy, connection speeds are one of the most important features of any VPN, and can make or break a service. We tested ProtonVPN on 1Gbps lines in the UK and US, and tested OpenVPN and WireGuard protocols.
To kick off with a bang, we recorded OpenVPN speeds of up to 460Mbps in the UK, and a massive 510Mbps in the US. That's almost unheard of, and out of all the providers we tested, these results from ProtonVPN are the fastest OpenVPN speeds we saw, bar none. That's seriously impressive.
In our last ProtonVPN review, although OpenVPN speeds were good, it was let down by the lack of WireGuard. This time, though, it's available, and it's certainly potent.
In the UK we saw speeds of up to 570Mbps, which is very good, but not quite top tier. In the US, though, WireGuard connections topped out at a mega 780Mbps. That's up there with the very best.
In our testing we also found connections to be reliable, and it rarely took more than a few second to establish the connection. So, no matter which protocol you prefer to use, ProtonVPN can certainly deliver the goods, and can keep up with the market leaders like ExpressVPN and NordVPN with ease.
How good is ProtonVPN for streaming?
ProtonVPN isn't just a super-private VPN – it also claims to be great for unblocking geo-restricted streaming content, too.
Netflix is likely to be most people's first port of call, and it just so happens that in mid-2021, it streaming site upgraded its VPN blocking tech. This thwarted just about every VPN at the time, and we're only now seeing improvements from a select few.
And, it seems, ProtonVPN is one of those select few. In our testing, it was able to unblock not only US Netflix, but also UK and Canadian libraries, too. The only provider to beat that was ExpressVPN, but this impressive performance earned ProtonVPN second spot on our Netflix VPN guide.
It's good news elsewhere, too. We were able to unblock BBC iPlayer from outside the UK, access Amazon Prime Video, and Disney+. That's a coveted full house, and more evidence that the Swiss provider isn't resting on its laurels, and is investing in improving service across the board.
There is a small catch, though. This streaming performance is only available on the Plus plan, and while that's arguably the option most users will go for, it's definitely worth knowing that the Basic and Free plans simply don't offer this sort of unblocking prowess.
How good are ProtonVPN's desktop apps?
ProtonVPN offers desktop apps for Windows, Mac, and Linux computers as well as iOS and Android devices. The user interface is clean and modern, with a map displaying all the company's active server locations. If you're not a fan of the map, though, you can hide it and just see the server list – but we reckon it's one of the better cartographical interfaces on the market.
Aesthetically it's a cohesive and attractive interface, and those who appreciate a lot of info will like it. We can't help but think that many users would prefer something stripped back like ExpressVPN, though, but it's all down to personal taste.
Connecting took about seven seconds, which is a little slower than some other VPNs we've used, but not bad enough to affect usability. We also appreciated that the list of available servers is color-coded to display their latency and load so you know what to expect before connecting.
You're also treated to a nice amount of information about the servers themselves. Load is great to see (we wish more VPNs showed this), and you can also tell which servers are optimized for P2P (as not every one is). That's now up to 12, from 5 last time we checked.
ProtonVPN's 'profiles' features is a nifty usability trick that essentially allows you to save your frequently used settings. For example, perhaps there's a particular server you've noticed works especially well for accessing US Netflix or for P2P, but you also regularly use a randomized Dutch connection for day-to-day browsing. Save them both as profiles, and you'll be able to connect to either in a single click.
In-app you'll also see tons of info, including your IP, time connected, data up and downloaded, plus your average connection speeds.
In settings you can, surprise surprise, change settings like the kill switch, split tunneling, configure Quick Connect, and DNS protection. This was all smooth sailing for us, with no settings sticking or refusing to change (a surprisingly common issue with software like this).
That kill switch, by the way, is genuinely effective. No matter what we did to try to trip it up, it always worked as expected, and didn't leak our true IP.
New to the app is the VPN Accelerator. Activated by default, this uses some technical trickery to help speed up connections that might otherwise be sluggish – and judging from the speeds we saw in our testing, ProtonVPN's doing something right.
There are a couple of limitations, like there being no autoconnect on insecure networks, but these are small gripes.
How good are ProtonVPN's mobile apps?
On Android, it's a bit like deja vu – it's almost identical to the Windows build. You'll get the same map, Profiles system and country list. you'll also be able to set up split tunneling, a kill switch, NetShield, and a bunch more – the only missing feature is setting custom DNS servers, but on Android you can get up and running with IKEv2 far more easily than on desktop.
The iOS offering has a very slightly different aesthetic, but it's still evidently the same software. Due to the inherent limitations of iOS, though, it's a slimmer build, with some features like split tunneling unavailable. Really, though, it's quite comprehensive and does much the same as the Android and desktop clients.
Overall, ProtonVPN's mobile VPN apps are well designed, powerful and usable, and the fact the experience is much the same across all platforms means they're intuitive and pleasant to use.
Not a fan of Proton's apps? No worries. You can download all of its OpenVPN config files and use them in an app or device of your choice. That's great flexibility, and it'll even allow you to download the lot as a .zip file.
How good is ProtonVPN's support?
Support was one area where we had some issues in our last ProtonVPN review, and thankfully our main concern has been addressed. Proton now offers live chat, and while it's not 24/7, when we spoke to the support agent we were very impressed with the level of service we received.
They were knowledgeable, friendly, quick to reply, and overall were very helpful in sorting out our problem. At the end they even offered to convert the chat to a ticket so we could follow up at a later date.
Don't fancy talking to a real person? Well, ProtonVPN also has a knowledgebase of articles to help you on your way. There's plenty there to pick from, and many are very useful. However, we did notice they could be very technical, and while we appreciate the provider accommodating experts, the layman might struggle to parse the information.
On the whole, though, ProtonVPN has seriously improved its support, and that hasn't gone unnoticed. If the articles were simplified a little and the live chat went 24/7, it wouldn't be far off full marks.
ProtonVPN: Final verdict
ProtonVPN is one of the best VPNs we've seen if you prize privacy and security. The Secure Core feature is unique and makes it nigh-on impossible for even highly sophisticated attacks to succeed in capturing your IP address. Plus, the ability to set up network profiles for quick access is a nice touch. Excellent streaming support is a valuable string to its bow, and the connections speeds are near-unbeatable.
Really, the only downside to ProtonVPN is that the support still isn't absolutely top-notch, and getting access to the service's most exciting features is a little expensive, so it's well worth taking advantage of any special offers if you find one.
Testing out the free service before committing is a smart move, and it's clear that any ongoing issues are being addressed, and that this is a provider that's intent on improvement. While it can't quite challenge for the top spot yet, it really isn't far off.