I've been a tech writer for 10 years, and have been writing reviews and testing the best wireless earbuds money can buy for Tom's Guide for about half that time. Currently, my favorite wireless earbuds are the Sony WF-1000XM4, with the AirPods Pro 2 coming in a close second. Entry-level gems like the $49 Donner DoBuds One are also part of my go-to wireless earbud benchmark when comparing rival budget buys, as they offer great sound at a bargain price.
However, there are another set of earbuds that have regained my attention recently — a mid-priced model that I praised heavily upon release and have found even more rewarding nearly a year later. Enter the Sennheiser CX Plus earbuds, which have an MSRP of $179, but are currently just $99 at Amazon (opens in new tab).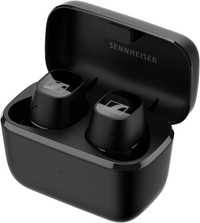 (opens in new tab)
Sennheiser CX Plus Wireless Earbuds: was $179 now $99 @ Amazon (opens in new tab)
At their $179 MSRP, the Sennheiser CX Plus face stiff competition, but they're a bargain worth tracking down discounted to $99 at Amazon right now, and one of the top models at the price. Articulate, high-quality sound combined with normal playtimes, effective ANC, and dependable connectivity make them an enticing package.
I'll admit that my reconnection with these buds happened by accident. Rummaging through the warehouse I call my closet for a pair of 'buds to use while my AirPods recharged, I grabbed a white and blue box and figured that I had Sennheiser's elite Momentum True Wireless 3 in my hands. As it turned out, I had picked up the CX Plus, as the only accessible pair with enough battery life to get me through a business call.
Talk about fate, because I've sworn by the CX Plus for several weeks now. The sound coming out of these buds is amazing, especially when compared to some high-end rivals, including those in Sennheiser's Momentum True Wireless series. Not to mention they boast solid features and some of the best call quality I've experienced.
Allow me to break down why Sennheiser's CX Plus are the most underrated buds out there.
Sennheiser CX Plus: Signature sound and quality ANC for less
Sonically, the CX Plus have Sennheiser's flagship sound profile in a mid-range pair of earbuds. I was blown away by their sound quality in my review, but this revisit has only strengthened my argument for calling them the best-sounding mid-priced wireless earbuds.
Sennheiser's 7mm drivers are masterfully engineered to produce audio worthy of the brand name. Right out of the box, you get a well-balanced mix of emotive lows, rich mids, and crisp highs. Very few buds at this price range offer this. In fact, I can name a few luxury models that struggle to produce sound as detailed as the CX Plus.
I loved the reproduction on orchestral tracks. Light cymbal taps sounded prominent, and strings were vibrantly smooth, which made jazz performances more intimate. Normally, I would use the AirPods Pro 2 with spatial audio on for immersive listens. The CX Plus sufficed in between charges, but I still prefer the precise instrument placement delivered by Apple's dynamic head tracking technology.
Furthermore, the CX Plus has an engaging low end that doesn't diminish the mid or high frequencies. The thumping resonance from drums was satisfying. Monophonic, distorted effects also came thorough clearly on electronics tracks.
Special features like a three-band EQ and pre-programmed presets allow for personalized sound. However, Sennheiser's default sound signature is perfect as is, and I recommend leaving it alone to get the best results. The Neutral EQ and onboard DSP (digital signal processing) stabilize sound and volume for exceptional output.
The Sennheiser CX Plus earbuds have support for aptX Adaptive codec, which has a significant audio quality boost to Bluetooth streaming when connected to compatible devices.
Latency was nonexistent from my playback device on video platforms such as Netflix and YouTube, with audio perfectly in sync.
Active noise cancellation is one of the CX Plus' biggest selling points. The technology performs well. I can gladly say my listening sessions were disruption free. High frequencies were handled surprisingly better than Sennheiser's Momentum True Wireless 2, and the sound is uncompromised when listening to music with ANC on.
Sennheiser CX Plus: A great calling headset
I considered the CX Plus to be one of the best headphones for voice and video calls in my original review. Nothing has changed. Indoor calls sounded stellar with Sennheiser's mics eliminating ambient noises at a high level and snatching every spoken syllable. Most clients barely heard household distractions (e.g., electronic toys, loud TVs) during chats.
In my original review, I received feedback about my voice sounding harsh during outdoor calls. That was only the case when teetering around the max Bluetooth range (60 feet), at least that's what I discovered when I tried them out this time around.
Standing within around 40 feet provided a stronger connection for clear-sounding speech on calls. The mics also blocked out a significant amount of noise when chatting outside.
Sennheiser CX Plus: Top performance and value
Even at the full $180 MSRP, the Sennheiser CX Plus 'buds are great value, and even more so when they can be picked up discounted to $99 at Amazon (opens in new tab). Although Sennheiser's Momentum True Wireless 3 flagship buds are more feature-heavy, they aren't reasonably attainable at $249.
Getting flagship sound and some headlining features for around half the price (or less) make the CX Plus extremely enticing. Revisiting them almost a year on from my original review has been a useful reminder that you don't necessarily have to go for top tier models to get flagship performance.
The Sennheiser CX Plus rank top for value for money in our best wireless earbuds buying guide, and are even more spectacular with one of the current discounts on offer. Snap 'em up while you can.