We're finally going to get to see how Samsung responds to the growing number of devices vying to become the best foldable phone. The electronics giant plans to hold its next Galaxy Unpacked event on Wednesday, July 26, and we're almost guaranteed to see the Galaxy Z Fold 5 and Galaxy Z Flip 5.
Samsung had already told us that the latest Galaxy Unpacked 2023 show would take place at some point in July, with the event taking place in Seoul, South Korea. "Hosting Unpacked in Seoul holds great significance both as it is a city that has become an emerging epicenter of innovation and culture as well as the foldable [phone] category," said Samsung's TM Roh at the time.
If that wasn't enough evidence, the invite for Samsung's July 26 event removes all doubt. The invitation shows the side of what looks like a Galaxy Flip with the words "Join the Flip Side." According to the invitation, Samsung will live stream Unpacked on its website.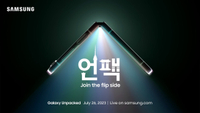 Get a $50 credit on Galaxy Unpacked preorders
Samsung will let you reserve a spot to preorder whatever gets announced at Galaxy Unpacked 2023 on July 26. Between now and July 25, you can sign up with your name and email address at Samsung's website or through the Shop Samsung app.
Galaxy Unpacked 2023 will begin at 7 a.m. ET/4 a.m. PT/noon BST on July 26. That's 8 p.m. local time in South Korea.
The foldables we're expecting to see on July 26 are the Galaxy Z Fold 5 and Galaxy Z Flip 5, new versions of the well-established devices that had been the first — and pretty much only — choice if you were in the market for a foldable phone. But since last year's Unpacked, the Google Pixel Fold and Motorola Razr+ have emerged as more formidable competitors to Samsung's Fold and Flip, respectively. And more competitors are on the way, such as OnePlus, which is readying the OnePlus V Fold for a launch at some point this year.
The upcoming Galaxy Unpacked 2023 event will give us our first look at how Samsung plans to take on this stepped-up competition. We're expecting both the Fold and Flip to adapt the Snapdragon 8 Gen 2 chip that's brought a boost in performance and power efficiency to Samsung's Galaxy S23 phones. Additionally, rumors point to a new hinge design for both phones, while the Galaxy Z Flip 5 is tipped to get a bigger cover display and a larger camera sensor to improve low-light photos. The Galaxy Z Fold 5 may be in line for a price cut from the Z Fold 4's $1,799 starting price.
Of course if you'd rather avoid foldable phones altogether, but still want to save some money, make sure to check our our Samsung promo codes page. There you'll find ways to save on a range of Samsung products, including Galaxy smartphones.
What else could appear at the July 25 Galaxy Unpacked event
Folding phones will clearly be a major focus at Galaxy Unpacked 2023 on July 26, but the Galaxy Z Fold 5 and Galaxy Z Flip 5 likely won't be the only new products to appear at the event. One rumor suggested Samsung might show of a Galaxy S23 FE, a lower-cost version of the flagship phones that came out earlier this year. Apart from some renders, though, we haven't heard too many rumors about the phone, suggesting that if it is in the works, a launch won't happen until later.
A more likely candidate to appear at Galaxy Unpacked later this month would be the Galaxy Watch 6. Samsung has a track record of launching smartwatches at its summer product event, including the Galaxy Watch 5 last year. The new version is rumored to feature a larger OLED screen and an irregular Heart Rhythm Notification (IHRN) feature.
Galaxy tablets tend to appear at Unpacked events, too, though it's been more than a year since the Galaxy Tab S8 family arrived. That puts us in line for the Galaxy Tab S9's release, which could line up with the July 26 Unpacked event. If that does happen, look for three tablets — a base version, a Plus version and an Ultra edition.
How to pre-order Galaxy Unpacked products
Whatever Samsung announces on July 26, you can get in line to place an order for it now. As with past Unpacked events, Samsung is letting shoppers sign up at Samsung.com or through the Shop Samsung app so that they can preorder devices after they're unveiled.
You're able to sign up for potential preorders through July 25, and you'll get a $50 Samsung credit in exchange for your name and email address. That credit can be applied to preorders.
More from Tom's Guide