One of the biggest shopping events of the year is just around the corner and if it's anything like last year, Prime Day 2023 will see massive discounts on almost all of our favorite gadgets and other tech products.
While you may be eying a new TV or looking to pick up some supplies for when your kids head back to school in the fall, Prime Day is also a great time to pick up one of the best mesh Wi-Fi systems at a great price.
I know upgrading to a new Wi-Fi router isn't nearly as exciting as picking up one of the best TVs at a steep discount but better Wi-Fi — especially when it can cover your entire home with a strong wireless signal — is the kind of thing that can be appreciated by everyone in your household.
Although there will be big discounts on mesh routers from Netgear, TP-Link, Linksys and other companies, these deals will likely pale in comparison to how much you can save on a mesh Wi-Fi system from eero. This is because eero is actually owned by Amazon and in fact, if you check out the eero Store right now, there are already some great deals to be had.
If you're thinking of upgrading your old router with a new mesh router, here are 7 reasons why Prime Day 2023 could be the perfect time to pick up a mesh Wi-Fi system from eero.
Your home deserves better Wi-Fi
Let's face it, you probably haven't upgraded your Wi-Fi router in a while or you might still be using the one you got from your ISP back when you signed up for your current internet plan. Either way, upgrading to a new router and especially a mesh router can make a world of difference at home.
Unlike a traditional router, a mesh Wi-Fi system uses multiple satellites to ensure that you have a strong connection throughout your entire home. This way, you won't encounter Wi-Fi dead zones in your garage or even out in the backyard.
While one of the devices will act as your router and needs to be plugged into one of the best cable modems, the others need to be set up throughout your house to improve your Wi-Fi's coverage. If you live in a smaller home or even a larger apartment, a two-piece kit should be enough while a three-piece kit is recommended for larger homes.
We've also rounded up the best mesh routers for every type of home if you're curious as to what kind of system would work best in your space.
Plenty of devices to choose from
Whether you're looking for a less expensive but still very capable Wi-Fi 6 system or want the best speeds you can get thanks to the new 6 Ghz band introduced with Wi-Fi 6E, eero has a wide range of mesh Wi-Fi systems to choose from.
The eero 6 is a great choice if your internet connection tops out at 500 Mbps while the older, Wi-Fi 5-powered eero mesh Wi-Fi router can be had for even cheaper for those with speeds of 350 Mbps or less.
If you have gigabit internet though, the eero 6+ sports Wi-Fi 6 and packs in a lot of power in a tiny package. For those that need to connect even more devices and want a tri-band device, the eero Pro 6 might be a better choice while the eero Pro 6E is currently eero's top-performing mesh router.
Regardless of which eero you pick up, you're still likely going to see a huge difference when compared to your current router and this is especially true if you're going from a traditional Wi-Fi router to a mesh one.
Lots of power in a small form factor
If you've already started shopping for a mesh Wi-Fi system, then you know they come in all sorts of different shapes and sizes. For instance, the TP-Link Deco XE75 and other mesh routers from TP-Link's Deco lineup feature a taller cylindrical design while the Linksys Atlas Max 6E looks like a massive tower that will take up a lot of space in your home.
Fortunately with eero, all of the company's mesh routers have a smaller, puck-shaped design. The eero 6 and eero 6+ are really small and quite compact while the eero Pro 6 and eero Pro 6E are slightly wider but still not that tall.
Unlike other mesh Wi-Fi systems, those from eero are really easy to tuck away on a bookshelf or kitchen counter. Your old Wi-Fi router may have been hidden out of sight but with a mesh system, you're going to have put the satellites throughout your home. This is why opting for smaller, more compact devices makes a lot of sense.
Simple to set up, easy to manage
Choosing to use your own router instead of the one provided by your internet provider used to be quite complicated but thankfully, that's no longer the case. These days, most routers and mesh Wi-Fi systems can be set up using an app instead of your browser and eero's setup process is one of the best I've seen during my own testing.
To get started you just need to download the eero app for iOS or Android, plug in your main eero device to your cable modem and the app walks you through the rest. It also helps you find the best places in your home to plug in your satellites too.
As someone who has tried out quite a few different mesh Wi-Fi systems from different manufacturers, I was really impressed by how quickly I was able to get the eero 6+ up and running in my home. If you want a mesh router that's simple to set up and configure, eero devices are certainly worth considering.
It likely works with devices you already have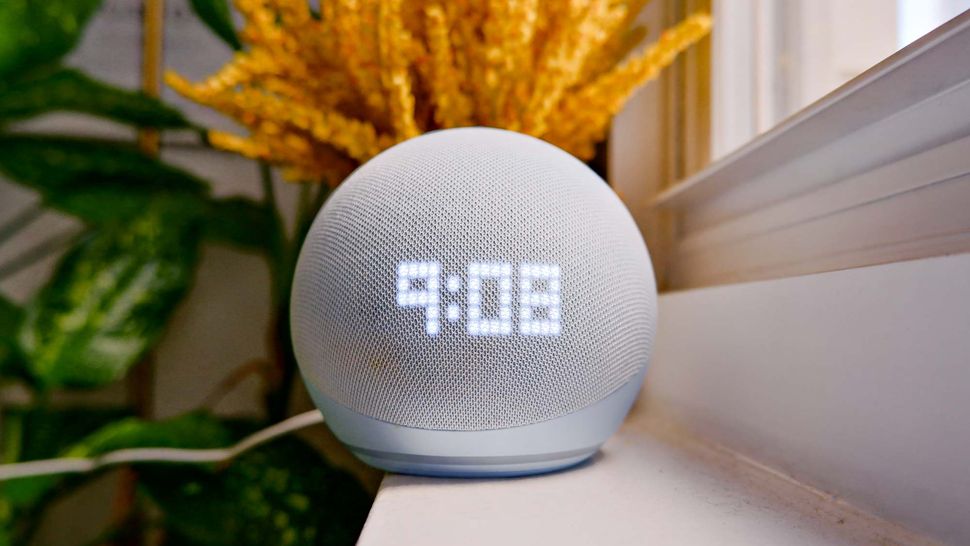 If you have an Amazon Prime subscription, you're likely already quite invested in Amazon's ecosystem and maybe you have an Echo Dot or even a few around your house. For those with a newer Echo Dot (4th Gen) or Echo Dot (5th Gen), choosing an eero mesh Wi-Fi system as opposed to one from another manufacturer makes a whole lot of sense.
This is because Amazon's latest Echo smart speakers have eero Built-in and can actually be used as a mesh extender to further expand the coverage area of your eero mesh router. Granted, each compatible Echo Dot is limited to 100 Mbps but they can be used to extend the coverage of your mesh network by up to 1,000 feet.
Using an Echo Dot with eero Built-in with your eero mesh router is perfect for sending a Wi-Fi signal to those out of reach places like your front yard or backyard. For instance, this feature can be utilized to ensure that your home security cameras, Ring doorbell and other smart home devices are connected even when they're quite far away from your router.
Eero Plus has you covered during an internet outage
An internet outage can completely disrupt your day especially when you're working from home. Fortunately though, eero has a solution to this annoying problem but you will need an eero Plus subscription to get it.
With eero Internet Backup your eero devices can use your phone's mobile hotspot to keep you connected even when your internet goes down. When your internet is restored, your mobile hotspot turns off and you can go back to using your internet-connected devices like you normally would.
Eero Plus costs $9.99 per month or $99 for the year and in addition to eero Internet Backup, your subscription also includes advanced parental controls, network insights, antivirus software from Malwarebytes, a password manager and even a VPN.
There will be plenty of deals and even bundles on Prime Day
While there are already some great deals to be had on eero mesh Wi-Fi systems, we might see some even better ones on July 11 when Prime Day 2023 kicks off. At the same time, Amazon likes to bundle its mesh routers with its other smart home devices like Echo smart speakers and even Ring's video doorbells.
If you shop smart and plan things out ahead of time, besides upgrading your Wi-Fi router with a mesh Wi-Fi system, you could also start building out your own smart home. If things are a bit tight at the moment, don't worry as Amazon's eero devices also typically see big discounts on Black Friday.
Regardless of whether you decide to pick up a mesh Wi-Fi system from eero now or wait a bit, you're going to notice a huge difference not only in terms of your internet speeds but also when it comes to your Wi-Fi coverage.
If you've ever had your connection drop off as you move throughout your house or your current Wi-Fi router just can't keep up with all the connected devices in your home, an upgrade is certainly in order and you'd be hard pressed to find a simpler system to set up and use than those from eero.
More from Tom's Guide