Mum no doubt puts her back out carrying the family, so it's about time you showed your appreciation by supporting hers with a new Emma Comfort mattress for Mother's Day, which now get a 50% discount from April 24 to May 8.
Emma is the premier mattress-in-a-box solution that consistently receives rave reviews. While we're still in the process of testing out the Emma Comfort for ourselves, our colleagues over at sister site T3 have previously tested the older model, giving the original Emma mattress to come to Australia a five-star review. In the meantime, we've taken a lie-down on the Emma Sofa Bed here at Tom's Guide and once again, we could find little to fault.
That speaks well of what you can expect from the current model of the Emma Comfort.
It's already the brand's most affordable mattress, but it promises a sleep unlike anything you — or mum — have ever experienced. And now that it's been given a 50% discount, it's more accessible than ever.
A queen Emma Comfort mattress, for example, is discounted to just AU$699, down from AU$1,398 — that's an offer you really don't want to sleep on!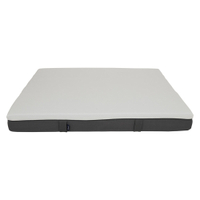 Emma Comfort Mattress | from AU$998 from AU$499 (save up to AU$739)
The Emma Comfort all-foam mattress promises to support weight evenly so your (or mum's) posture is maintained through the night, reducing aches and pains. And it will do its utmost to keep you cool through the Aussie summer. No matter how restless your partner is, you can sleep without any disturbance too. All this comfort for just half price for all five sizes!
Designed with Australians in mind, the Emma Comfort benefits from multiple foam layers that adapt to the body to distribute weight evenly, no matter the sleeping position. This is achieved through the use of Point Elastic Airgocell, which allows one area of the mattress to compress, while the remaining areas are left unaffected.
So if mum shares the bed with dad, and he likes to move around in his sleep, mum's sleep will be completely unaffected.
The killer feature however is its inbuilt temperature regulating technology, which promises to keep the body cool and dry — even on the hottest Aussie summer nights!
Available in all standard Australian bed sizes from single to king, this is the perfect opportunity to treat the queen in your life to a new queen (or king) mattress.
If that wasn't enough to convince you to treat your mum (or the mother figure in your life) to something other than a bunch of flowers, Emma offers a risk-free trial of 100 nights in the comfort of your own home. So if mum isn't happy with the mattress (which we'd argue will be unlikely), you can arrange for it to be sent back for free within that time period. The Emma Comfort mattress also comes with a 10-year warranty, so you can sleep easy knowing it will go the distance.
Head to the Emma website now, where you can easily choose the size of the Comfort mattress you want. And while you're there, be sure to check out Emma's other mattresses, sofa beds, bed frames and pillows for the ultimate in sleep quality.