We didn't expect to see it so soon, but the recently released PSVR 2 — the PlayStation's second-generation virtual reality headset — has already found itself on the receiving end of a AU$105 discount for Afterpay Day.
Launching in late February, the PSVR 2 already getting a discount would be pretty big news itself. But things get especially interesting considering one of the main gripes about the latest PlayStation VR headset is its rather high price.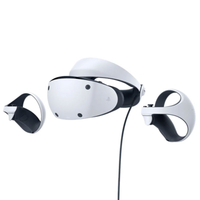 PSVR 2 | AU$879 AU$773.46 at The Gamesmen eBay (save AU$105.50)
There's never been a better time for PlayStation gamers to explore virtual reality than with this AU$105 discount on the PSVR 2. While it's worth noting that the eBay listing shows the original price as being AU$909 when Sony's official launch price was AU$879, this is still a significant discount that makes one of the best VR headsets all the more appealing.
Remember to use code APAYDAY3 at checkout.
Launching at a price higher than a PS5 console, the PSVR 2 raised a lot of eyebrows with its cost of entry. This isn't to say the price is not justified though, as the PSVR 2 packs some seriously innovative tech to make it one of the most impressive virtual reality headsets on the market.
So now that the price has been slashed by 12% for Afterpay Day courtesy of The Gamesmen and eBay, is now the time to buy? If you're a PS5 owner who is keen to take your gaming to the next level, then we'd absolutely recommend the PSVR 2 at this price.
While AU$773.46 is still a significant sum of money for many — and with the current discounts we're seeing on PS5 consoles for Afterpay Day, it's still not necessarily cheaper —it's undoubtedly a much more attractive figure compared to the launch price that also represents top value in the VR headset market.
The OLED display of the PSVR 2 delivers 4K resolution to each eye while supporting up to 120Hz refresh rates for smooth motion, helping to prevent any feelings of motion sickness during gameplay. The accompanying controllers are pretty incredible too, offering excellent motion tracking, a comfortable, ergonomic design and an exemplary build quality.
To take advantage of this PSVR 2 deal, you just need to enter the code APAYDAY 3 at checkout, and you do need to use Afterpay to place the order. This means you can spread the cost of your new VR headset over four equal payments.
More from Tom's Guide