Finding a solid gaming laptop for under $1,000 isn't always easy. With Prime Day deals looming we're already seeing price drops across the board, making now the best time to shop around for a great gaming laptop. To that end, we've found a deal that's hard to pass up — especially if you're new to the world of PC gaming.
Right now you can get the Lenovo IdeaPad Gaming 3 from Amazon for $679. Though this same laptop hit a lower price during last year's Black Friday, you're still saving a cool $220 here. This notebook doesn't pack the most cutting-edge specs but it has plenty of power to play many of the best PC games. As such, it's an overall fantastic deal.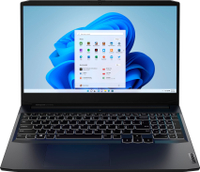 Lenovo IdeaPad Gaming 3: Was $899 now $679 @ Amazon
If you want to get into the world of PC gaming, the Lenovo IdeaPad Gaming 3 is an excellent entry point. This gaming laptop sports a 15.6-inch FHD display, an AMD Ryzen 5 6600H CPU, an Nvidia GeForce RTX 3050 GPU, 8GB of RAM and a 256GB SSD. It should be sufficient to play many games at low to medium settings.
Check other retailers: $599 @ Best Buy | $659 @ Walmart.
This Lenovo IdeaPad Gaming 3 model packs a 15.6-inch FHD (1,920 x 1,080) 120Hz display, an AMD Ryzen 5 6600H CPU, an Nvidia GeForce RTX 3050 laptop GPU, 8GB of RAM and 256GB of storage. Again, not super-impressive specs but you should be able to run games like Doom Eternal at low to mid-tier graphics settings without too much of an issue. The 120Hz refresh rate should deliver a smooth experience.
Like many of the best gaming laptops, the IdeaPad Gaming 3 isn't exactly slim and light. At 14.16 x 10.49 x 1.02 inches and a weight of 7.5 pounds, this is one big and hefty notebook. You likely won't do much traveling with the IdeaPad Gaming 3, but if you do, its all-black chassis won't draw too much attention if you plan to play games at your favorite cafe.
The laptop's size isn't wasted as you get plenty of ports. This includes two USB-A and one USB-C, along with an Ethernet port, an HDMI port and a 3.5mm headphone jack. If you're like me and like playing games with a controller, those USB-A ports will come in handy. But if you prefer wireless controllers or accessories, you can always use the built-in Wi-Fi and Bluetooth connectivity.
If Black Friday is anything to go by, we'll likely see the Lenovo IdeaPad Gaming 3 on sale at least until Prime Day ends. However, it wouldn't be a bad idea to jump on this deal as soon as possible in case stock runs out. If you're new to PC gaming, this is an excellent (and affordable!) machine to get started on.