The AirPods Max are the best purchase I've ever treated my ears to. I'd happily recommend Apple's premium noise-cancelling headphones to audiophiles without hesitation, and it's even easier to plug them when they're being sold at a discount ahead of Prime Day 2023.
Right now, you can buy the AirPods Max for $449 at Amazon. That's a juicy $100 saving over their normal $549 price tag. The record low is $429. While that's obviously still a lot of money, I can honestly say these are the best headphones I've ever owned.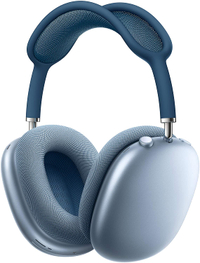 Apple AirPods Max: was $549 now $449 at Amazon
Price drop! Apple's premium headphones sound amazing. Part of the reason they offer up such a rich audio experience is thanks to thier custom-built, 40mm dynamic drivers. Whether listening to songs or watching movies on Apple 4K TV, the AirPods Max provide well-balanced audio that produces plenty of bass.
Price check: $449 @ Best Buy | $449 @ Walmart (Space Gray)
That sounds definitive, but stay with me. The Max's sophisticated soundstage and assured noise-cancelling recently saved my dream vacation from ruin. Turns out, the Hawaiian islands are full of roosters and the only reason I got the slightest sliver of sleep during my trip to Honolulu and Kauai was due to the fact I wore Apple's cocka-doodle-doo-killing headphones to bed.
Even if it weren't for the top notch noise-cancelling features, I'd still be all in on the AirPods Max. I've used my pair every day for over a year now, and they've never let me down. Battery life is solid, it's been a breeze pairing them with either the best iPads, my iPhone 14 Pro or even a number of gaming laptops and I love their design.
I really do love how seamlessly my AirPods Max pair with my tech. As I previously mentioned, they automatically switch to my iPad Pro (2021) and iPhone via Bluetooth whenever I turn on either device, which is handy.
Their spatial audio is also worth praising. While I've found this feature isn't always suitable while listening to tunes, I really appreciate the added directionality it gives to the audio experience when I'm watching some of the best Apple TV shows on my Apple TV 4K (2021).
A couple of final quick things to note: the AirPods Max aren't rated for sweat and water resistance, meaning you probably shouldn't wear them on a run. I also worry about losing them every time I take them out when meeting friends, because they're big enough that they require a backpack to carry from A to B. I'm absolutely terrible for losing bags, which is where the fear comes from — though that's hardly Apple's fault.
The AirPods Max are expensive (even when sold at a discount), but I've used and enjoyed Apple's headphones so much over the past year, I've never once regretted coughing up a pretty penny for them.
If you're in the market for a new pair of buds of over-ear efforts, make sure to check out our best Prime Day headphones deals.