Amazon Prime Day deals are rolling in thick and fast, meaning there are plenty of opportunities to pick up your favorite tech for a bargain price, including this deal on 2TB of NVMe storage from Samsung.
Right now, the Samsung 2TB 990 PRO M.2 SSD is on sale for just $129 at Amazon, down from $289. That's the lowest we've ever seen. Since storage rarely comes cheap — especially if you're talking Samsung storage — this is a great deal to scoop up if you're in the market for a new SSD.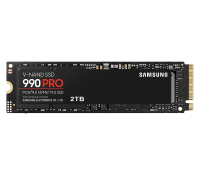 Samsung 990 PRO 2TB M.2 SSD: was $289 now $129 @ Amazon
As a PCIe Gen 4 drive, the Samsung 990 PRO offers blazingly fast read/write speeds of 7,450/6,900 MB/s, allowing it to utilize the potential of the latest generation of motherboards using the PCIe Gen 4 bus. Samsung produces extremely high quality storage drives, so they rarely come this cheap. That makes this deal a must for anyone looking to build a new PC or upgrade their existing rig.
If you're looking to upgrade your existing PC, installing a rapid NVMe SSD is a great way to give your current machine a new lease of life without having to spend more money on one of the best gaming PCs. If you're about to build a PC, you should be installing an NVMe drive like the Samsung 990 PRO to use as your primary drive, where you install your operating system. In either case, this deal is for you.
A fast NVMe drive like the Samsung 990 PRO speeds up booting, loading and data transfer times. In short, it'll make your PC faster at pretty much everything that's important.
This SSD is compatible with the PCIe Gen 4 bus found on the latest motherboards, but it is also PCIe Gen 3 compatible if you're installing it on an older motherboard. You can also install this SSD into your PS5 to upgrade your storage, but you'll need to either install a third party heatsink or buy the heatsink version, which is more expensive.
With 2TB of storage space, you'll have plenty of room to store your entire gaming library. Lots of storage is also great for anyone who works with lots of large files, such as photographers or filmmakers.
While $129 for 2TB isn't the cheapest price you'll find, Samsung storage is widely regarded as being some of the best and highest quality storage around. As a result, it's rarely found at prices this low. So you should snap up this deal straight away, as it's well over half-price and the lowest we've ever seen this product sell for.