The Tribit StormBox Blast scores big for its boombox-style bass and even puts on a light show to accompany your tunes. It ranks as one of the best Bluetooth speakers at the full asking price, but I spotted this awesome Amazon deal where it's even better value, right in time for the long Memorial Day weekend.
The Tribit StormBox Blast is $155 at Amazon right now. That's a $44 saving on the original $199, and is the lowest price I've seen for this portable Bluetooth speaker.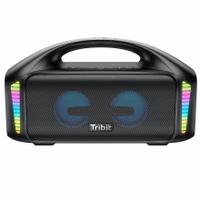 Tribit StormBox Blast: was $199 now $155 @ Amazon
The Tribit StormBox Blast fills outdoor spaces with a big bass sound and clear vocals. XBass boosts lows even further, and you can link two StormBox Blast speakers together for an even bigger sound. It can play all day without needing a recharge, and it's waterproof so you don't have to worry about pool party splashes. It even puts on a light show with your sounds.
Right in time for Memorial Day, the Tribit StormBox Blast is a boombox-style portable Bluetooth speaker that's ready to brighten up your long weekend cookout or yard BBQ with family and friends.
While its retro style harks back to the 1980s boombox era, the StormBox Blast updates the design with flashing LEDs, support for Bluetooth 5.3 wireless connectivity, and 30-hour battery life. You can rock your Top Gun aviator sunglasses and Stranger Things playlist all day and night with the StormBox Blast.
In terms of portability, the thick carrying handle on top means it's practical for lugging the 11.7-pound StormBox Blast speaker around, and it's more portable than many big bass speaker systems we've seen. It has an IPX7 waterproof rating, meaning it can be submerged in a meter of water for up to 30 minutes, so you can take it to the pool without fear of frying its electronics if it gets dunked.
It's not much of a looker on its own, but the multicolor LED lights along the sides provide some eye-catching bling as they pulse in time to the beat of your tunes, along with white lights behind two drivers. There are a couple of light options to choose from — rainbow or solid color — and you can turn off the lights (mostly).
Note: While the lights are a fun addition, photosensitive people should avoid this speaker; even when you turn off the light show, the LEDs still flash when you change the volume or start playing a track.
Tribit offers a free control app — though you wouldn't know it from the user guide or website. The app lets you choose sound modes or create custom EQ settings and update the firmware. You can also boost the bass by pushing the XBass button on the speaker, and you can link two StormBox Blasts together for an even bigger sound.
In Tribit StormBox Blast review, we found that the StormBox Blast produces a big, bassy sound that fills the space you're in. In most cases, we didn't even need to engage the extra bass for satisfying low end and found the StormBox Blast went seriously loud.
With 90 watts of power behind it driving the two mid/bass woofers and twin treble speakers, the output sound pressure measured 100 decibels at max volume. At that level treble sounds were noticeably harsh. It sounded best around 85 decibels, which is still plenty loud enough to be heard over the sizzling sound of food cooking on the BBQ, or splashes at the poolside.
If you're looking for a big boombox-style bass and bling for a summer cookout, or even a reliable speaker to take along to a festival or camping trip, the Tribit StormBox Blast is a no-brainer at the discounted price. Don't forget to check out our Memorial Day sales coverage for all the latest bargains.