Shopping for the best wireless earbuds? I think the Beats Fit Pro are the best earbuds Beats have made, and they're awesome for working out.
Right now the Beats Fit Pro are $159 at Amazon, which is $40 off the regular price. With this discount they're seriously tempting for anyone who wants great sound, powerful ANC and a comfortable fit. Plus, the stylish Beats Fit Pro x Kim K are $179 at Amazon right now. They're the same buds, with a sleek nude color scheme.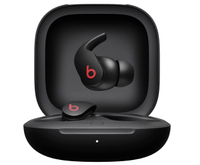 Beats Fit Pro: was $199 now $159 @ Amazon
With excellent Beats sound quality, active noise cancellation, and a comfortable fit designed for sports and exercise, these wireless earbuds are a real steal at this price. The Beats Fit Pro also offer six hours of listening time and up to 24 hours with the included charging case. In our Beat Fits Pro review, we said these buds are a no-brainer and better for workouts than the AirPods Pro.
As you'll see in our Beats Fit Pro review, these are an awesome pair of earbuds, and they have plenty of accolades to their name. They've made our list of the best wireless earbuds, and we also think they're the best workout headphones for their strong soundstage and comfortable fit. Oh, and they're some of the best noise-cancelling earbuds you can get, too. They tick every box.
The Beats Fit Pro offer incredible, fully featured sound. Their audio quality is on par with that of the AirPods Pro 2, and the Beats Fit Pro also have incredible ANC and Adaptive EQ. That's a big deal, especially because the Beats earbuds cost nearly $100 less than the AirPods Pro 2 right now. In our AirPods Pro 2 vs Beats Fit Pro face-off, we even noted that the Beats' sound profile was better suited to listening to music.
The ANC on the Beats Fit Pro is similarly great. When we tested the buds, low and medium range frequencies were blocked out. Some high range frequencies snuck through, but weren't distracting.
While these aren't the longest-lasting buds on the market, they still clock in at a decent time. The Beats Fit Pro last 6 hours with ANC on, or 7 hours with ANC off. This extends to up to 30 hours with the charging case.
The Beats Fit Pro also deserve praise for their excellent design. They have a very strong build quality with IPX4 sweat and water resistance, plus, they're comfortable to wear, and more stable for use while exercising than the AirPods Pro 2. Best of all, they come in an impressive range of colors.
I can't recommend the Beats Fit Pro enough, especially at this price. But if you're still looking for your perfect earbuds, stay tuned to our headphone deals coverage.