Right now the Awara Natural Hybrid has $400 off, delivering the lowest price we've ever seen on that model. This latex hybrid is superbly supportive and comfortable. In our Awara Natural Hybrid mattress review, we awarded it 4.5 stars, and found it delivered excellent pressure relief and was comfortable in any sleep position. We also flagged the cushioned yet supportive sleep surface as being an excellent choice for anyone suffering from back pain.
This is a natural mattress, so there's no synthetic foam here. Instead you'll find buoyant latex foam, which delivers a weightless sleep feel and is known for being one of the most durable mattress materials. This is topped by a layer of organic New Zealand wool for cushioning, and a breathable cotton cover. This mattress offers excellent value for money – even at full price, it's cheaper than most of today's best natural mattresses, and the current offer makes it an even better bargain.
The $400 off was originally a 4th of July mattress deal. It has been extended, but we're not sure how long it'll stick around for. If you miss it, or aren't sure this is the right model for you, head to our best mattress ranking for some alternatives.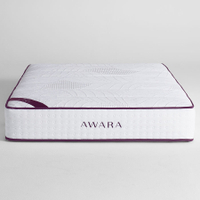 Awara Natural Hybrid mattress
Queen size: was $1,399 now $999

Overview: The Awara Natural Hybrid Mattress is a 10" tall, natural mattresses, made with natural Dunlop latex rather than synthetic foam, alongside springs, organic wool (for cushioning) and cotton. Latex foam has a bouncy, weightless feel, and is known as one of the most durable mattress materials around. Even at full price, it's the most affordable natural mattress we've come across. In our tests, we found it delivered firm support and excellent pressure relief, and that the build quality was superb.

Price history: This is the lowest price we've recorded on the Awara. Since we started recording prices halfway through last year, there's been $300 off MSRP, with a queen size costing $1,099 (bar a brief period in April when there was $350 off). The current deal drops the price of a queen size to $999. One minor caveat: that previous deal included a load of free bedding, while this new deal does not. However, you can add a bedding bundle to your order, for a heavily discounted price, if you are in need of those extras.
Extras: The extras here are outstanding. This mattress comes with a full year's sleep trial, free shipping and returns, and a forever warranty. These match the best you'll find anywhere.
Buy it if...
✅ You want a natural mattress: The Awara is made from natural and organic materials. Instead of synthetic foams, the Awara uses Rainforest Alliance-certified Dunlop latex. That's combined with New Zealand wool for cushioning, and a breathable cotton cover. We were also hugely impressed with the build quality here – despite being very budget-friendly in this particular market, our testers found the Awara had the feel of a premium bed – in particular the plush, airy top cover.

✅ You suffer from back pain: We rate this model amongst the best mattresses for back pain. It's deceptively firm when you first lie on it, but latex foam is quick to contour to your shape to provide custom support, keeping the spine correctly aligned in all sleep positions. At the same time, it manages to alleviate joint pressure, which is also key for back pain sufferers seeking a refreshing night's sleep.
✅ You prefer a responsive sleep surface: While memory foam is known for its slow-moving, sink-in feel, latex is altogether bouncier and more responsive (or foam types guide will explain in more detail). It's known for delivering a kind of buoyant, 'weightless' sleep feel, and is easy to change position.
Don't buy it if...
❌ You're a lightweight side sleeper: Our testers found the Awara comfortable in all sleep positions (side, back, and stomach), but the sleep surface is on the firmer side, which means you might want something softer if you weigh less than average and/or typically lie on your side. Most natural mattresses are on the firmer side, but one softer option is the WinkBeds EcoCloud (rated a 5 out of 10 for firmness). That one is pricier though, at $1,699 for a queen.

❌ You're easily disturbed by movements in the bed: In our tests, the only area where Awara didn't perform so well was on motion isolation. This means that movements can reverberate across the surface of the mattress, which can be a problem if you're a particularly light sleeper and/or share a bed with a wriggler. Head to Birch for a good alternative – in our Birch Natural mattress review, we found that model delivered surprisingly good motion isolation. Again, it's pricier at $1,593 for a queen.

❌ You prefer a mattress you sink into: If you want that body contouring feel, you might be better avoiding latex altogether and opting for one of the best memory foam mattresses instead. These are also typically cheaper than natural mattresses. Our favorites includes the Nectar ($699 for a queen in the current Independence Day sales – see our Nectar mattress review for more info) and the Helix Midnight (ideal for side sleepers and currently at an all-time low at $999 for a queen – head to our Helix Midnight review for more).