Okay, I'll admit it. For the last two console launches, I've been a Nintendo hater. But that changes with the Nintendo Switch. Priced at $299, the Switch is a truly innovative product that has the ability to literally switch between play modes.

One moment it's a traditional console, the next it's a multiplayer tabletop device and in the next moment, a handheld. Partnered with strong launch titles such as the spectacular The Legend of Zelda: Breath of the Wild, the Switch has the potential to win back fans burned by a lack of big games from the last two systems -- but only if it can consistently deliver great titles this time.
Smallest. Console. Ever.
Since I was a wee little gamer, I've owned everything from an Atari 2600 to my PlayStation 4 and everything in between. Hell, I even owned a TurboGraphx 16 and a Nintendo Gamecube. But the Switch is hands down the smallest console I've ever seen.
That's because, for all intents and purposes, the Switch is a tablet. At 9.4 x 4 x 0.55 inches and 10.4 ounces, it's a fraction of the size of an Xbox One or PS4, while being a bit on the chunky side compared to a dedicated tablet such as Apple's iPad.
The device's black matte plastic chassis is rather unassuming aside from the gray Nintendo Switch logo emblazoned on the back. The device's rear features a built-in kickstand along the tablet's right side which, when deployed, exposes the microSD slot beneath.
A pair of speakers sit directly to the left of the stand with a USB Type-C port at the bottom. At the top right, is the slot for your game cards, protected by a port cover and a headphone jack. Buttons for power and volume are positioned on the top left. The sides of the device have deep slots for the JoyCon controllers.
The front of the Switch is mostly display. I say "mostly" because of the thick black bezel encasing the screen, which results in about 6.2 inches of actual display to gaze at.
So Many Ways to Play
The Switch is unmatched when it comes to gameplay versatility, offering three modes of play: TV, Tabletop and Handheld.
Anyone familiar with a game console should feel at home with TV mode. Connected to your television by way of a dock, you'll park yourself on a couch and play The Legend of Zelda: Breath of the Wild on the big screen. There's nothing quite like playing Zelda on a 65-inch display -- it's straight-up magical.
Don't have a TV handy? No problem, just pop the Switch out of the dock, deploy the kickstand and switch to Tabletop mode. Place the device on a nearby flat surface, grab your controllers and get to gaming. And if you have a fairly long commute, just slide the JoyCon controllers onto the Switch and go mobile.
The whole process is so simple, a child could do it. And that's precisely the point -- this is Nintendo after all.
Once you've plugged in the power cable and the HDMI, connecting the Switch to your television is literally a snap. Just slide the tablet into the awaiting space and listen for a soft click and you're ready to go. Want to take the show on the road? Pick the tablet up and go about your business.
Playing with Joy-Cons
I like playing with the Switch's included Joy-Con controllers way more than I thought I would. The cynical adult in me just wasn't vibing with the bright red-and-blue color scheme initially, but once they were in my hands, I went full kidult and was ready to start milking cows, having shoot outs and shaving my virtual beard.
The plastic controllers are solidly made and simply feel good. They're a bit on the small side, but should accommodate most hands.
The Switch also ships with a pair of Joy-Con straps that fit over the side buttons so you don't inadvertently send one flying towards a loved one or your TV. The buttons offer springy feedback and while small, my fingers never slid off the rubberized analog sticks.
While I'm impressed with Nintendo for fitting so many buttons onto such slim real estate, I do find myself accidentally pressing the top shoulder button in lieu of the bottom. After years of using Xbox and PlayStation controllers, my muscle memory expects bigger bumpers, which caused me to throw weapons when I meant to aim and shoot my bow and arrow in Breath of the Wild.
The Joy-Cons are the not-so-secret sauce behind the Switch's versatility. Attaching them to the sides of the tablet and using the setup like an oversized PlayStation Vita feels natural as does sliding them into the bundled Nintendo Grip and using them like a traditional gamepad.
But while I like using the Joy-Cons like a Wii-mote for multiplayer games, I have a big preference towards the left-side controller due to the analog stick placement. It's easier to navigate around the left stick's top-mounted stick than the right's centrally-located input, especially when holding a Joy-Con diagonally.
My biggest complaint about the Joy-Cons is the lack of charging options. Out of the box, your only option to recharge the peripherals is to connect them to the tablet and place the entire configuration into the dock. It would have been great if the Grip had charging capabilities, or if Nintendo had placed microUSB or USB Type C ports at the bottom of both controllers. Instead, you'll need to fork out an additional $30 for the pleasure of keeping everything charged.
Gaming on the Go
After playing several hours of Breath of the Wild in the office, it was time to head out to watch Logan. Typically, this would be the part of the story where my boyfriend would have to pry the controller out of my hands and almost drag me to the door -- but not this time.

Instead, I calmly removed the tablet from the dock, attached the Joy-Cons for Mobile mode and coolly slid it into my purse. Once I got a seat on the subway, I pulled it out and continued exploring the cel-shaded beauty of Hyrule between snatches of conversation with the boyfriend.
I started playing again on the way home and once we arrived, I just hopped into bed with the tablet, allowing my boyfriend to catch up on SportsCenter in the bedroom instead of being banished to the living room. It was a win-win for all involved. From start to finish, I got 2 hours and 52 minutes of gameplay from the 4,130-mAh Lithium-ion battery before the low battery warning flashed across the screen.
When it comes to playing console games on the go, the Switch's Mobile mode is the best option available. With Xbox's Play Anywhere initiative, you'll need a fairly high-powered laptop, which is a much pricier and bulkier option than the Switch. PlayStation's Remote Play offers a measure of anywhere gaming, but a solid internet connection is required. You could get a PlayStation Vita ($198), but with Sony giving the hardware little to no support, you'll hardly be getting AAA titles.
Display and Audio
It's not as ridiculously vibrant as the 65-inch 4K HDR Samsung TV in our labs, but the Switch's 6.2-inch screen will do during commutes or while someone's hogging your television. The lands of Breath of the Wild looked lovely on the small, 1280 x 720 screen.
I was particularly impressed with the molten-orange etchings on yet-to-be-explored shrines or the ink-black smoke my foes exploded into once defeated. Even on lowered settings, the Switch is plenty bright, which is perfect for late-night sessions in your bed. However, I did catch a noticeable amount of glare when I tried to use the Switch outside on a particularly sunny day.
The capacitive display quickly responded to my taps sans Joy-Cons. However, to do any real interface navigation, you'll need to fall back on the system's controllers.
I'm hoping that Nintendo will employ a fix to allow the Switch to work with Bluetooth devices in the near future. As it stands, the system will only work with headphones with a 3.5 millimeter jack. That's fine for Handheld mode, but not so much for Tabletop, especially if you're playing a multiplayer game in a crowded room of people. Even at full volume, it was far too easy for a group of my friends to overwhelm the Switch's speakers with the sounds of their excited voices.
But in a quiet room, I had no problem hearing the deep resonance of a large bell being rung against a set of ethereal strings. Explosions were nice and weighty while Link's battle cries were loud and piercing.
Performance/Interface
Unlike the Xbox One and PlayStation 4 which are powered by AMD CPUs and GPUS, the Switch runs on a customized Nvidia Tegra processor with 32GB of RAM. Despite using a mobile chip, I never noticed any sluggishness from the Switch. Titles loaded and launched fairly quickly and navigating between screens in the interface was nice and zippy.
Speaking of the interface, Nintendo once again employed a simplicity-above-all-else mantra to great effect on the Switch. Able to toggle between a white or a black background, Switch menus are simple to use, employing large colorful tiles and smaller icons. I love that the Nintendo eShop is broken down into two categories (for now): Recent Releases and Coming Soon. When you pick out a potential title, you get a few screenshots and a quick summary of the game and its requirements.
Although it's clear that the Switch is running on a proprietary Nintendo operating system, the rather clean menu setups remind me of an Android device.
Early Issues
The Switch we purchased has been blissfully free of issues, but that that hasn't been the case for every consumer. Since launch, several complaints have arisen including the Joy-Cons spontaneously desyncing from the Switch when they're not connected to the device.
Some owners have reported dead pixels or the screen incurring damage when being inserted/removed from the dock. There have been a few notable software complaints, including the fact that you currently can't transfer Switch game saves to another system or SD card. Hopefully, Nintendo will offer remedies to these issues in the coming weeks, but it's something to be aware of in the meantime.
Launch Titles
What's a console without games? An expensive paperweight. To avoid that fate, Nintendo launched a small cadre of games to accompany the Switch. The Legend of Zelda: Breath of the Wild The Legend of Zelda: Breath of the Wild is by far the most well-known title, but familiar franchises like Super Bomberman R Super Bomberman R, Skylanders: Imaginators Skylanders: Imaginators and Just Dance 2017 Just Dance 2017 as well as smaller third-party games like I Am Setsuna ($39.99) and Shovel Knight ($24.99) should pique fans' interests. Nintendo Switch exclusives include racing title Fast RMX, the mini-game factory 1-2-Switch 1-2 Switch and puzzler Snipperclips ($19.99).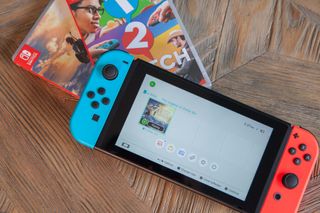 With its epic landscapes and compelling gameplay, Zelda is a must-have title for the Switch as it redefines the franchise as a whole. 1-2-Switch is a fun party game and a great example of what the Switch's unique controls can do, but like Wii Sports and WarioWare before it, I don't see it having much staying power outside of multiplayer sessions.

MORE: How Nintendo Reinvented Zelda for 'Breath of the Wild'

While releasing Breath of the Wild as a launch title was a smart move, launching with only 9 titles is not. The PlayStation 4 and Xbox One had a respective 28 and 23 titles in their catalogs at launch day. And while heavy-hitters like Mario Kart 8 Deluxe and Super Mario Odyssey are on the way, I'm still concerned about Nintendo's track record of not following through on the third-party content. Having a shiny, innovative console is great, but not without quality games to play on it.
Social Interaction
Playing with Switch is fun, especially when you have a friend or two in the room. But for those moments when you can't get everyone over, Nintendo is launching the Switch Online Service. Currently free until fall 2017, the service will allow you to play with friends online for games like Splatoon 2 and Mario Kart 8 Deluxe. As we get closer to fall Nintendo plans to roll out features that will put Switch Online on a par with Xbox Live and PlayStation Network.
Set to launch in summer 2017, the Gaming Sessions feature will allow you to chat with friends and plan gaming online gaming parties. Once fall rolls around and you actually have to pay for Switch Online, the service will offer monthly free game downloads of predetermined titles as well as exclusive discounts on Switch software for subscribers.
Accessories
Each Switch ships with a pair of Joy-Con controllers, which will act as your main navigation tools when exploring the Switch interface or trying to milk cows in the game. Available in several different colors (red, blue and gray) Nintendo is selling additional pairs for $80 a pop.

Want to charge while you play? You'll need to spend an extra $30 for the Joy-Con Charging Grip. And if you just can't wrap your mind or adult-sized fingers around the Joy-Cons, Nintendo's also selling a traditional gamepad called the Switch Pro Controller for $69.99.
Value
If the Switch had launched back in 2013 with the original Xbox One and PlayStation 4, I would call the Switch a steal. For $299, you get the Switch bundled with two Joy-Con controllers (either gray or red and blue), the TV dock and a pair of straps. If you want games, you'll have to pay extra as Nintendo has yet to release any bundles with a title.
MORE: Nintendo Switch vs. PS4 vs. Xbox One: Which Console Should You Buy

This, however, is 2017, and you can now purchase the PS4 Slim or Xbox One for $299 which includes a AAA title such as Uncharted 4, Call of Duty: Infinite Warfare, Minecraft or Battlefield 4 depending on the system. In other words, Nintendo's got some catching up to do in the value market before we get to the holidays.
Bottom Line
Over the course of several days, Nintendo turned me back into a believer. As a gaming console, I'm impressed by the Switch's sturdy build, ease of use and innovative versatility. By being a transformer of sorts, the Switch has the ability to cater to a number of audiences depending on their style of play.
That's not to say the system isn't without its flaws. It would be nice if you could charge your controllers independently of the TV dock or without buying a whole other charging device. And I'm still concerned about the game portfolio, especially when it comes to third-party support. But so far, it looks like Nintendo is off to a slow, but promising start.
If you want a gaming console with a large catalog or the ability to play games in 4K, I'd recommend the PlayStation 4 or PS4 Pro. However, if you're searching for a console that you can truly take just about anywhere (or just really love Nintendo games), the Nintendo Switch is the system for you.
Photo credit: Shaun Lucas/Tom's Guide