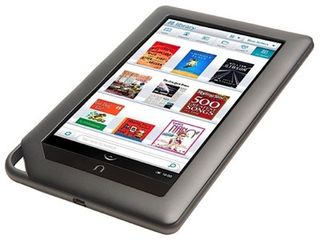 Monday Microsoft filed a lawsuit against Barnes & Noble in U.S. District Court in the Western District of Washington state and with the U.S. International Trade Commission. The company alleges that the book chain's Nook e-reader software running on the Android OS infringes upon its patents. The infringement spans from the app listed on the Android Market, to both the original Nook and Nook Color e-reader devices.
Microsoft said the lawsuit was also filed against device manufacturers Foxconn International Holdings Ltd. and Inventec Corporation.
"The Android platform infringes a number of Microsoft's patents, and companies manufacturing and shipping Android devices must respect our intellectual property rights," said Horacio Gutierrez, Corporate Vice President and Deputy General Counsel for Intellectual Property & Licensing. "To facilitate that, we have established an industry-wide patent licensing program for Android device manufacturers."
Gutierrez said that Microsoft attempted to reach a licensing agreement with the three parties over the past year, but their refusal to reach an agreement forced Microsoft to take legal action. He noted that HTC has already taken a license under Microsoft's industry-wide licensing program. Amazon also signed an agreement with Microsoft surrounding the Kindle device last year.
Microsoft said that the patents at issue cover "a range of functionality embodied in Android devices that are essential to the user experience, including: natural ways of interacting with devices by tabbing through various screens to find the information they need; surfing the Web more quickly, and interacting with documents and e-books."
"Together with the patents already asserted in the course of our litigation against Motorola, today's actions bring to 25 the total number of Microsoft patents in litigation for infringement by Android smartphones, tablets and other devices," Gutierrez said. "Microsoft is not a company that pursues litigation lightly. In fact, this is only our seventh proactive patent infringement suit in our 36-year history. But we simply cannot ignore infringement of this scope and scale."
As of Monday afternoon, Barnes & Noble did not provide a comment in regards to the accusations submitted by Microsoft.