Apple is jumping into the world of mixed reality. Unveiled at WWDC 2023, the new Apple Vision Pro is one of Cupertino's biggest product announcements in years with the potential to revolutionize how we interact with content.
The Apple Vision Pro is nothing like the best VR headsets we've tested thus far. Apple's headset can be used for work, entertainment, capturing content, or to stay connected with family/friends. The headset essentially turns your surroundings into a digital canvas for apps, movies, FaceTime calls, and other content. Apple calls this spatial computing.
The headset is controlled with glances, gestures, and your voice. A Digital Crown summons the home view and can be rotated to adjust how immersed you want to be in your current experience. There's even a built-in camera that can be used to take photos or videos.
The headset will cost $3,499 and won't be available till early 2024. That means Apple Vision Pro preorders won't start anytime soon.
Apple Vision Pro preorders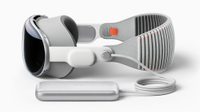 Apple Vision Pro: for $3,499 @ Apple
Coming in 2024: The Apple Vision Pro is Apple's first foray into spatial computing. Priced at $3,499, the headset will be available in early 2024. The device creates an infinite digital canvas for apps, entertainment, or work. It features an ultra-high-resolution display system that packs 23 million pixels across two displays. It also uses a unique dual-chip of Apple's own design to ensure a smooth, snappy experience.
Apple Vision Pro availability
The Apple Vision Pro headset will be available in the U.S. with orders only starting in early 2024. Apple states that its headset will come to more countries later in 2024. Additionally, Apple said its headset would be available via apple.com and at Apple Store locations only. It didn't mention availability via Apple-authorized resellers.
Not that we expected to see many Apple Vision Pro deals at launch, but if Apple has total control of the headset's availability, it's likely we won't see any deals or promotions on Apple's new device for quite some time. (Apple isn't known for offering discounts).
Looking for ways to save at Apple? Check out our guide to the best Apple Store coupons and the Apple Back to School Sale 2023.