The proliferation of smart devices has led to a boom in building smart homes, in which homeowners can control their space with a click of a button. Seamless communication between devices puts an increasing demand on home networks. To keep the lights on — and everything else running — you'll need a network that can keep up. Aruba Instant On access points and network switches work to ensure you're covered.
Your home is really only as smart as the network that keeps it connected. So a lackluster network can really put a damper on the effectiveness of smart home devices.
With an unstable network, you could see commands fail to reach your smart lights. The extra features of a smart fridge or laundry machine simply won't work. The convenience of smart locks would be negated — so much for not having to carry your keys when you leave the house. And never mind all the headaches that come from unreliable Wi-Fi when you're just trying to get online to work, browse, or sit back for a relaxing night of gaming or video streaming.
With Aruba Instant On gear, you can deck out your home with a network that's not going to sweat even a major smart home setup.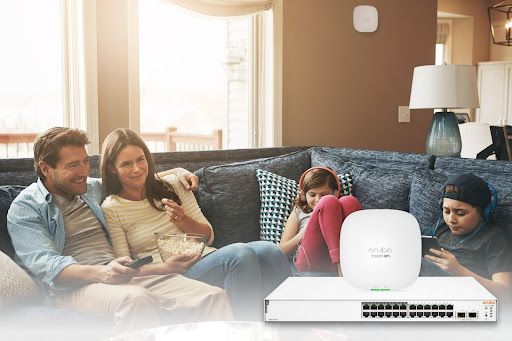 The Instant On AP22 access point is your go-to option for inside the home. This capable unit can deliver a speedy and stable Wi-Fi 6 connection for up to 75 connected devices. You can expand the coverage by spreading out multiple AP22 units throughout your house, increasing your signal and the number of devices you can support. With Smart Mesh, you can maintain a connection even as you move about. That's especially convenient for smart home devices you might want to move from room to room.
With a weather-proof enclosure, the AP17 access point is outdoor-ready. Rain or shine, you can get the Wi-Fi signal you crave.
Manage and expand your network quickly and easily with the Aruba Instant On mobile app. You can set up different networks to separate and group hardware. For instance, you might put all of the critical security devices — locks, cameras and the like — onto their own network with an extra-secure password. This way you don't have to worry about every guest having access to every device on the network. By using Aruba Instant On switches, you can also get the single-cord, Power over Ethernet connection to Aruba Instant On access points that makes setup all that much simpler.
With the Aruba Instant On app and web portal, you'll also get detailed insights into the status of your network. You'll be able to see the devices running on the network, letting you easily spot bandwidth hogs or identify issues for troubleshooting.
You can see Aruba's Instant On smart home gear here and start building out a more reliable smart home in no time.