If you take gaming on Xbox Series X or PC seriously, then a decent headset is practically an essential accessory. And if you're in need of leveling up your setup, we've just spotted one of the best gaming headset deals of the year to date.
Right now, the Xbox Wireless Headset is on sale for $49 at Amazon. That's a massive 50% saving compared to its full retail price of $99, and it's the lowest price we've ever seen for this Microsoft product. This deal may not stay in stock for long, so be sure to grab yourself a set of killer gaming cans now to avoid disappointment.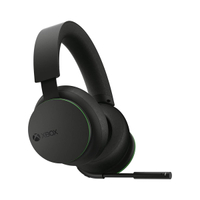 Xbox Wireless Headset: was $99 now $49 @ Amazon
The Xbox Wireless Headset is an excellent gaming accessory whether you're gaming on an Xbox console or PC. It sports a flexible and lightweight design, with up to 15 hours of battery life per charge. It also sounds great with Dolby Atmos support and a fold-up mic that picks up voices clearly. The Xbox Wireless Headset was a solid buy at full price, now at 50% off it's pretty much an essential pickup.
We rank this official accessory as one of the best Xbox Series X headsets you can buy. It sits alongside the likes of the SteelSeries Arctics 7X and the Razer Kaira Pro as a headset that can really enhance your play sessions, whether you're playing online with friends or just enjoying an engrossing single-player experience.
In our Xbox Wireless Headset review, we labeled it a "straightforward gaming accessory" praising its "good sound, intuitive controls and an easy pairing procedure." These are all the fundamentals that a solid headset needs to nail, and this Xbox-branded pick is more than up to the task. It's not the flashiest accessory on the market, but it gets the job done consistently and to a high standard — and that's the most important thing.
We also like some of its clever design touches, how you can swivel the left and right earcup panels to adjust — respectively — the game/chat mix levels and volume. The headset also offers full support for Dolby Atmos functionality, but this feature does require downloading the Dolby Access app and paying a one-time licensing fee of $14. However, the sound is still strong even without Atmos, and the fold-away microphone will pick up your voice clearly.
In our testing, we did find getting a good fit a little more tricky than with some third-party alternatives, but after a few minutes of tweaking you should be able to get the headset to meet your individual requirements. Overall, this is a solid and highly dependable headset at a relatively affordable price. Plus, it comes with the peace of mind provided by buying an official product rather than a third-party pick that could suffer from compatibility issues.